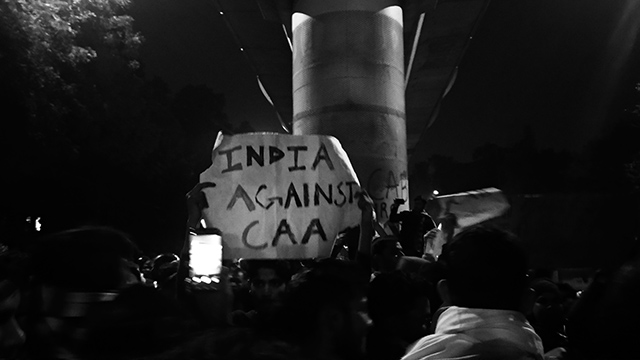 In a fractured time, Jamia Millia Islamia students fight Hindutva fascism
Reading Time:
6
minutes
Today the moment has come in which we are witnessing blood in the streets, on floors of the library, passage, reading hall of Jamia Millia Islamia University, an institution that stood firm against British colonial hegemony and racist imperial attack. Students of varsities across India are stepping out bravely with posters and torches in their hands to condemn the police brutality unleashed on protesting unarmed students of Jamia Millia Islamia and Aligarh Muslim University (AMU). Jamia Millia Islamia, our university, a first home, has united all the humans of this land against the unapologetically terrorist Hindutva fascist rule. We give a pause here and float around a common word that embraces the varsities of Jamia Millia Islamia and AMU, it's the Muslim identity. Muslims like Moulana Abul Kalam Azaad, Moulana Hasrat Mohani, etc, who fought British imperialism. Fazl-e-Haq Khairabadi, who was one of the principal voices during the Great Rebellion of 1857, Moulavi Shah Faizabadi under whose guidance, in 1857, Awadh and Lucknow were captured, were fearless Muslims. Irrespective of religion, class, nationality, caste and gender when it comes to upheaval and dissent we politically unite in the slogan of Inquilab Zindabad, the tune draws its organic connection from Hasrat Mohani, lest the Hindutva-incensed country forgets it, it's a pint of tribute to his pen. 
The Delhi Police is notorious for its tortures and repression on common people. This time, at Jamia Millia Islamia, it was bullets, which the Delhi Police used, along with teargas shells and indiscriminate baton charge targeting unarmed scholars protesting against the Citizenship (Amendment) Act, 2019, or CAA, and the National Register of Citizens (NRC). Yes, the students of our varsity are suffering bullet injuries! One has lost his eye, a few got fractured legs while another student's hand needs plastic surgery. A few gravely injured students were taken to AIIMS — the eminent medical research institute and hospital — where doctors treated them with hostility. Is it an effect of neo-liberal Hindutva fascist proselytisation where lynching, rape, beating students and civilians, firing teargas inside a university,  get normalised? Normalised it gets, the incarceration of dissenters. And today, what shook students across the world is the battalion of police, the state force that elbowed into the campus, into the libraries just to beat the Muslim students of a "Muslim university" at a will. They are not merely students but dissenters and dreamers.  Window panes of library, benches, chairs, wooden frames all were vandalised by the Delhi Police personnel, who were beating the unarmed students relentlessly; they were beating those who were, even a few moments ago, engrossed in books. The state's stormtroopers didn't stop there. They hurled teargas shells targeting the crowd, not to disperse but injure them with burning shells. At that moment, students from Indian-occupied Kashmir were teaching others to survive the teargas, the tactic and strategy to evade, as they have been facing this ruthless attack since decades of enforced militarisation under Indian occupation. Earlier, the state launched an all-out attack on students in northeastern India to neutralise their movement. Five were killed in cold blood, including two minors. 
Prime Minister Narendra Modi's Bharatiya Janata Party (BJP)-led Hindutva fascist regime is using any means to quash any kind of resistance against its communal, anti-people, anti-Muslim NRC and the CAA, which grant citizenship to all "arraigned minorities" from neighbouring countries, except Muslims. Here, the Indian state has violated its own written Constitution. If we turn back to spell of historical lines, it was the Great Rebellion, in which, for the first time, Indian sepoys fired upon their British supremacist officers. Muslims and Hindus, under common repression of British colonial rulers, renounced their mutual antipathies created as a colonial project, combined against their common masters. James Mills, an imperialist historian, wrote a book called: The History of British India, which, for the first time, officially and psychologically divided the people into religious lines. We may say Islamophobia in India started with a chapter entitled "A Comparison of the State of Civilization among the Mohammedan Conquerors of India with the State of Civilization among the Hindus." Hence British rulers played a momentous part, as a protagonist to other white masters while penning down and injecting the venom with colonial history or masters' bid of chess. In this book, the Hindu culture was teased, and Muslims were projected as tyrants from whom Hindus were liberated. What an irony of time! The British intruders, who left the whole country corroborated in pain of a partition, exited this country laughing,  are mostly appeased today, rather than those who fought the British. The tyranny of this divide was reflected on 'Hindu' roles of Rajputs and Marathas who resisted the Mughal disregarding the Muslim identity of the latter. Modern anti-Muslim interpretation of Indian history thus provided the historical defence for the two-nation theory touching the lines of James Mill's political theory as he was the first historian to develop the proposition of isolating Indian history into three periods, which he called the Muslim civilisation, the Hindu civilisation and the British civilisation, instead of  Christian civilisation, which is quite notable. 
When the whole India is uniting over Hindutva fascist police crackdown on unarmed Jamia Millia Islamia and AMU students, I am hearing that some activists and individuals are having a major problem over slogans like La Ilaha Illallah or Laal Salam. Let's just imagine a day when the total power of finance capital will be ruptured and uprooted, that day, or midnight, thousands will offer namaz on the streets, thousands will call Jesus or Kali Mata or immerse in sloganeering Manuel Garza's  Y el pueblo Unido Jamás será vencido Sus políticas de corrupción Sus mentiras de destrucción. Jamia students on that day of resistance uttered, the people united, shall always be victorious. This state has always been hyper-masculine, as Zizek calls it the unidentified enemy of oneself. The Batla House encounter and the subsequent crackdown of the state machinery, terming an extra-judicial murder of young students as an encounter is one of the accurate examples of entrenched Islamophobia mixed with opportunism and greed. Here comes the question of economy and democracy as we know right after the destruction of Babri Mosque,  Siddhartha Shankar Ray flew to the US to sign a debt deal with the International Monetary Fund. During the countrywide protest against CAA, NRC and National Population Register (NPR), a dangerous Data Bill was tabled in the Parliament along with an announcement of total privatisation of the Indian Railways. 
What do the Hindutva thugs want? Do they want to send 200 million Indian Muslims to detention camps? What Adolf Hitler couldn't do it with more than 200,000 Jews, how come furious yet unstable Hindutva nincompoops can do it with us? On the other hand, civil society members, who want their status quo to be preserved, who want only a democratic resistance which is pure trickery as it collaborates with the nakedly Hindutva fascist dictatorship. Remember Reichsgesetzbatt issue proclaiming the Jews and the Nuremberg law, the anti-Semitic and bigoted law of Nazi Germany? This was penned to exclude all who posed a 'threat' to German fascism. Today, even though late, people of India are waking up from a mephitic slumber due to a lot of rebellions all around. They are fighting CAA/NRC/NPR on streets, varsities, factories, fields and several other spaces. When oppression in Germany was enacted by the Reichstag in 1935, at a special meeting organised during the annual Nuremberg Rally of the Nazi party, it was like a pseudo parliament and today, the Indian Parliament is mothered by the apex court that dismisses pleas to situate a probe panel against police atrocities in Jamia Millia Islamia and the AMU.
Jamia is a place where we resort to peace, build up a brotherhood, talk politics and life, and educate ourselves with all threads and colours of unity and struggle. It was vandalised and fired upon just because it gives refuge to us, the thinkers. We may not forgive this. And we think, it's no time of totenehrung, or honouring the dead. We celebrate the brave women who saved their male friend from indiscriminate beating, the students who bled for hours and in each drop of blood, they embraced the university like the woman in Qabbani's poem whose love taught us to grieve, for centuries, to make us cry on her shoulders like a bird.
Under the Nazi rule, the Schutzstaffel (SS) was a paramilitary used for attacking the opposition, like the Rashtriya Swayamsevak Sangh (RSS)-affiliated organisations operate in India. The SS was built up to kill at will and now the RSS-linked Hindutva organisations are used for the same purpose.  Thus we, the students from a think tank varsity would never want to utter 'not in my name'; the women protagonists of Jamia, the wounded men, we all say —  yes, it's all in your name. Now that we taste and face an open war as the state wants to divide us, we know that Hindutva fascism is an old disease to Indian democracy. Being social-fascist and authoritarian, even China didn't block the internet in Hong Kong when its streets were flooded with protesters, while "democratic India" has normalised blocking internet in Kashmir since years. The smell of steroid nationalism hence always gives us a bitter pulsation where all our dream faculties from education to agitation are brutally attacked. 
Dream of a day: We dream aside that common working mass of our land would one day build Concentration Camps for Hindutva fascists. They will be worn colour-coded triangle by our people, argumentative dreamers and dissenters. As the Hindutva Brahmin nationalists have ruined our university, acted with all ferocity, let the conflicting ruling class be the victim of common people's target. Let the fascists be the prisoners of common people, workers, peasants and university students. They would be easily identifiable with their triangle on kurta with each person's background to pit the different groups against each other. RSS against BJP. Vishwa Hindu Parishad against RSS, etc. We are Muslims with political thoughts, Dalits, Adivasi, political prisoners, communists, socialists, and trade unionists, we are the common people of this land. Let us consider you "asocial" or "shiftless". We are homosexuals in pink we make you wear saffron. Letters on your kurtas will be indicated for nationality: for example, g will stand for Gujarat, U for Uttar Pradesh. Let us identify the fascist Hindutva killers and return them their own medication.
Dhrupadi Ghosh is a PhD student of Department of Sociology, Jamia Millia Islamia. She is a sculptor, an artist who use art to exhibit dissent brewing in the society. She writes on campus, gender, caste, communalism and class politics.