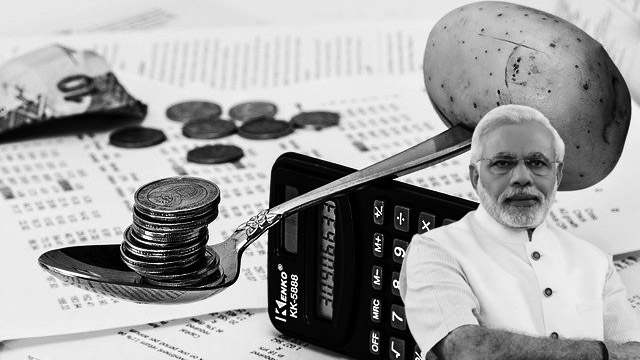 CFPI inflation in December 2019 going to worsen India's cataclysmic economic crisis
Reading Time:
3
minutes
The sudden sharp increase in the consumer food price index (CFPI) inflation has caught everyone by surprise. CFPI inflation has increased to 14.12% in December 2019 from 10.01% in November 2019. The rural CFPI inflation in December 2019 was 12.97% while in urban areas it was an alarming 16.12%. This indicates a growing cost of living for the working class and the lower-income groups at a time when a severe economic crisis has gripped India and Prime Minister Narendra Modi's government is absolutely indifferent to the problem.
The CFPI inflation went up from 2.99% in August 2019 to 5.11% in September 2019, and then to 7.88% in October 2019. The highest figure till now has been recorded in November 2013 which was 17.89%. The ruling Bharatiya Janata Party (BJP) or its loose cannon advocates aren't saying a word on this disastrous economic condition, which will not only severely affect the lives of the poor and the downtrodden, but in the course of time will also engulf a large section of the middle class urban Indians.
Both the decline and now the steep rise in the CFPI inflation is much more pronounced in the case of food than general consumer inflation. Retail inflation (combined) of more than 6% in December 2019 has been noticed in the case of the price of food and beverages (12.16%), cereals (4.36%), milk (4.22%), vegetables (60.5%), fruits (4.45%) and pulses (15.44%).
The food price rate alone jumped to 14.12%, the highest since November 2013. Other increases were also seen for miscellaneous (4.09%), fuel and light (0.7%), clothing and footwear (1.5%), housing (4.3%) and pan, tobacco and intoxicants (3.4%). On a monthly basis, consumer prices went up 1.2%, the highest rate since July 2017.
Uttar Pradesh was among the top three states affected by high inflation. Uttar Pradesh recorded inflation of 8.92% staying behind only Odisha (9.41%) and Telangana (9.39%). Bihar and Delhi were least affected by rising inflation with an index showing a price hike of 4.8% and 5.1% respectively.
However, the major economic concern is not limited to the rising prices but the effects that this stagflation is going to bring in for the rest of the year. As per a State Bank of India Research report, the ongoing economic slowdown will force India to generate 1.6 million fewer jobs in 2020 than it what it generated in 2019. Even the Reserve Bank of India targets the present inflation at 4%, lowering the chances of another rate cut in February.
When the concern should have been revolving around the state of the economy, with rising CFPI inflation, decreasing GDP growth rate, which reached the nadir of 4.5%, with four-decade high unemployment, which is at present clocked at 7.5%, the BJP and the Modi regime are busy milling rhetoric. Private consumption failed to lift, investment sentiments remain sombre, agrarian crisis has deepened and manufacturing woes aggravated manifold. There is no concern shown for this alarming situation. Even many corporate houses are making losses. Major losses in one after another company continue to fuel retrenchment, delivering a severe blow to the unprecedented unemployment crisis, and also many are closing their shutters.
Modi's biggest concern is to consolidate his power and retain the competitive leverage vis-a-vis his core opponents to remain perched at the top and transform India into an official Hindu Rashtra (a Brahminical theocracy). Key Hindutva agendas such as revoking Article 370 in Jammu and Kashmir, its bifurcation into two union territories, the passing of the Triple Talaq law (a step closer to implementing BJP's cherished uniform civil code) and enactment of the contentious Citizenship (Amendment) Act, 2019, to accept non-Muslim migrants from Afghanistan, Bangladesh and Pakistan prove where is the Modi regime's focus. Amid such an economic crisis and with the steep rise in the CFPI inflation, there is a big chance of more people hitting the streets, especially from the poor, marginalised and economically weaker sections demanding lower food price, fuel price and the prices of daily essentials lowered to an affordable range. If the OPEC countries increase the price of crude oil, which is all set to happen in the next few weeks, food price will shoot up, and cause severe depression for the low-income groups.
Under the neo-liberal economic setup, where the Modi regime's primary focus has been to liquidate public assets to provide immense gains to a group of chosen crony capitalists, it's unlikely that Finance Minister Nirmala Sitharaman will announce anything extraordinary in the Union Budget 2020-21 to arrest the rising CFPI inflation and general inflation. Focusing consistently on providing benefits to the crony capitalists, the big donors of the BJP, the Modi regime will allow the situation to aggravate and thereby cause severe problems for the common people.
I have worked with leading English dailies of Kashmir. I have done my MA in Mass Communication & Journalism in 2006, from MERC, Kashmir University. I have done PhD in Journalism from MCRC, Jamia Millia Islamia, in 2014. Apart from academic qualifications, I have worked as a reporter in local English Dailies of Kashmir. I regularly contribute articles and columns to various online news organisations and newspapers.