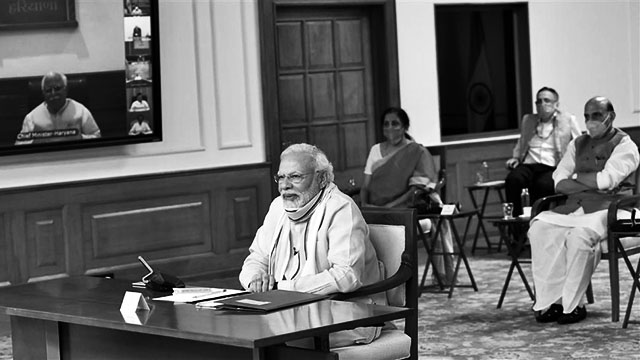 Why the corporate world isn't truly happy with Modi's Rs 20 trillion package?
Reading Time:
3
minutes
Despite all marketing gimmicks, Prime Minister Narendra Modi's much-hyped Rs 20 trillion-worth relief package for COVID-19 pandemic not only disappointed the majority of Indian people – the poor and toiling masses – but also a large number of corporate houses and foreign portfolio investors (FPIs). According to this report in the Business Insider, FPIs have sold stocks worth Rs 96 billion since May 13th 2020, when Finance Minister Nirmala Sitharaman began spilling the beans of Modi's Rs 20 trillion-worth relief package in five tranches spread over a period of five days.
When Modi announced the Rs 20 trillion-worth relief package during his televised address to the nation on May 12th evening and called it a foundation for an "Atmanirbhar Bharat" ("self-reliant India") it was well anticipated that this campaign will aim at enriching and empowering the big corporate houses, foreign and domestic, to intensely exploit and oppress Indian land, labour and resources without any obligation. This announcement was preceded by a prelude of hyping the economic slowdown caused by the lockdown imposed to curb the COVID-19 pandemic. The very government that for years denied the existence of an abysmal economic crisis caused by high unemployment, which caused a fall in demand and a subsequent recession, suddenly woke up, smelled the coffee and blamed the COVID-19, which reached India on January 20th, for the crisis that has been ravaging the economy since financial year (FY) 2016-17.
Expectations of an attractive bail-out package for the big corporates in his purported "fiscal stimulus" was a reason that crony-comprador capitalists like Gautam Adani and Anand Mahindra hailed the decision of a "self-reliant India". The fact that it's not possible for a country like India, a semi-colonial state with a semi-feudal agrarian production relation buttressing a foreign-dependent crony-comprador capitalist system, to become "self-reliant" in a globalised world that's ruled according to the template set by the World Bank, International Monetary Fund and World Trade Organization, was covered up. But when Sitharaman unveiled the package from May 13th to May 17th in five tranches, the big corporates too understood that there's no bailout package for them, which the government compensated by offering them nearly free access to India's coal reserve and mineral deposits, along with a promise to allow private capital in all sectors.
But the corporates have been looking for public money flowing to their accounts rather than investment opportunities, as they can use bailout money to make more money instantly through speculative investments in stocks and lucrative bubbles than locking capital in long-term projects, where the return on investment is dependent on several external factors. These "reform" measures and structural adjustments announced by Sitharaman were long-pending and it was only the COVID-19 pandemic that provided the Modi regime with an opportunity to formally announce them. Thus, such reform proposals didn't titillate the corporate houses much, except those crony corporate houses like Adani's mining and food businesses, Mukesh and Anil Ambani's respective Reliance groups or Anil Agarwal's Vedanta Resources, who derive direct benefits from Modi's economic policies.
"The government has used the cover of the COVID-19 crisis to plough through long pending, politically sensitive structural reforms. As a result, the package may fall short of mitigating the near-term existential crisis for businesses and workers, but it is better designed to improve India's medium-term growth potential and attract long-term risk capital", global investment bank Nomura was quoted by Business Insider. Another investment giant Goldman Sachs is also very sceptical of the package providing any aid to India's needy sectors to get out of the "existential" crisis. It predicts a 5% contraction of the economy in the FY 2020-21. That the package may not provide immediate relief was clear to many observers soon. This brought an environment of gloom in the markets. The dancing of the investors stopped.
Nomura has also cut India's GDP growth forecast to -5.2% in May 2020. The global investment bank also pegged the fiscal deficit to 5.5-6% of the GDP after the Modi regime decided to borrow Rs 12 trillion vis-à-vis the Rs 7.8 trillion estimated earlier. In such a scenario, it was expected that the government will provide bailouts to different sectors and share some money with the poor people and those who lost their income to boost overall demand in the economy. This would have provided little relief to several crucial sectors and saved the employment of millions.
The Modi regime is reluctant to even tread that course and centred its propaganda in hyping the structural reform programmes that will help a few chosen corporate houses in the long-term. In reality, the so-called "fiscal stimulus" package worth 10% of the GDP is merely 1% of the GDP. Moreover, anticipating massive public resistance, trade union movements and political turmoil over the neo-liberal economic juggernaut rolled out by Sitharaman, the foreign corporations will be a bit careful in calculating their steps. The fall noticed in the stock markets, following Sitharaman's complete package disclosure, is a sign that the corporates aren't happy, despite their thumping approval for the long-term structural reform steps and earlier jubilation over the package's announcement. The displeasure of most of the corporate houses, barring a few of Modi's closest cronies, will exert tremendous pressure on the Modi regime and push India to the brink of an economic catastrophe that will ruin millions of lives and destroy livelihoods of many.
An avid reader and a merciless political analyst. When not writing then either reading something, debating something or sipping espresso with a dash of cream. Street photographer. Tweets as @la_muckraker