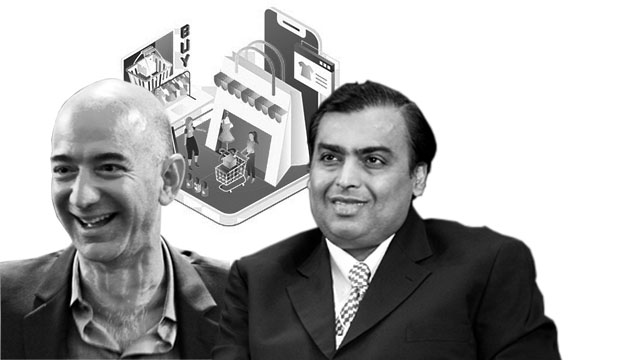 Amazon vs Future Group legal tussle poses a serious threat to Reliance's hegemonic ambitions
Reading Time:
3
minutes
While the Punjab farmers were burning the effigies of Prime Minister Narendra Modi and his corporate sponsors, Gautam Adani and Mukesh Ambani, a legal suit against Future Group by e-commerce giant Amazon in Singapore created turbulence in the Indian market. Amazon.com Inc, whose Indian arm has a 49% stake in Future Coupons Pvt. Ltd, a company that has minor stakes in Future Group's retail arm, accused the Kishore Biyani-owned conglomerate of violating an agreement on first offer and non-competition by selling the retail arm to Ambani's Reliance Retail Venture Ltd (RRVL). The Singapore International Arbitration Centre has given interim relief to Amazon on Sunday, October 25th 2020.
Jeff Bezos-owned Amazon is a key player in the booming e-commerce sector of India, which is estimated to worth $84bn by 2024. Backed by the Modi regime's patronisation, Ambani entered the e-commerce market with his flagship JioMart to compete with Amazon and Walmart-owned Flipkart, the two giants who dominate the e-commerce market. To grow its footprint, Ambani needed the Future Group's retail business, which was in sheer financial crisis.
In August, RRVL, which was already India's largest brick and mortar retail chain, with more than 12,000 stores, agreed to pay $3.4bn (Rs 247.13bn) to buy the assets of the debt-ridden Future Group's retail arm. This included the retail and wholesale business, along with the logistics and warehousing business of Future Retail Ltd. The acquisition helped Ambani to rule one-third of India's brick and mortar retail stores. But for Bezos, it's a threat to the business goals of Amazon in the world's largest digital market.
As Ambani's ambitious 5G-driven JioPlatform aims to become the default internet-within-internet for millions of users in the days to come, the linking between JioMart and the retail infrastructure of a giant RRVL will pose a serious challenge to the existing players in the e-commerce space. Moreover, the patronage of the Modi regime will make it hard for Amazon or Flipkart to offer any real competition to Reliance's juggernaut.
While Modi's telecom policy slow poisoned the state-owned Bharat Sanchar Nigam Ltd (BSNL) to help Reliance Jio grow at a phenomenal rate, his recent amendment of the Essential Commodities Act, 1955, allowing uncontrolled stocking and hoarding, paved the way to rapid profiteering by unscrupulous corporates and feudal usurers. RRVL and JioMart will be the largest beneficiaries of this Amendment. Bezos, whose Washington Post criticises Modi and his Hindutva fascist Bharatiya Janata Party (BJP), isn't in the good book of the regime for obvious reasons. Hence, Modi didn't meet him when Bezos came for an India tour in January 2020.
Despite Amazon investing billions in its India operations, after shutting its China operations last year, India's Commerce Minister Piyush Goyal said it's no "great favour to India". Though Bezos had a breakfast meeting with Ambani, who later became the sixth richest man in the world in the Bloomberg Billionaires' Index due to the surge of foreign investment in his Jio Platform from big global giants like Facebook Inc and Google Inc, he didn't realise the threat posed by India's Hindutva fascism-backed RRVL to Amazon's future at that hour.
Biyani had to sell his company, which he started in the 1980s to provide a different shopping experience to Indians, out of compulsion, and Ambani knows no Indian legal institution will allow anyone to challenge its pursuit of total hegemony in the retail and e-commerce sector, which will allow him 360-degree coverage of middle-class's shopping. Amazon, powered by its global presence and sheer wealth power, therefore, chose Singapore for arbitration. It's clear that the Future Group deal, sealed in India, can't be undone by a foreign court, but Amazon will try to use its power to coerce Biyani into a compromise, which can provide an opportunity to Bezos to cut a deal with Ambani.
Reliance Industries Ltd, the mother company of the Reliance conglomerate, experienced a 1.7% drop in its share prices on October 26th, after the Singapore court gave interim relief to Amazon. This shows that the suit will compel Ambani to plunge into this legal battle to ensure that RRVL's investments and the entire legal changes done by the BJP to help it earn immense profit by creating artificial food shortage are safeguarded. Competing against Amazon by depending on protectionism policy of a government, which is officially a hardcore adherent of neo-liberal economic agenda, is hard. Ambani is aware of this fact and, alike any cunning Indian comprador capitalist, he will also try to settle the matter through collaboration and not confrontation. As per unconfirmed reports, Ambani even offered Amazon stakes in RRVL
Whether Bezos will curtail the Washington Post editorial policy to tone down the anti-BJP content, is a matter that would be interesting to watch. However, if no legal settlement is reached between Future Group and Amazon on the issue of the Future Retail Ltd, then Ambani's plan to dominate the Indian agriculture, retail and e-commerce sectors will suffer a setback. The Modi regime has been helping the Ambani-led conglomerate, but in case the Future Group deal suffers a setback due to Amazon's legal initiatives, the government won't be able to do much. Therefore, the Indian crony-comprador tycoon will now be compelled to do everything possible to thwart such a catastrophe.
An avid reader and a merciless political analyst. When not writing then either reading something, debating something or sipping espresso with a dash of cream. Street photographer. Tweets as @la_muckraker