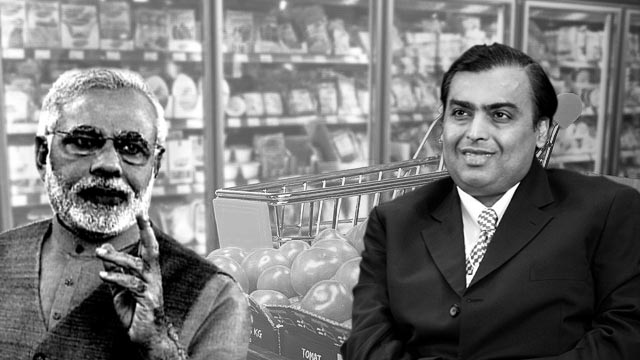 Reliance Retail luring foreign capital armed with BJP's farm reforms
Reading Time:
4
minutes
The farmers of Haryana, Punjab, etc, are still protesting the anti-farmer agriculture bills and amendment to the Essential Commodities Act, 1955, that Prime Minister Narendra Modi's Bharatiya Janata Party (BJP) passed in the Parliament and got endorsed by President Ramnath Kovind. While the large-scale farmers' movement is creating ignominious optics for the Modi regime, the BJP's top sponsor, Reliance Industry Limited (RIL) Chairman Mukesh Ambani continues experiencing a rapid inflow of foreign investment in his Reliance Retail Venture Limited (RRVL or Reliance Retail). Ambani's RRVL and his JioMart, the online grocery shopping platform, continue to lure investors with a high return on investment assurance.
Recently, RIL announced that the global investment firm GIC will invest Rs 55.12 billion for a 1.22% equity stake in Reliance Retail. Another global investment firm TPG will invest Rs 18.36 billion for a 0.41% equity stake in RRVL. This will be the second investment by TPG in Ambani's ventures as earlier this year it invested Rs 45.47 billion in Jio Platforms, which is an ambitious 5G platform endorsed by the US President Donald Trump to counter China's Huawei Technologies. These recent investments helped Ambani to sell a total 7.28% equity in the RRVL and raise Rs 322.97 billion from the market since September 9th 2020. RRVL's pre-money equity value is now Rs 4.28 trillion after these new investments.
Apart from GIC and TPG, giant foreign investors like the US-based private equity firm Silver Lake has made two investments totalling Rs 93.75 billion for a 2.13% equity stake in Reliance Retail. The UAE-based Mubadala Investment has bought 1.4% equity stake for Rs 62.47 billion; global investment firm KKR has invested Rs 55.50 billion for a 1.28% stake while General Atlantic has bought 0.84% equity stake for Rs 36.75 billion. These investments by global finance capital giants prove that RRVL has a great scope of profiteering due to Modi's farm reforms.
The RRVL is India's largest corporate retail chain that has over 12,000 stores with nearly 640m annual footfalls. It has galvanised technology to connect 20m small and unorganised traders in its network through an unequal contract that gives the firm excessive monstrous powers. The supply chain of the local, unorganised neighbourhood retail shops is controlled by Reliance Retail, obliterating their independence. The RRVL is partnering with different foreign corporations with an aim to export Indian agricultural products directly from the fields.
With the ability to buy from the farmers using its own system, RRVL can wean away small, marginal and middle farmers from the small-scale and mid-scale intermediaries who buy crops from them at a low price and sell them to stockists. RRVL can spend billions to wipe out other buyers and ruin the network of unorganised intermediaries, and in their place, under section 2(N) of The Farmers' Produce Trade and Commerce (Promotion and Facilitation) Bill, 2020, and section 10 (i) of The Farmers (Empowerment and Protection) Agreement of Price Assurance and Farm Services Bill, 2020, erect new corporate intermediaries with hegemonic power and control over cultivation, crop prices and quantity.
Initially, the RRVL may even pay the farmers more than what the unorganised buyers pay, and even more than the government's minimum support price for cereal crops, which will act as a bait to lure the cash-strapped farmers. Later, after effacing the small-scale and middle-range buyers, and in connivance with big feudal landlords and rich farmers, Reliance Retail will establish an oligopolistic mechanism in the agricultural market, which will render the farmers powerless and helpless.
After acquiring crops at a throwaway price, the RRVL can stock them using its own or any partner infrastructure for as long as it takes to create an artificial shortage in the market. By inserting subsection (1A) to section 3 of the Essential Commodities Act, 1955, through an amendment, the BJP has ensured that big corporate houses like Reliance Retail can profiteer by hoarding foodgrains legally. The government won't interfere in the supply of foodstuffs like "cereals, pulses, potato, onions, edible oilseeds and oils," unless "under extraordinary circumstances which may include war, famine, extraordinary price rise and natural calamity of grave nature".
Due to this amendment to the Essential Commodities Act, 1955, the government can interfere in limiting the stocking of foodstuff only if there is a 100% increase in the retail price of horticultural produce or 50% increase in the retail price of non-perishable agricultural foodstuff. This means, a corporate entity like RRVL can now stock foodstuff and horticultural produce and create a shortage in the market to raise their prices up to 49% and 99% respectively. No other Indian retail players can remotely match the capital and infrastructure prowess of Reliance Retail. This gives a competitive edge to RRVL whose owner is one of the biggest donors of the BJP.
Reliance's 5G-driven JIO Platforms, which brought Facebook and Google closer and became one of the obnoxious CIA projects, helped Ambani to become the world's sixth-richest man from the ninth position during the COVID-19 pandemic when millions were thrown into abject poverty in India. Now, as Reliance Retail stands out as a definite winner from Modi's contentious farm bills, it seems Ambani is all set to climb higher and reach among the top five of global billionaires. All this at the cost of Indian poor and precarious hunger situation, which puts the country at the bottom of the Global Hunger Index.
The speculative foreign finance capital is strengthening RRVL smelling an immense profiteering opportunity. The total corporate control over India's agriculture market and the omnipresence of Reliance JIO will not only pose a major threat to its sovereignty but also to its food security. As Reliance Retail will be extra-sensitive towards protecting the interests of its foreign investors, it will do anything to increase profit year-upon-year. This means a lot of food shortage due to excessive exports and extreme food inflation due to such shortages. The common people and the farmers will suffer due to such acts, but Reliance will emerge as the winner. Whoever may lose, the casino always wins.
An avid reader and a merciless political analyst. When not writing then either reading something, debating something or sipping espresso with a dash of cream. Street photographer. Tweets as @la_muckraker