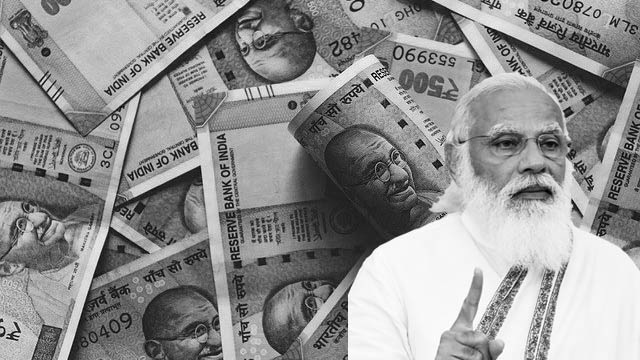 PSBs gift corporates freedom from debts worth Rs 4.37 trillion during 2018-20
Reading Time:
4
minutes
India's 75th Independence Day is celebrated with quintessential fanfare and jingoism. However, at a time when a Pew Research study showed that India's middle-income group—whose average daily earning varies from $10.01 to $20—shrunk by 32m in 2020 alone and India's poor, who earn up to $2 per day, increased by 75m at the same time, who are celebrating India's 75th Independence Day? Who else but those corporates and their crumb collectors who have immensely benefitted from cronyism under Prime Minister Narendra Modi's rule.
In response to a Right to Information (RTI) query on how much of total non-performing assets (NPA) or bad debts were written off by the Indian public sector banks in recent years, the Reserve Bank of India (RBI) informed that it doesn't maintain the record of total "bad debts" but provided the reduction in the NPAs for the PSBs in the financial year (FY) 2018-19, 2019-20 and from April to December 2020 due to write-offs.
So, what's the volume of the total NPAs that has been written off from April 2018 to December 2020? According to the RBI's response, a total of 4.37 trillion worth (Rs 437,226 crore) was written off by the PSBs from their loan books in this period. The highest amount to be written off was Rs 1.83 trillion (Rs 183,202 crore) in FY 2018-19, followed by FY 2019-20 when 1.76 trillion (Rs 175,877 crore) was written off.
Out of the PSBs, in FY 2018-19, the State Bank of India (SBI) had written off the highest amount –Rs 589.05bn (Rs 58,905 crore). The SBI was followed by the Canara Bank (Rs 142.67bn), Bank of Baroda (Rs 131.02bn), Punjab National Bank (PNB) (Rs122.53bn). The lowest write off was by Vijaya Bank (Rs 15.18bn), which merged with the Bank of Baroda on April 1st 2019.
In FY 2019-20, the SBI again topped the list of PSBs in writing off debts. It wrote off Rs 523.62bn in FY 2019-20 and was followed by Indian Overseas Bank (IOB), which wrote off Rs 164.05bn. Bank of Baroda was third in the row, with a total of Rs 159.12bn debts written off. The PNB, with Rs 133.65bn, and the UCO Bank, with Rs 124.79bn, followed them in the big Indian debt write-off scheme.
From April to December 2020, the PSBs collectively wrote off Rs 781.47bn of NPAs. Nearly one-third of the NPAs was written off by the SBI, Rs 258.27bn, followed by the Bank of Baroda's Rs 88.54bn, the PNB's Rs 86.49bn and the UCO Bank's 74bn. The lowest write-off during this period was by the Punjab and Sindh Bank, which removed Rs 40m from its loan book.
As the RBI doesn't share the name of beneficiaries of such NPA write-offs, hence, it's impossible to ascertain which entities benefitted the most from such generosity exhibited by the PSBs. However, as the PSBs don't have any policy so far to provide debt relief to families whose sole earning members succumbed due to the COVID-19 pandemic and continue to chase the bereaved family members for repayment of outstanding loans, it's clear that such small-ticket borrowers didn't benefit from the write off spree.
According to the banking policy in India, the unsecured loans given to individuals without co-borrowers must be paid back through lumpsum payment to the lenders if the borrower dies. No leniency is shown on humanitarian grounds by the banks to the borrowers' families. Then who are benefitting from these NPA write-offs, if not the big-ticket corporate borrowers?
Mr Modi's principal sponsors like Mukesh Ambani's Reliance Industries Ltd (RIL) or Gautam Adani's Adani Enterprises Ltd (AEL) are accused of rendering Indian banks bankrupt through their big-ticket loans. Mr Ambani's RIL's net debt on March 31st 2019 (page 403 or 405 of PDF) was Rs 1.54 trillion; however, on March 31st 2020 (page 381 or 192 of PDF) the previous year's debt amount was magically reduced to Rs 1.50 trillion.
What was behind this miraculous reduction? Also, the net debt of the company rose from the new figure of Rs 1.50 trillion to Rs 1.61 trillion on March 31st 2020, which means that RIL received new loans worth Rs 110bn during the same period. It's not clear how much of this amount came from the PSBs. There are reports that the company is raising a $1bn loan from a consortium of 31 banks for some unknown project.
There are far severe allegations against Mr Adani's AEL. On 31st March 2019 (page 168 or 170 of PDF) the net debts of AEL were Rs 25.16bn, while on March 31st 2020, it was reduced to Rs 22.28bn. The total debts of the entire Adani conglomerate fell from Rs 491.20bn in FY 2017-18 to Rs 434.84bn in FY 2018-19. In FY 2019-20, it rose by Rs 88.84bn and reached Rs 523.68bn.
Earlier, the long-term borrowings of the AEL were Rs 18.57bn in FY 2016-17, which fell to Rs 15.97bn in FY 2017-18. The long-term borrowings again fell to Rs 9.28bn in FY 2018-19 and then rose to 10.51bn in FY 2019-20 and further to Rs 13.38bn in FY 2020-21. The fall and rise in the debts of the AEL follow the pattern of the debt write-offs by the PSBs during these years.
The SBI is dragging its feet to raise $1bn for the AEL's controversial Carmichael coal mine project in Australia. There is an ongoing people's campaign against this disastrous loan to AEL. The same SBI had to write off Rs 1.37 trillion-worth NPAs between April 1st 2018 and December 31st 2020. When the project itself is mired in controversies and faces obstinate resistance from the local people and media, how can the SBI secure its interests?
The Indian PSBs are now merged by the Modi regime to ensure that they can be sold without hassles to private players, the very corporates who didn't repay their debts. How feasible it is to allow the cat to guard the fish, ie, allowing the corporates to manage the affairs of the PSBs, where millions of common people have their savings deposited? The Modi regime has only provided insurance up to Rs 500,000 to the depositors against their savings, in case a bank goes bankrupt. Who will bear the rest of the amount, if any, isn't clarified by the government.
As India celebrates its 75th Independence Day and Modi delivered a mundane lecture, full of jargons and cliched rhetoric, from the Red Fort's podium, it's time to realise who all can really enjoy "freedom"? Is it the common people who are hounded by the banks if they fail to repay their instalments or loans due to lack of employment or death? Or is it the corporates whose loans are miraculously falling with high NPA write-offs by the PSBs and then they are getting new loans worth billions? Data shows that the much-hyped "freedom" is the freedom to plunder people's money from PSBs by big corporates. For the rest, it's a reign of agony and distress. Whatever lies in between is sheer tragedy.
An avid reader and a merciless political analyst. When not writing then either reading something, debating something or sipping espresso with a dash of cream. Street photographer. Tweets as @la_muckraker