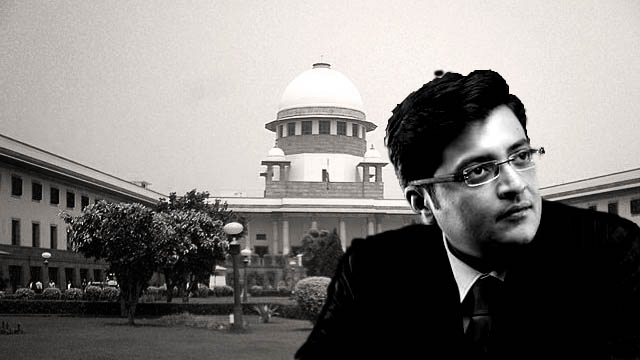 Supreme Court's bail to Goswami and the question of political prisoners
Reading Time:
3
minutes
The liberal school has indulged in chaos since the Supreme Court granted bail to Republic TV's Hindutva fascist rabble-rouser Arnab Goswami, who was arrested on charges of suicide abetment by the Maharashtra Police. A large section of critics of Prime Minister Narendra Modi and his Bharatiya Janata Party (BJP) began a cacophony over social media when Justice DY Chandrachud's bench granted bail to Goswami while paying lip service to "personal liberty". The controversy over the Supreme Court's bail to Goswami is uncalled for at present. Also, the wrong comparisons drawn with other cases won't help.
While the Supreme Court's bail to Goswami was a smooth affair, civil rights activists, poets, intellectuals, and political prisoners, who have been imprisoned by the Hindutva fascist Modi regime, continue to languish behind the bars without getting their bail applications considered for hearing. Octogenarians like Varavara Rao and Father Stan Swamy continue to suffer due to ailing health amid the raging COVID-19 pandemic. Their "personal liberty" is of no importance for the judiciary.
Women prisoners like Sudha Bhardwaj and Shoma Sen didn't get a chance to be heard by the judiciary. Activists like Umar Khalid, Meeran Haider, Sharjeel Imam, etc, remain behind the bars with the draconian Unlawful Activities (Prevention) Act (UAPA) slapped on them. Fr Swamy, Rao, Bhardwaj, Sen and their associates are also booked under the UAPA. This draconian law not only denies bail, but it also runs on "guilty, until proven innocent" formula, opposite of the Indian Penal Code's (IPC) sections. This has provoked people to question the Supreme Court's bail to Goswami.
Ignoring the major reason behind the arrest of the likes of Bhardwaj, Sen, Rao, Swamy and many other prominent intellectuals and activists in the Bhima Koregaon case, whose principal provocateurs––Sambhaji Bhide and Milind Ekbote––remain scot-free due to the largesse of the former BJP government led by Devendra Fadnavis in Maharashtra, one shouldn't compare it with the case of Goswami. One can't compare the UAPA charges against the activists like Khalid, Haider, Imam, etc, with the IPC sections under which Goswami was booked.
Maharashtra's ruling coalition has its share of problems with Goswami. It's their rift over power and influence, as Goswami is complicit in ongoing manoeuvres to topple the alliance government and reinstate a BJP-lead government, which acted as a catalyst behind the dramatic arrest of Goswami and his subsequent week-long imprisonment. Maharashtra's rulers are not against Goswami's ideological orientation, but they are indeed against the ideology of these activists who have been fighting for the rights of the marginalised.
Similarly, Khalid, Haider and Imam, who, along with other imprisoned activists, vociferously voiced their opinion against Hindutva fascist ideology of the BJP's parental body Rashtriya Swayamsevak Sangh (RSS), have become accused under the draconian UAPA so that they can be gagged institutionally and vilified. There is no scope for them to seek bail, despite the Delhi Police's charge sheets against them show frivolous charges prepared as per the RSS's diktats. Home Minister Amit Shah, Modi's deputy, has amended the UAPA in such a way that none can get out of captivity ever.
Contrary to these arrests, Goswami was arrested, along with Feroz Shaikh and Nitesh Sarda, under sections 306 (abetment of suicide) and 34 (acts done by persons in furtherance of common intention) of the IPC, in a 2018 suicide case of Anvay Naik and his mother. Abetment of suicide is a cognisable, non-bailable and non-compoundable offence. The former state government led by the BJP forcefully closed the case, just like it had withdrawn previous criminal cases against Bhide, the fascist mastermind of the RSS in rural Maharashtra.
Now the Supreme Court's bail to Goswami is normal as despite being booked under a non-bailable section––which means the accused has no right to bail but may get one as per the court's discretion––the apex court may allow him to remain free. But as a rule of exception, the Supreme Court won't grant bail to someone slapped with the UAPA at the trial stage. Thus, the analogy is unfounded.
Moreover, Goswami is a BJP-RSS man. It's not a politically correct move to bracket his case with those false cases slapped on the activists, journalists, intellectuals, and critics of the Modi regime. Rather than wailing over the Supreme Court's bail to Goswami, one must intensify the people's movements demanding scrapping of draconian acts like the UAPA and release of all political prisoners and poor undertrials languishing in jails. Else the rhetoric of these liberals will sound ridiculous.
Editorial desk of People's Review provides you the editorial view point and also shares the outlook of the collective wisdom that manages the publication. Send letters to the editor at: Write2us@peoplesreview.in