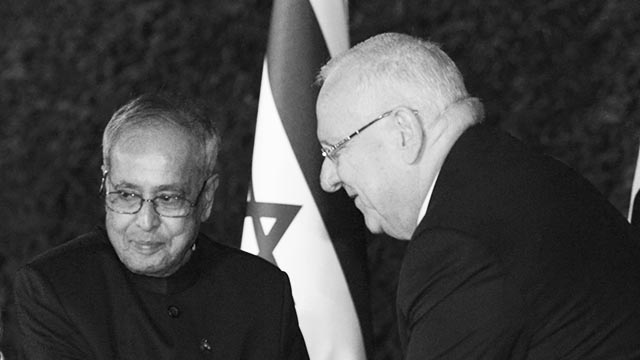 Pranab Mukherjee must be remembered for gifting India NRC
Reading Time:
5
minutes
Former president, Union minister and Congress party's veteran leader Pranab Mukherjee's demise at the age of 84 has saddened many. From President Ramnath Kovind, Vice President Venkaiah Naidu, Prime Minister Narendra Modi, Home Minister Amit Shah, other Bharatiya Janata Party (BJP) stalwarts and Rashtriya Swayamsevak Sangh (RSS) leaders to their bête noire Congress party's ailing leadership, the official parliamentary left bloc and centre-right forces have expressed grief over Mukherjee's demise. Despite shedding tears, bidding him farewell, what his native state, West Bengal, where he didn't do any political activity consistently ever, will remember this Delhi-based politician for is the notorious National Register of Citizens (NRC) exercise.
Mukherjee has a very intrinsic connection with the NRC exercise. He headed the department-related Parliamentary Standing Committee on Home Affairs, which prepared the 107th report on the Citizenship (Amendment) Bill, 2003, presented to both houses of the Parliament on December 12th 2003. This Report, which was signed by Mukherjee as the head of the Committee, which had members like Kapil Sibal (Congress), Lalu Prasad Yadav (Rashtriya Janata Dal), PA Sangma (Nationalist Congress Party), Swadesh Chakraborty [Communist Party of India (Marxist) or CPI (M)] and other "anti-BJP" leaders along with BJP members of the Parliament (MPs), shamelessly advocated NRC to weed out "illegal migrants", a term whose definition is quite ambiguous.
This Bill was presented in the Rajya Sabha by Lal Krishna Advani, the BJP leader and then home minister. This Bill later, after being passed by both houses of the Parliament, became an Act––Citizenship (Amendment) Act, 2003 (CAA 2003)––that provisioned the creation of a National Register of Indian Citizens (NRIC), as per the Section 14A added to the Citizenship Act, 1955. The creation of such an NRIC or NRC, whose Rules were published on December 10th 2003 by the Ministry of Home Affairs, actually rendered millions stateless.
Mukherjee knew this was coming because his Committee didn't oppose the Bill or raise questions over its anti-people character, despite his Bengali roots and being aware of the plight of millions of Bengali refugees in 17 states, including Assam, Meghalaya, Tripura and West Bengal. Rather, the Committee under him accepted, unanimously, Section 14A (7.11.1). Since then, millions have been rendered stateless according to the rules, and their citizenship is subject to the completion of an NRIC.
India in general, and West Bengal in particular, has seen a large influx of refugees from former East Pakistan and present-day Bangladesh, apart from Pakistan. These people, mostly from the ostracised Dalit communities, remained aloof from citizenship since arriving in India. While the majority of urban upper-caste elites and middle class refugees, who came with their educational qualifications and socio-economic superiority, got citizenship under Section 5 (1) of the Citizenship Act, 1955, the majority of lower-caste refugees, especially the Bengali Dalits (Namasudras), didn't get their citizenship.
To stop these refugees, who fled religious persecution, Pakistani Army's brutal violence and political repression, from applying for citizenship, the Rajiv Gandhi-led Congress government withdrew citizenship registration at district magistrate's offices and brought the CAA 1986, which imposed a condition on "citizenship by birth" of Citizenship Act, 1955. The CAA 1986 made it mandatory for anyone born after July 1st 1987 to prove that one of their parents was Indian citizen during their birth. While this caused complications for many refugees to register themselves as Indian citizens and live a normal life, the CAA 2003 closed the gate to citizenship for anyone who would be identified as an "illegal migrant".
The term "illegal migrant" was introduced for the first time in Indian citizenship register through the CAA 2003. This term technically makes the majority "illegal migrant".
Who is an "illegal migrant" according to the CAA 2003? The Act defines the term in Section 2, subsection (1), clause b, as:
"(b) "illegal migrant" means a foreigner who has entered into India–
without a valid passport or other travel documents and such other document or authority as may be prescribed by or under any law in that behalf; or
with a valid passport or other travel documents and such other document or authority as may be prescribed by or under any law in that behalf but remains therein beyond the permitted period of time;"
In case, anyone can't qualify as per the criteria laid down by the CAA 2003, then they will be considered as an "illegal migrant" and they, and their successors will lose the scope to apply for citizenship forever. To add teeth to this inhuman system of exclusion, the BJP government provisioned the NRC as a mandatory exercise as per Section 14 A (1) and (2).
While it's clear that the CAA 2003's intention was not just to turn millions into stateless "illegal migrant" people, whose labour can be bought at a cheap price, but also to stop these people from a particular class-caste bloc to reapply for citizenship, Mukherjee's Committee didn't raise the concern. Even though West Bengal has always shown the plight of its refugees, Mukherjee conveniently ignored it.
The 107th Committee's report shows how, even after knowing that this law will renegade millions stateless, there was a unanimous consensus on not providing citizenship rights to the refugees.
Dealing with the question of citizenship of the refugees who have fled from Bangladesh, Pakistan, etc, the Report's sixth point states:
"Adoption of a two-pronged strategy to deal with the problem was favoured. On the one hand, Members were for extending all humanitarian assistance to such refugees while on the other, they wanted the Government to put pressure through diplomatic channels on the governments of the countries from where these refugees were coming, either as a result of religious persecution or civil commotion, to create conducive atmosphere in their countries for early return of the refugees. Members expressed the view that the commitment made by the national leaders at the time of partition was to facilitate the entry of Hindus from Pakistan to India with a view to save them from religious persecution because Pakistan had proclaimed itself as a theocratic nation. This commitment, they felt depended on circumstances but, was, however, not an unending or open-ended one. They believed that it would be extremely difficult for India to accommodate such refugees as its own citizens were feeling the pinch of growing population, poverty and unemployment. At the same time those Members were of the view that the Government should not completely forget the commitment of our national leaders at the time of partition and it should keep into account the plight of those displaced persons who were uprooted from their homes due to failure of their sovereign governments to protect them in the wake of certain developments. Insofar as the migration of people from neighbouring countries to India due to economic reasons, Members were of the view that such migrants should be sternly dealt with as per the law of the land. (sic)"
This shows how the Committee under Mukherjee lampooned the aggrieved refugees and showed them the door. It's a well-known fact that even if, hypothetically, India pressurises its neighbours to take back the refugees, then too many can't simply go because they will again lose their livelihood and can't even restart their lives in their home countries after a gap of years. The Committee even didn't specify how can one determine whether a refugee came to India due to persecution or economic reasons. But they agreed to throw them out because that's how their xenophobic politics will reap benefits.
It's true that the BJP and the RSS have been instrumental in framing the divisive citizenship matrix to polarise the Hindu community. But laying the entire blame on the BJP-RSS, while remaining mute about people like Pranab Mukherjee, who has served the Brahminical fascist forces covertly all his life, and more aggressively as the President of India, will be an injustice. There is a dire need to critically re-examine his role in shaping West Bengal's future, especially through the lens of NRC.
An avid reader and a merciless political analyst. When not writing then either reading something, debating something or sipping espresso with a dash of cream. Street photographer. Tweets as @la_muckraker