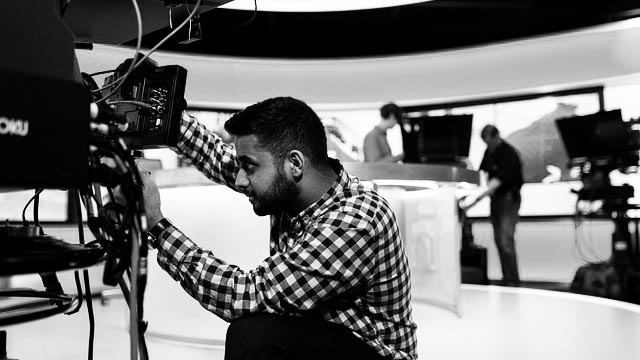 Journalism's metamorphosis into cheap entertainment in India
Reading Time:
4
minutes
Walter Cronkite's was a well-known American broadcast journalist during the 1960s. He was much respected, loved and hated at the same time for presenting the news as it was. There was no editorialising. There was no moral judgement. There was no prophesising. The news was what it was. "Our job is only to hold up the mirror–to tell and show the public what has happened", Cronkite said. These lines of his are an honest reflection of the actual job of the press. To report what is happening; to narrate information without any manipulation and biases. Nothing but the truth.
The world has covered a long way since journalists like Cronkite understood the press's significance and impact on the public mindscape. The world has entered a stage where multiple forms of media are available with multiple choices of information. In the battle of survival and cut-throat competition, the one which wins the greatest appreciation and applauses, is the winner, forget about the information, we are here choosing the winner. That's what media has been reduced to around the globe and especially India.
A recent study of "Columbia Journalism Review" shows that the Indian media industry is among the least productive in terms of its content and information it shares. This couldn't be agreed more. Indian media has shamelessly reduced itself to a new low of all times. There are many occasions and instances, which has proved that Indian media has lost its credibility, accountability, code of ethics and most importantly what is called reporting the truth. The ALTNEWS has exposed several stories of news manipulation by the Indian national media.
There are numerous examples from the past six years, especially where Indian media has as it functioned until then, metamorphosed from a pigeon––a messenger of truth and facts––to a hyena, one that serves its own interests fuelled by insatiable greed that drives it to devour its prey alive, sometimes ripping it apart. Here, we will focus on some of the brutal and barbaric prime time reporting happening or has happened with little to no regard for ethics and morality when the country is facing the worst pandemic of all times.
The media coverage of Tablighi Jamaat also referred to as Coronavirus hotspot earlier in April this year was nothing but another epitome of bias level our media has reached. The Tablighi Jamaat congregation has, of course, had a disastrous impact on the spread of the Coronavirus in India. It became a super-spreader accounting for over 25% of all COVID-19 cases India, including several deaths. But in reporting this catastrophic lapse on the part of both the Jamaat and the state authorities, the media, especially the electronic media, seem to be focussed on one thing alone–unleashing a propaganda war against the orthodox Islamic religious body and along with that entire Muslim community. Indian citizens locked inside their home, traumatised with the deadly virus needed an update of the situation, needed the exact number, needed the measures authorities both central and states were taking to trace the people in this battle against COVID-19. What they needed least was an attempt to communalise India's fight against the coronavirus outbreak.
Union Public Service Commission (UPSC) declared the results on August 4th 2020, and for much delight to the Muslim community, the commission registered 40% increase in the number of Muslim candidates who cleared the exams this year. A total of 40 Muslim candidates cleared UPSC examination this year compared to 28 candidates last year. This, too, didn't go very well with a few of the media houses.
A Hindi news channel Sudarshan News hosted a programme where they analysed that they claim is the sudden increase in the number of Muslims selected in various posts in administrative and police services in the country. The official sources of the channel took pride in promoting this as the biggest campaign against the "bureaucracy jihad" and "UPSC Jihad". It further said, "imagine jihadis from Jamia becoming your district commissioner and secretaries in every ministry."
The much-earned success of a minority community has become so indigestible for some the national media that some of them went far off to dedicate a complete program on this. We have larger and greater issues to cover and run. If the media is falling out of issues to cover, let's remind them. Let's start from the devastating effect of the Bihar flood followed by Assam. Loss of jobs and complete collapse of informal sector deserves some attention too. There is a myriad of issues happening that deserve proper and complete media coverage than the increase of Muslim candidates in UPSC this year.
The incessant portrayal of Hindi film actor Sushant Singh Rajput's suicide has been the lowest of the low for most Indian news channels. The vicious media trial happening before and simultaneously with the actual trial, which has been going on for almost months now, says a lot in an industry that has set a very low bar for itself. With Arnab Goswami becoming the official advocate for Rajput, justice is riding high on screams, accusations, and allegations. Everything else happening in the world and in the country can wait.
The highly-debated NEET and JEE protest coverage can wait, the rising number of deaths due to COVID-19 can wait, the discussion over the collapse of the economy can wait. What can't wait is justice for Rajput and to prove he was murdered without any evidence. Investigative journalism is fine but calling ordinarily his companions, family, associates and colleagues or for that matter, those convicted for his death and having a conversation are superfluous at such unprecedented times. Also, the conversation is not an actual one because a civilised conversation is rarely on the table when Goswami presides over prime time.
Everyone wants justice for a young and talented soul who lost his life in a tragic circumstance.  However, dedicating 15 to 20 hours of media coverage for this is insignificant. Rather what the press and journalists should do is ask questions to the government over its failures in the COVID-19 and the economic front. It should ask questions to the prime minister and his cabal over the failures of the government. Narendra Modi is the first prime minister of India who never has held a press conference during his tenure. He is not even facing the press when India has more than 846,395 active COVID-19 cases and every day more than 80,000 cases are being reported. Sad, that our mainstream press thinks that this is normal and gets to live past it. We can easily pass a statement that credibility is out for a long walk. Trolls rule social media and twitter handles are new political handlers. There are worse things than being disliked widely. Some of those things are not asking the right question and practising irresponsible and un-accountable journalism.
A silent admirer of galaxy and star follower, given a choice between human or books, would prefer latter with a cup of cold tea. A Jamia Millia Islamia alumni and an expert political consultant.