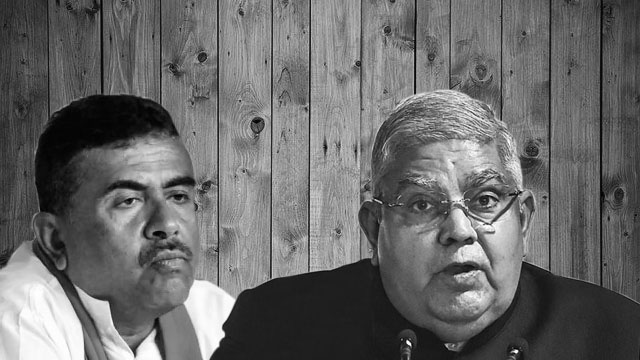 Dhankhar's summoning of West Bengal chief secretary a ploy to hide Suvendu's scams?
Reading Time:
4
minutes
Even as the Centre vs West Bengal kerfuffle over former West Bengal chief secretary—the state's top bureaucrat—Alapan Bandopadhyay continues, controversial Governor Jagdeep Dhankhar summoned the state's new Chief Secretary Hari Krishna Dwivedi over "rampant post-poll retributive violence" in the state. Dhankhar's summoning of West Bengal chief secretary when the state is undertaking disaster relief work for the victims of the cyclone Yaas shows that there is an obnoxious agenda behind this move.
"Extremely alarming law & order scenario @MamataOfficial. Security environment is seriously compromised. In such a grim situation called upon Chief Secretary to brief me on the law-and-order situation on Monday 7th June and indicate all steps taken to contain post- poll violence," Dhankhar had tweeted. This tweet takes a pot-shot at the state's chief minister directly and the governor can use these "warning calls" as notices before calling for a President's Rule under Article 356 of the constitution.
Dhankar's summoning of West Bengal Chief Secretary Dwivedi is an integral part of his campaign against Chief Minister Mamata Bandopadhyay at the behest of his boss Prime Minister Narendra Modi. Since Modi's Bharatiya Janata Party (BJP)—of which Dhankhar had been a leader—suffered an ignominious setback in its West Bengal expedition, the Party is alleging that its men are suffering due to political violence unleashed by Bandopadhyay's Trinamool Congress (TMC).
At the same time, the Central Bureau of Investigation (CBI) arrested three TMC elected legislators, including two ministers, and a former TMC stalwart who had been in the BJP for a brief period. Ms Bandopadhyay's outburst over the issue and her hyper-activism to free her loyalists gave scope to Dhankhar to threaten her with President's Rule in the state as he claimed her agitation against the Central Government had put the state in a constitutional crisis. Though Ms Bandopadhyay retreated under pressure, the contradiction between Dhankhar and Ms Bandopadhyay continues unabated.
Now, Dhankar's summoning of West Bengal Chief Secretary Dwivedi happened soon after the state government check-mated the Central Government in the tussle over Mr Bandopadhyay, whom the Modi regime ordered to march to Delhi and join the Central cadre of bureaucrats, which he refused and retired from services on May 31st 2021, forgoing the three-month-long extension he had got. Dwivedi became the chief secretary after Mr Bandopadhyay's retirement.
"Disturbing that this ostracisation has graduated to social boycott & denial of benefits they are otherwise entitled. They are made to suffer 'extortion fee' for living in their own house or run their own business. Most unfortunate that State functionaries @MamataOfficial are not even recognising this malaise much less take steps to contain it," Dhankhar tweeted, citing the social boycott of 18 BJP families for spewing communal hatred in Mahishda of Keshpur, Pashchim Medinipur district. Though the TMC is accused of giving the call to boycott these 18 families, allegedly by publishing a leaflet, the party has denied it and the police started an investigation into the issue long before Dhankar tweeted.
This hyper social media activism and issuing veiled threats have a hidden agenda. Dhankar's summoning of West Bengal chief secretary is a frantic attempt to divert the people's attention from what's happening with Suvendu Adhikari, the TMC turncoat who joined the BJP in December 2021 and defeated Ms Bandopadhyay, his former patron, from the Nandigram constituency. Adhikari is accused of siphoning off relief materials from Kanthi (Contai) Municipality, in connivance with his brother Soumendu Adhikari, who was the former chief of the body.
"On 29 May 2021 at 12:30 pm as per direction of Suvendu Adhikari and his brother and former Municipal Chief Soumendu Adhikari of Kanthi Municipality, Government tripal whose estimated value is around lakhs of rupees, was taken away from municipality office godown by forcefully and illegally opening locks, (sic)" the NDTV has quoted the police complaint filed against the brothers by Ratnadip Manna, a member of the administrative board of the municipality.
Adhikari is the BJP's prominent "son of the soil" face in West Bengal and has surpassed several old-timers to become the leader of the opposition. Now, as Adhikari is agitating against the TMC government, the BJP is in deep trouble due to the allegation of theft against him. This theft allegation against its top leader in the assembly is a cause of embarrassment for the BJP, which promised West Bengal a corruption-free reign.
It's ironically corruption investigations against him by the CBI and other central agencies that forced Adhikari to join the BJP. Soon after his joining, Adhikari started enjoying impunity as the BJP took down the video of him taking bribe from its YouTube channel and the CBI started providing him with leeway. The Narada Sting Operation case, in which the CBI arrested four amid a high-voltage drama, is the one in which Adhikari is also an important accused, yet he is spared all the ordeal.
Recently, without naming Adhikari and his father, the veteran politician Shishir Adhikari, Bandopadhyay threw barbs at them by accusing them of indulging in immense corruption during their tenure in the TMC-led government between 2011 and 2020, especially regarding irrigation projects and dam building to protect villages from tidal waves. Due to the lack of proper dams and walls, the Purba Medinipur district has suffered severe damages during the cyclone Yaas, the chief minister accused.
The Kolkata Police, in the meanwhile, arrested an aide of Adhikari, accusing him of running a fake government job racket. Rakhal Bera ran a racket from a flat in Kolkata, duping the job aspirants by collecting huge bribes from them. Adhikari's involvement in the scam can't be ruled out as Bera is considered quite close to him. This has also created severe issues for the state BJP and the Modi regime. Hence, the governor is now keen to distract the public attention with the cliché of political violence by even citing the Mahishda boycott call.
At present, Dhankhar's summoning of West Bengal Chief Secretary Dwivedi raises several questions. It shows that the BJP will not rest its case and will continue with its attempts to topple Ms Bandopadhyay's government. To seize power in West Bengal and to save Adhikari and his family, the BJP will go to any extent using Dhankhar's overtly political debauchery.
Unsigned articles of People's Review are fruit of the collective wisdom of their writers and the editors; these articles provide ultimate insight into politics, economy, society and world affairs. The editorial freedom enjoyed by the unsigned articles are unmatchable. For any assistance, send an email to write2us@peoplesreview.in