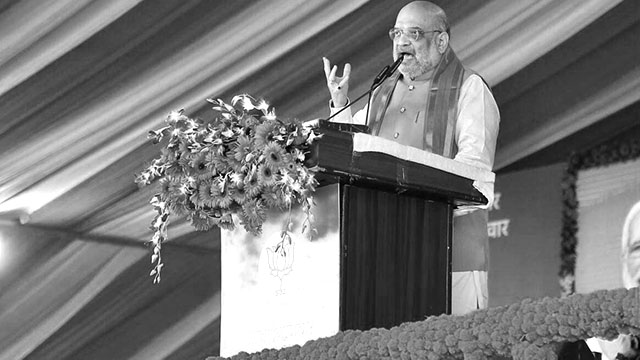 Is Amit Shah's claim regarding crime decline in Uttar Pradesh under the BJP's rule true?
Reading Time:
4
minutes
As India's most populous state Uttar Pradesh gears up for the forthcoming assembly elections in March 2022, the ruling Bharatiya Janata Party (BJP) has been frantically trying to retain its hegemony. The BJP has been using falsehoods to captivate voters, apart from deploying its signature Islamophobic propaganda to titillate the majority Hindu community. Union Home Minister Amit Shah's recent claim regarding a purported crime decline in Uttar Pradesh under the BJP's rule is one of such deceitful propagandas.
Shah implied that there has been a significant crime decline in Uttar Pradesh under the BJP's rule by stating one or two mafias were ruling each district before the Party won and Yogi Adityanath, the rabble-rouser monk-turned-Hindutva icon, became the chief minister. Shah claimed one would need magnifying glasses to find any trace of the mafia at present.
Shah claimed that women in Uttar Pradesh are safer vis-à-vis the pre-2017 years, and they can also go out at midnight safely. He also said that Yogi has fulfilled 90% of the BJP's 2017 poll promises and must return in 2022 to not just fulfil the rest of 10% but also to bring Modi back to power in 2024.
While Shah was claiming that there has been a crime decline in Uttar Pradesh under the BJP's rule, data from his Ministry of Home Affairs (MHA) shows a grim and quite contrasting image of the state's law and order situation under Yogi.
The National Crime Records Bureau (NCRB) recently released its Crime in India 2020 data, which shows a very different picture of Uttar Pradesh than what's claimed by Shah. An analysis of the crimes in Uttar Pradesh, its record on crimes against women and other parameters will show how Shah's claims are hollow.
Has there been any crime decline in Uttar Pradesh under the BJP's rule?
The NCRB computes the data it gets from agencies like the police, the jails, juvenile boards, etc, across states. Hence while it shows the number of cases registered under the Indian Penal Code (IPC) sections, it doesn't specifically clarify whether any of the crimes were committed by the organised mafia or fringe hoodlums. However, the nature of the crimes like murders, kidnapping, extortions, etc, can show the presence of organised crime.
According to the NCRB's data on murders in India—published in Volume 1, page 12—Uttar Pradesh tops all States. In the year 2020, 3,779 murder cases were registered in Uttar Pradesh involving 3,939 victims. At the same time, there had been 265 abductions for murders in the state, involving 269 victims, the highest in India.
When it comes to kidnapping, which is a sign of the presence of organised crime syndicates, Uttar Pradesh tops India with 12,913 cases in 2020. The COVID-19 lockdown may have reduced the number vis-à-vis 2019 when there were 16,590 cases, Uttar Pradesh still has the highest number of kidnappings in the country.
Only 42.3% of kidnapping victims have been recovered, while 16,847 victims remain untraced in Uttar Pradesh. This shows the inefficiency of Yogi's police force.
Women safety in Uttar Pradesh
Shah's claim of women living safely in Yogi-ruled Uttar Pradesh is countered by his MHA's NCRB data. Volume 1 of the Crime in India 2020 shows that Uttar Pradesh ranked third in India in 2020, after Odisha and Maharashtra, in crimes against women.
In 2020, a total of 9,864 incidents of crime against women took place in Uttar Pradesh involving 9,903 victims. Among these, 3,836 incidents of assault on women, the fourth-highest in India, involving 3,852 victims have taken place in 2020.
At the same time, 3,889 cases of sexual harassment, involving 3,894 victims, took place in Uttar Pradesh in 2020, the highest in India. The state ranks second in India when it comes to assault or use of criminal force on women with an intent to disrobe her, punishable under IPC section 354B, with 1,728 incidents in 2020 involving 1,741 victims.
Uttar Pradesh ranks second in India in rape cases, after Rajasthan, with 2,769 incidents of rapes involving 2,796 victims registered in 2020. It had 251 cases of attempts to rape as well during the same year. It was in 2020 that the infamous Hathras gangrape and murder case took place.
Crimes against the marginalised in Uttar Pradesh
While we referred to the Hathras incident, it's important to also see how the marginalised people, especially the ostracised Dalit community, have been suffering in Uttar Pradesh under the BJP's rule.
In 2020, crimes against Dalits in Uttar Pradesh rose to 12,714, which is the highest in India. Moreover, despite the COVID-19 lockdown, the crimes against the Dalits rose from 11,924 cases in 2018 and 11,829 cases in 2019.
Among these cases, there have been 214 murder incidents, involving 221 victims, as shown in the NCRB's Crime in India 2020, Volume 2. Also, 536 Dalit women became victims in 534 cases of assault on them and 604 Dalit women were raped at the same time in Uttar Pradesh, again the highest in India.
The incidents of mob lynching of Muslims by Hindutva fascists aren't recorded separately. They are simply passed on as murders or culpable homicides. Moreover, there is no provision for recording crimes against the minority communities and the crimes committed by the state machinery. This provides leeway to the government and saves it from humiliation.
Can high decibel propaganda conceal the facts?
After analysing the NCRB's Crime in India 2020, one can easily conclude that Union Home Minister Shah was lying at Lucknow regarding the purported crime decline in Uttar Pradesh under the BJP's rule. The data released by his ministry exposes his lies.
Shah's lies are just a glimpse of the massive lies that the BJP will peddle in the future to captivate the voters. The BJP can only use such high decibel propaganda to conceal Uttar Pradesh's grotesque reality and its burgeoning criminal enterprise.
Whether Shah's false claim of a purported crime decline in Uttar Pradesh under the BJP's rule will tantalise the voters is a different topic, what's most problematic is that an incumbent party is resorting to and relying upon sheer lies to win an election. This exposes the sorry state of Indian democracy and how easily the BJP manipulates public opinion to seize power.
Unsigned articles of People's Review are fruit of the collective wisdom of their writers and the editors; these articles provide ultimate insight into politics, economy, society and world affairs. The editorial freedom enjoyed by the unsigned articles are unmatchable. For any assistance, send an email to write2us@peoplesreview.in