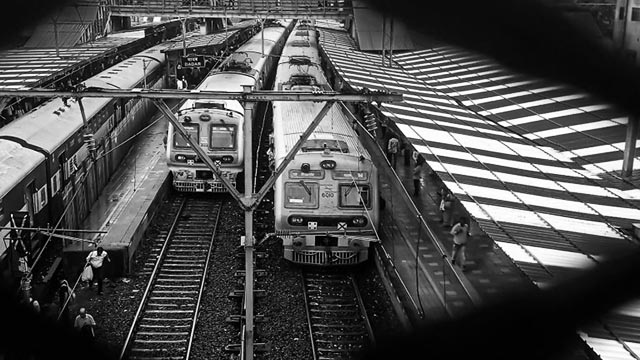 Mumbai local train services to follow vaccine discrimination violating fundamental rights
Reading Time:
4
minutes
So far, the Government of India has not made COVID-19 vaccination compulsory for the citizens. Moreover, there is a huge shortage of vaccines in India. Yet, the Union and the States have been jointly imposing vaccination on the people through their orders. Nothing proves this better than the new guidelines issued regarding the resumption of Mumbai local train services from August 15th 2021.
Maharashtra Chief Minister Uddhav Thackeray announced on Sunday, August 8th 2021, that commuters can board the Mumbai local trains from August 15th 2021 onwards, if they have completed their covid vaccination. The common people have been waiting for a long time for the Mumbai local train services to resume. However, this new guideline will prohibit most of them from boarding the local trains.
According to government data, until August 11th 2021, 47,748,246 (47.75m) people have been vaccinated in Maharashtra, out of which only 12,326,358 (12.33m) people have got both shots. Around 1.5m people in Mumbai—and not all of them are local train commuters—have been fully vaccinated so far. On August 11th, 246,677 vaccines were administered, out of which only 86,501were second dose shots. At this rate, it will take around a year to complete the vaccination of all adults in Maharashtra.
Thackeray's guidelines say that only vaccinated people can use the Mumbai local train services after 15 days of their second shot. This will again curtail the possibility of one's commuting. So far, until February 2021, the Mumbai local trains were run at non-peak hours. The morning service ended at 7am and then would resume between 12pm to 4pm and will finally resume at 9pm until the last local train departs from a station. It wasn't ferrying passengers during the peak hours. This caused severe inconvenience to the daily commuters, especially the poor and economically marginalised.
After the COVID-19 second wave hit Maharashtra from March till June 2021, the Mumbai local train services were stopped. It was later resumed but only for the categorised "essential workers". On Sunday, Thackeray informed that the commuters need to either download an app on their smartphones to get an e-pass for their journey or can apply to their local ward offices if they don't have smartphones. This means large crowds, violating covid restrictions, will gather at the ward offices. How will this serve the covid prevention agenda?
"Vaccination for COVID-19 is voluntary. However, it is advisable to receive the complete schedule of COVID-19 vaccine for protecting oneself against this disease and also to limit the spread of this disease to the close contacts including family members, friends, relatives and co-workers," the Union Ministry of Health and Family Welfare has stated in its frequently-asked questions (FAQs). The Ministry's FAQs copied the exact answer from the UNICEF's, which means globally a non-compulsory route is taken for vaccines.
On June 23rd 2021, the High Court of Meghalaya, in Registrar General, High Court of Meghalaya vs the State of Meghalaya, while dealing with the government's orders in prohibiting people on the ground of non-vaccination, said: "In this case, there is a clear lack of legitimacy in prohibiting freedom of carrying on any occupation, trade or business amongst a certain category or class of citizens who are otherwise entitled to do so, making the notification/order illconceived, arbitrary and/or a colourable exercise of power."
"A notification/order of the State certainly cannot put an embargo and/or fetter on the fundamental right to life of an individual by stripping off his/her right to livelihood, except according to the procedure established by law," the High Court's order further stated. It also said: "Till now, there has been no legal mandate whatsoever with regard to coercive or mandatory vaccination in general and the Covid19 vaccination drive in particular that can prohibit or take away the livelihood of a citizen on that ground."
If such government decisions to prevent people from exercising their fundamental rights have no legal validation, then how Thackeray and the Maharashtra government are arbitrarily issuing discriminatory guidelines that go against the Constitution's guarantee of equal treatment to citizens? What gives the government the absolute right to fetter on citizens' fundamental right to life by denying them an opportunity to use the Mumbai local train services?
The Indian Railways is given up for privatisation by Prime Minister Narendra Modi's Bharatiya Janata Party (BJP)-led government. The losses of the carrier during the pandemic period will be used as an alibi to promote the privatisation agenda. While Mumbai local train services ferried nearly eight million passengers daily during the peak days of the pre-pandemic period, it's now ferrying a minuscule portion.
Fewer passengers will lead to a fall in revenue and the Modi regime will see an opportunity to sell off the routes to private players, who will charge hefty amounts from the passengers. Though the rich and the upper-middle class can afford to ride private trains, the poor and the downtrodden will be left behind, leaving them to suffer.
A Pew Research study showed that India's middle class has shrunk by nearly 32m during 2020 due to the economic downturn that reached its peak amid the pandemic. It's 60% of the global retreat of the middle-income group—with a daily income between $10.01 to $20—during the same period. At the same time, India saw an addition of 75m to the list of poor, who earn $2.00 or less daily. This is also 60% of the global rise in poverty.
In such a situation, when the government is supposed to expand the scope of the subsidised public transport system, albeit keeping in mind the covid restrictions, allowing only vaccinated passengers to avail Mumbai local train services will cause further agony to the people. Thackeray's government can't be allowed to violate the people's rights. It must retreat from its decision and ensure safety and convenience to all, without any form of discrimination.
Unsigned articles of People's Review are fruit of the collective wisdom of their writers and the editors; these articles provide ultimate insight into politics, economy, society and world affairs. The editorial freedom enjoyed by the unsigned articles are unmatchable. For any assistance, send an email to write2us@peoplesreview.in