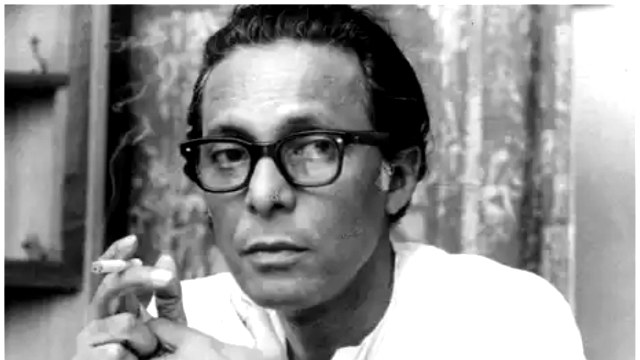 Curtain Drop: Mrinal Sen, the Black, the White and the Grey
Reading Time:
5
minutes
After living as a legend for 95 years, famous film director and critic Mrinal Sen bid adieu to the world on 30 December 2018 after leaving behind a long list of influential films that won international recognition. Mrinal Sen was the last living legendary member of the Holy Trinity of Bengali cinema. His death closed one glorious episode of the so-called  "New Cinema" wave in India.

The Holy Trinity of the Bengali cinema consists of three legendary icons, Satyajit Ray, Ritwik Ghatak and Mrinal Sen, whose work not only won fame and recognition globally but also became an inspiration for many generations of cinema makers and cinema lovers. Far away from the realm of mainstream commercial cinema, their unique work and style created an ecosystem in which every budding director and technologist wants to live even today.

Mrinal Sen was a vivid and multi-hued character like his films that tried to awaken the conscience of the middle-class that has been long lost in the blind alleys of consumerism and self-centred pursuance of petty-bourgeois ambition. Mrinal Sen was eternally non-conformist and so were his films, which were not exactly what the audience were eager to watch but what Mrinal Sen himself wanted them to see.

As an avid reader, Mrinal Sen, like Satyajit Ray, depended on literature as the source of his films and then use his own interpretation to change the actual diegesis to something that he wanted to portray, in a language that would often ridicule the society and its intrinsic contradictions.

Unlike Satyajit Ray, who remained aloof from direct political action and sub layered his dissenting views through cryptic messages embed in his films that can be deciphered by each according to their own views, Ritwik Ghatak and Mrinal Sen didn't shy wearing their political identity on their sleeves. As a Trotskyist and semi-anarchist, Ritwik Ghatak's films were a clear deviation from the organised and agitprop films that party card-holders generally make to carry out their party's propaganda.

Albeit no party flag bearer himself, Mrinal Sen was more direct in his approach in using films as agitprop and as a weapon to expose the contradictions within the society, especially those that turmoil the middle-class and the poor. However, as a moderate, he was balanced too and ensured that the government wasn't unhappy with him and his films. It was his balancing that made him a favourite of the Indian state as well as the radical left cinema lovers; a trapeze walk he managed all his life.

Fighting against all odds, Mrinal Sen always created some of the marvels in the film world for which he will be remembered forever. His first film was Raat Bhor, released in 1955, it starred the legendary actor Uttam Kumar but couldn't do much in the box office and Sen had to retreat into the oblivion, as part of self-imposed isolation. He returned with a big bang in the 1960s releasing Neel Akasher Niche and Baishe Srabon, two films that carved his niche among the creme de la creme of Bengali cinema. He entered the very league that Satyajit Ray turned into his fiefdom following the success of Pather Panchali and the Apu Trilogy.

Since then, Mrinal Sen had directed 28 films in Bengali, Hindi, Oriya and Telugu, he made four documentaries and two television shows. Over the years, his anger, militancy and controlled rage subsided and the films became more subtle, softer and self-critical at times.

The vociferous opposition to the system in Baishe Srabon, the anger in Pratidwandi and the narration of hunger and poverty of the tribal people in Mrigaya, later changed considerably to show another side of his tilting liberal political view. Mrinal Sen introduced the audience to a very dark side of chaos and confusion through his film Mahaprithibi, which exemplified the change in his own political viewpoint following the Soviet Union's collapse in 1991.

Though his films were largely critical of the present socio-economic order and the brutal side of the imperialist and capitalist world order, including the feudal character of rural India, they didn't carry a revolutionary zeal quintessential of a Marxist filmmaker. While Ritwik Ghatak kept hovering over anti-establishment views, yet keeping his opposition to the collective idea of Marxism-Leninism due to his Trotskyist inclination, Mrinal Sen kept encircling the parliamentary left periphery, which made him a blue-eyed anti-establishment filmmaker of the establishment itself.

Awards poured in for him, followed by a series of governmental recognition and even government funds for his films. Even Ritwik Ghatak, despite his so-called 'revolutionary' zeal, never hesitated from accepting government assistance in making films or chairing government-run institutions like the FTII. Such opportunism on part of both of these 'left' filmmakers, turned their work into journals of unresolved class contradictions.

While Mrinal Sen challenged the domination of Satyajit Ray in Bengali cinema and Ritwik Ghatak brought his non-conformist, path-breaking and absolutely anarchist cinema to start what was officially called the "New Cinema" of Bengal, their works largely showed "topicality" sans any sort of inspiration for the future.

While highlighting the problems of contemporary society, including poverty, hunger, unemployment, death and contradictions within the society, both Ghatak and Sen deliberately refrained from showing any sort of solution to these problems and thus throwing the clueless audience into the realm of utmost confusion.

At one point in time, Satyajit Ray rightly criticised Mrinal Sen in his personal letter to one of his friends, where he said that the art filmmakers are busy in collecting awards at international festivals but not engaging with their audience. While for Ray, the audience was an important factor of cinema, for Mrinal Sen it was his way of narrating the tale. The duo had several spats in a period of 30 years and at times their antagonism reached the peak, even in public, as can be seen during the 1965 tirade over the critic of Mrinal Sen's Akash Kusum.

Mrinal Sen's obsession with the narration forced his audience to see what he wanted them to see and mostly, he evaded the responsibility of a Marxist filmmaker to use films to deliver a keynote at the climax, which would infuse a lot of inspiration among the members of the working class and other sections of the toiled people. Rather, Mrinal Sen always made films that were acclaimed by the middle-class and the upper-caste elite Hindus of West Bengal and elsewhere. The class of workers and peasants, the toiled masses, etc. didn't see his films, he didn't connect with them and thus, the agitprop kept the city petty bourgeois engaged in meaningless film reviews that lacked any sort of critical analysis.

This reluctance to engage with the working class and the peasantry or to portray their battle for justice, liberation and equality, forced Mrinal Sen to simply consider the middle-class as his audience and thereby his films, even depicting the hardships of the poor and the exploited, became docile tools of the ruling clique.

It's a very sad affair that Mrinal Sen is always eulogised by the left and democratic camp for his support to the CPI and the CPI(M), both parties that betrayed the cause of the working class and the peasantry repeatedly. While he is eulogised, the film critics and his fans forget that by not doing an in-depth and critical review of the man and his work, they are actually doing injustice to Mrinal Sen and cinema itself. The likes of Mrinal Sen have positives and negatives and they must be praised for their brave work and criticised for their revisionist and opportunist inclination.

Obituaries are generally filled with positive notes, however, Mrinal Sen was not a man who would leave messages for the audience. Thus, he passed away after leaving behind a long list of films that will become his identity from now onwards. Mrinal Sen's work must not be treated as the marvel that deserves no criticism, rather by shunning any form of obeisance towards the master of the trade who had ruled the cinema world with his own charisma, it's important that Mrinal Sen and his works are reviewed critically and in the context of their existence. Only then we can do justice towards Mrinal Sen, another maverick who just turned into past tense in 2018.
Neeladri Mukherjee is a former high school teacher and a Rabindra Sangeet lover. An M.A. in Political Science (not entire), Neeladri is a close observer of West Bengal politics, South Asian affairs and the trade union movement.