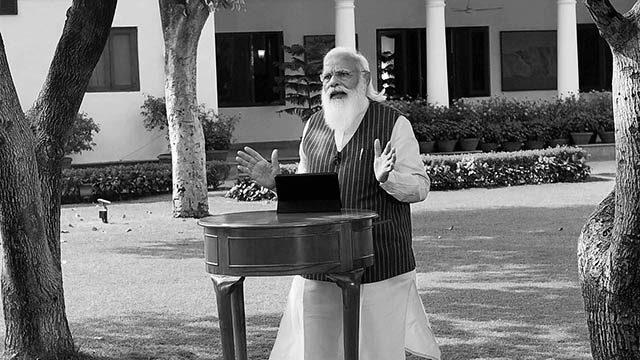 Why Modi's "Pariksha Pe Charcha" isn't something Indian students need now?
Reading Time:
4
minutes
On Wednesday, April 7th 2021 evening Prime Minister Narendra Modi's "Pariksha Pe Charcha" (Discussion on Examination) was broadcasted. In this programme, Modi sermonises school students and their parents about how to tackle examination stress and how to do better in their studies. The "Pariksha Pe Charcha" on Wednesday was the fourth part of the series that started on February 16th 2018 from New Delhi's Talkatora Stadium. Like the previous events and Modi's book on the topic —"Exam Warriors"—the latest edition, the maiden digital one, also stoked controversies.
Modi is neither known as an academician or a man with prior experience in teaching school students or with any experience in the education and wellbeing of children, except his experience as a Rashtriya Swayamsevak Sangh (RSS) Pracharak (proselytiser). The RSS runs schools all over India, albeit to raise a large army of radicalised, Hindutva-incensed feral pawns for its fascistic missions. Such an experience won't help one to assist the high school students wanting to excel in academics. Still, utilising his position's privileges, Prime Minister Modi continues to organise the "Pariksha Pe Charcha" shows.
Whether Modi's self-claimed graduate and post-graduate degrees are valid or not is still debated in India. There are controversies around his statements on weather change, making cooking gas from the gutter, sending email and using a digital camera in the 1980s, and, above all, using clouds to take cover from military radars, etc. But as the attacks of the Opposition on these questions come from an elitist outlook, Modi and his Bharatiya Janata Party (BJP)—the RSS's parliamentary wing—manage to crisscross such accusations using rhetoric and emotive tugs regarding Modi's "humble" background.
A million students, 262,000 teachers and 93,000 parents have registered for the "Pariksha Pe Charcha". Modi's key messages in this programme were hypocritical and, in some cases, extremely problematic for students. While he rightly asked students to not take the exams as a burden and attempt them without stress, he didn't inform them that his government's new National Education Policy 2020 (NEP 2020), will increase years of school education and complicate the system for students.
Addressing the students, Modi said: "When we are not comfortable with a subject, we waste 80% of our energy on stressing over them. We should distribute our energy equally between all subjects. If you have two hours to study, divide those two hours between all subjects."
This isn't a realistic solution for students burdened with a huge syllabus load. Each student is different, and their challenges are different. One may be good in linguistics, while the other can be good in science and mathematics. If they emphasise equally on all subjects, while they will grasp their favourite subjects well, they may not quite well comprehend those subjects where they need excessive focus to strengthen their skills. This will create a gap in learning, which will be hard to fill.
When Modi said that students should learn to deal with the hard problems first, then he was right, but not in the context of the present-day examination system. If students start with hard problems first, they may lose valuable time at the beginning, which could've been used to answer the easier ones. In case they can't answer the easier ones due to lack of time, in the end, they will miss out on the assured numbers they could've scored in case they had attempted those questions first. But then, Modi wouldn't get the credit of being an "innovator". Thus, discombobulating a vulnerable mind is part of his experiments as the contentious prime minister in post-colonial Indian history.
During his "Pariksha Pe Charcha" programme Modi also dealt with the issues of parenting and asked parents to stop discriminating between boys and girls. While saying this, he ignored his BJP's role in reaffirming gender stereotypes and the utmost sexist comments by his colleagues. Modi is accused of using catcall while mocking West Bengal Chief Minister Mamata Bandopadhyay during an election rally. The BJP's record in discrimination against women and the RSS's patriarchy are infamous. Hence, such sermons exhibit utmost hypocrisy.
Throughout the "Pariksha Pe Charcha" programme, Modi answered students in Hindi, while students from all over India and those studying in schools abroad had to ask questions in English or Hindi. It showed Modi's penchant for Hindi, imposed on the non-Hindi population forcefully under the guise of "promotion of Indian languages" as proposed by the NEP 2020. By enforcing Hindi on the non-Hindi speakers or forcing them to question in English showed what lies ahead for India under the NEP 2020.
Moreover, the choice of participants whose questions Modi answered, showed that the "Pariksha Pe Charcha" is specifically designed for the urban, upper-caste Hindu elites and middle-class, who form the BJP's core support base. Divorced from the agony of millions of school students from poor and lower-income groups, who belong to marginalised Dalit, tribals, backward classes, minority communities, the "Pariksha Pe Charcha" programme only dealt with the quintessential privileged students' issues. It didn't address or even mention the hardships that the underprivileged and marginalised students face, especially following the lockdown.
This article showed why the online education system isn't feasible for most Indian students and why it will deprive the poor students. This is exactly what the NEP 2020 plans to do. The students from marginalised and oppressed backgrounds have a different set of issues than the students from upper-caste, elite and middle-class backgrounds. Their principal challenge is that their schools, where they used to eat mid-day meals, are closed. They can't study online as they can't afford gadgets and high-speed internet. They look forward to their schools opening again so that they can catch up with their studies, which Modi remained non-committal about.
Modi also remained tight-lipped about when the schools will open, which would bring at least some minimal parity between all students as those who can't access digital education can then study again. Millions have been thrown into the abyss of poverty and the middle-class has shrunk during the pandemic, which means several students have the sword of Damocles hanging over their future due to the financial uncertainties their parents may be undergoing. Concealing the existence of such hard-hitting realities, Modi conveniently answered a visibly elite woman from Moradabad asking for guidance on child nutrition.
Under Modi's sclerotic rule, India has been turned into a self-mocking nation. When millions of children are suffering malnutrition, lack of education and are dropping out of schools, the prime minister runs a self-promotional PR campaign spending the taxpayers' money. Students are used as building blocks by the megalomaniac tyrant in his attempt to rebuild his image.
The "Pariksha Pe Charcha" is an elitist and anti-people programme, which mocks the agony of millions of deprived students whose schools are taken away from them and are forced to toil along with their parents to make a living. It's time India questions its elected prime minister why the people's hard-earned money is spent on activities like these at the time of sheer economic crisis? If not asked now, the government will continue mocking the country's intellect using the people's money for promoting the prime minister.
Unsigned articles of People's Review are fruit of the collective wisdom of their writers and the editors; these articles provide ultimate insight into politics, economy, society and world affairs. The editorial freedom enjoyed by the unsigned articles are unmatchable. For any assistance, send an email to write2us@peoplesreview.in