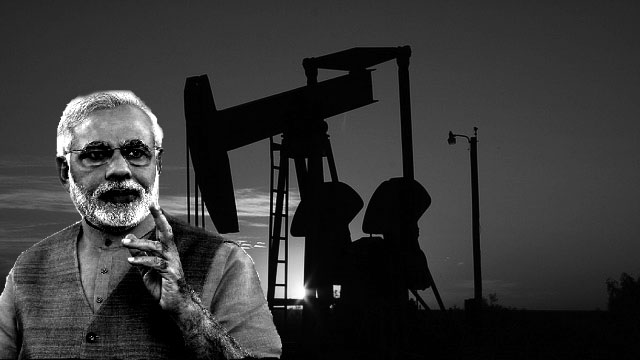 Oiled Modi in Houston ties India's energy security with neo-colonial Texas oil cartel
Reading Time:
5
minutes
Prime Minister Narendra Modi's visit to Houston, Texas, for his Howdy Modi event, where US President Donald Trump joined him on the stage to praise him, wasn't a simple tour to meet a 50,000-strong crowd hooting and cheering for him at the NRG Stadium. Modi's Texas tour wasn't merely for the Howdy Modi event, but to strike a deal with the notorious Texas oil cartel. Modi's Houston visit colonised India, energy-wise, to the US imperialism.
After Modi succumbed to the US pressure and ended oil imports from neighbouring Iran, which offered India a very friendly credit system, India's dependence on the US and its lackey, the Kingdom of Saudi Arabia, for energy requirements has increased manifold.
However, things between the US and India in the trade front didn't go smoothly in the recent past due to the selective corporate appeasement policy of the Modi regime. Its bias against any firm that throws a competition to the domination of a handful of crony-comprador capitalists irked the US corporations, who have been drooling for bigger opportunities in India and greater access to its market and resources. Modi's disarrayed economic policies that didn't offer them what they wanted at the first go also triggered the anger of the US corporations. This made Trump take strong trade actions against India, despite a growing bonhomie between his and Modi's regime.
Trump's arbitrary scrapping of India's status as a "beneficiary developing country" under the Generalised System of Preferences (GSP) in May 2019 shocked the Modi regime. Under the GSP, the US allows preferential duty-free entry for thousands of products from designated beneficiary countries. In retaliation to Trump's action, his pal Modi had raised tariffs on 28 categories of imports from the US.
Though Modi and Trump met twice following the GSP fiasco during the G20 and G7 summits, in Japan and France respectively, bilateral trade issues remained unresolved. However, at the same time, the US made efforts to make India an appendage of notorious Texas oil cartel, which includes the oil giants who influence American foreign policy and even make the US wage war and colonise countries to seize control over their oil mines.
Due to a drone strike at the Saudi Arabian oil major Aramco's oilfield, which caused immense loss to the Wahhabi terrorist monarchy, the Indian oil companies started facing a shortage as the kingdom couldn't meet its promised supply of crude oil. It also hit the global crude oil price due to the shortage of production.
As each $10 per barrel increase in crude oil price leads to an annual $12-14 billion current account deficit in India, oil price stability is vital for the Indian economy. Oil price is one of the biggest contributors to inflation in the Indian economy. The Aramco incident threw India into jitters and it started looking for an option to ensure the supply gap is filled. Texas is always up for new business opportunities in the energy sector, Saudi Arabian woes became a boon for the US oil companies.
For the Texas oil companies, India is a lucrative market as its energy demand is all set to grow at an estimated 4.2% for the next 25 years. The Indian energy market will worth $100 billion in the next three years. To fill their coffers with profit from this opportunity, the Texas oil companies have strongly influenced the Modi regime and the ruling Bharatiya Janata Party (BJP) with their largesse. In return, the Indian oil companies owned by the Modi regime are collectively investing around $4 billion in the US shale gas assets.
During his recent Houston tour, Modi met the CEOs of 17 notorious Texas oil giants like ExxonMobil, BP Plc, Cheniere Energy, Dominion Energy, and Total S.A., etc, to discuss India's growing energy requirements.
With the help of Trump, the Texas oil giants pushed Modi to serve their agenda and rescue them at a time when Trump's trade war with China has pushed them into a crisis since February. It was under the influence of the US government and the Texas oil lobby that the Modi regime has earlier decided to make liquified natural gas (LNG) 15% of India's power-generation mix by 2030. He reaffirmed his commitments to his new American masters in Houston.
Modi's sudden love for clean energy mix comes from the Texas oil cartel's influence. Under Modi, India has contracted 9m metric tons per annum (mmtpa) of LNG from the US, making it the sixth-largest buyer of US LNG in the world. India also bought 13.9m barrels of US crude oil in June.
Not only India is simply buying from the Texas oil cartel, but it's also investing a significant amount of money in the US energy sector to secure supply source for the future. Money from the Indian public sector oil companies is going in strategic investments in future projects of the US oil and energy companies.
During his Houston visit, Modi oversaw the signing of a Memorandum of Understanding (MoU) between the US natural gas company Tellurian Inc. and Petronet LNG Limited (PLL) of India.
According to this MoU, PLL, which is owned by different Indian public sector oil companies, will invest $7.5 billion to buy 18% stake in Tellurian Inc.'s proposed $30 billion-worth Driftwood LNG terminal near Lake Charles, Louisiana. In return for this investment, Tellurian Inc. is promising to supply 5 mmtpa of LNG for 40 years. This will be the largest LNG import for India from the US. The deal is all set to be finalised by March 2030.
In a first of its type, the Indian Oil Corporation (IOC), India's largest public sector refiner, has inked two term contracts, totalling 4.6 million tons of US crude oil for 2019-20, with Norway's Equinor ASA and Algeria's state-owned energy company Sonatrach.
Apart from this, the state-owned GAIL is investing in Cheniere Energy Inc.'s Sabine Pass terminal in Louisiana for locking in a 20-year-long supply contract.
Indian investments and contracts for the US shale assets will be quite problematic and excessively costly option. As India would require recalibration of its processing facilities and ramp up its cost of production, it will eventually make fuel costlier for Indians and add to inflation. Only a handful of Indian refineries, like IOC's Paradip Refinery, can process shale oil as its composition and properties are different from the crude oil.
However, to meet Modi's ambitious projects that serve the interests of the global energy giants and the US monopoly-finance capital, the Indian public sector oil companies will be exploited and their money will be either spent in recalibrating the processing units or to pay a higher price for the shale fuel imports, which come with American preconditions and tight supervision.
India's dependence on the US shale fuel for its growing energy requirements will tie it up with the whims of the Texas oil giants, who can always use their undue pressure to have their wills executed. India's absolute dependence on shale oil will jeopardise Indian energy security. Texas oil firms are neo-colonial powerhouses and their influence on Indian politics and economy will prolong the rule of Hindutva fascism of the BJP. With the backing of the Texas oil lobby, the BJP and Modi will be far more powerful in the political arena and can easily do away with the remnants of constitutional democracy in India.
By budging to American and Saudi Arabian pressure to stop fuel imports from Iran, and by increasing its dependence on the US shale assets, India will eventually allow its energy sovereignty wither away. Modi's servility towards the US interests and his government's decision to invest and lock Indian public sector money in the notorious Texas oil cartel's future projects will eventually harm India's energy security and can expose a scam that's bigger in width and scope than the Rafale Jet scam. It's only a matter of time that the Modi regime will sell-off the remnants of India's sovereignty to the US imperialism.
An avid reader and a merciless political analyst. When not writing then either reading something, debating something or sipping espresso with a dash of cream. Street photographer. Tweets as @la_muckraker