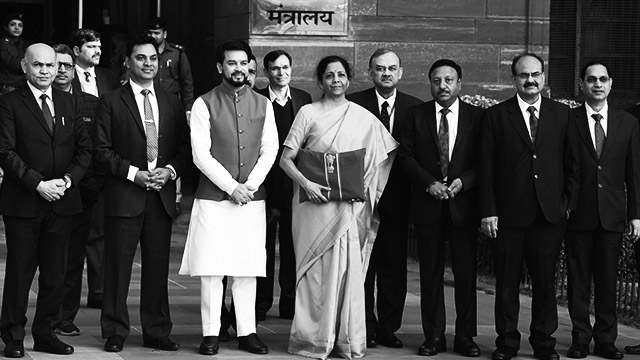 Nirmala Sitharaman's Union Budget 2020-21 speech didn't mention "unemployment"
Reading Time:
3
minutes
The Union Budget 2020-21 tabled by Finance Minister Nirmala Sitharaman on 1 February 2020 can be called one of the most disarrayed budgets that India has ever seen. The Union Budget 2020-21 failed to address the core issues affecting the Indian economy, and one of these issues is the unemployment problem. Sitharaman's Union Budget 2020-21 speech didn't touch upon or acknowledge the prevalence of unemployment directly, though it spoke about various measures to increase income through agriculture, fishery, infrastructure, etc. In Sitharaman's entire budget speech, the term "unemployment" was not even mentioned once.
When the country is reeling under a severe unemployment crisis, which is at a staggering 45-year-high 7.2%, the conspicuous silence on the issue and the reluctance to acknowledge its presence is quite a putrid act.
What has Sitharaman proposed for the unemployed? Her budget speech spoke about apprenticeship, embedding technical courses and providing engineers with an internship opportunity through local government bodies. But what about employment? New opportunities? Especially for the poor, marginalised and unorganised workers?
Sitharaman's Union Budget 2020-21 speech emphasised on the infrastructure projects, stalled for a long time, which the crony-comprador capitalists who met Prime Minister Narendra Modi earlier in January 2020 asked for. Though she didn't allocate the required Rs 2 trillion for the halted infrastructure projects, there are indications that the government will at least push housing to ensure that the real estate sector, one of the biggest contributors to the ruling Bharatiya Janata Party's (BJP) coffer, can realise the money locked in the stalled projects. 
Taking the infrastructure route to resolve the unemployment crisis will be like resorting to the Atal Bihari Vajpayee era when the national highway projects were used to generate temporary employment opportunities and to boost rural demand. Such projects can't have long term significance in resolving an impasse like high unemployment that has forced a fall in demand for goods and services, creating a cataclysm. Sitharaman's Union Budget 2020-21 speech mentioned that Rs 220 billion is already allocated for the Rs 1.03 trillion National Infrastructure Pipeline and the government is already seeking financing of Rs 1 trillion. 
Sitharaman also declared that the Modi regime will form a National Recruitment Agency (NRA) as "an independent, professional, specialist organisation for conduct of a computer-based online Common Eligibility Test for recruitment to Non-Gazetted posts." (sic) However, how could this NRA operate when such Non-Gazetted post openings are very rare is a question one must ask the government. People who have applied for various past exams and have qualified in tests and even interviews are denied appointment by the Modi regime. 
The idea of pushing Startups and announcing far more tax sops for corporate houses, especially the power companies, won't do any benefit to the common people or create employment opportunities. Sitharaman's Union Budget 2020-21 speech sold a long-term picture to the country, quoting eloquent verses from Kashmiri or Tamil poetry, yet didn't say how the revised corporate taxation and non-criminalisation of corporate act violations will help in generating employment as negative sentiments in the market about the economy has deterred many from investing in India?
Even though Sitharaman's Union Budget 2020-21speech assured about faster clearance of investment proposals, swift and easy Goods & Services Tax (GST) filing, etc, it didn't address a crucial question of economics — why would investment come at a time when the market is viewed as a stagnant one and when there is a high inclination towards automation? How does the government plan to tackle the challenge and use the public sector to provide employment opportunities to the vulnerable socio-economic groups? Rather than using the public sector to create employment opportunities, the Modi regime has actually dismantled it to pave way for higher profiteering for BJP's closest corporates.
The sheer nonchalant attitude shown by Sitharaman towards the unemployment issue is not an isolated problem with her, probably one of the few people at the top of the BJP with a formal education in economics, rather, with the entire Modi regime. In the last six years, this government has clearly manifested this in clear terms that employment generation — despite promising 20m jobs a year in the 2014 elections — is never going to find a place in its actual agenda.
Thus, despite unemployment has turned out to be a septic wound for the Indian economy and its gargantuan status showing how the neo-liberal economic model has failed, Sitharaman's Union Budget 2020-21 speech didn't mention the term because the government's goal is to liquidate national assets and impose a burden of foreign debts on the poverty-clad people. For the unemployed, this Union Budget 2020-21 even didn't show a mirage of hope.
An avid reader and a merciless political analyst. When not writing then either reading something, debating something or sipping espresso with a dash of cream. Street photographer. Tweets as @la_muckraker