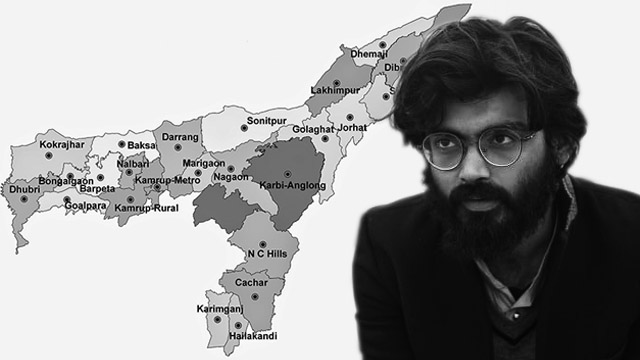 Sharjeel Imam, Assam and the ferocious Hindutva fascist state
Reading Time:
6
minutes
"I disapprove of what you say, but I will defend to the death your right to say it" was once penned down by famous French Enlightenment philosopher Voltaire. Sharjeel Imam, a  research fellow of Jawaharlal Nehru University (JNU), has been witch-hunted by the Hindutva fascist Indian state and has been finally compelled to surrender to save his family from an incessant ordeal. He is in custody of the infamous Delhi Police, directly commanded by India's notorious Home Minister Amit Shah, over his 'seditious' political comments at Aligarh Muslim University (AMU). 
Now Imam is added to the row to be tortured for what he said beneath the "prosperous tri-colour". Since Hindutva fascists under Prime Minister Narendra Modi have seized the state power, the 'officialisation' of Hindutva fascism has been legitimised through their all-out action on the poor masses of this land. Following the line of European fascism, it has targeted all the people including the social-democrats, intellectuals and 'liberals'. If Imam has been one of the key organisers of Shaheen Bagh's ongoing protest movement, we all need to be politically analysing the very act of one young man who mobilised thousands on the street of Shaheen Bagh, to start what's India's hitherto most remarkable and inspiring organic mass movement that has inspired hundreds of other mass movements all over the country. 
Imam's role can be hailed as that of a good mass organiser against the proto-fascist goons of the ruling Bharatiya Janata Party (BJP) and its parent body Rashtriya Swayamsevak Sangh (RSS). Arresting Imam is just another project of Hindutva fascists to manufacture terrorists out of intellectual Muslim students. While Hindutva fascists like Pragya Thakur, Anurag Thakur or Kapil Mishra can openly call for genocide, while people like Dilip Ghosh can hail genocides of Muslims, while the Supreme Court can grant bail to convicts, who massacred 30 Muslims in the 2002 Gujarat pogrom and ask them to change themselves through spiritual work, a Muslim student, who is well-versed and well-read, is automatically stamped as a terrorist to suit the mainstream Islamophobic narrative. In India, a 17-year-old gun-wielding thug who shot a Jamia Millia Islamia student in front of nonchalant policemen and is projected as a "self-radicalised" youth, it's no wonder that Imam will be called a Muslim and will be speared repeatedly by the high-pitch television anchors.
While such vilification is carried on by the Hindutva fascist Modi regime, what Sharjeel said as to "cut-off Assam and North-East from India" can be seen in multiple ways. Let's go through the 'seditious' words uttered by him, that purportedly shook the Constitution. He said "the time has come when we should tell non-Muslims" that if they sympathise with us, then they must stand with us on our terms. If they can't agree to our terms, they can't sympathise with us". Then he said brilliantly, "we should create ruckus on the railway tracks and roads so that it takes them at least a month to clear things on the ground. It is our responsibility to isolate Assam. They will hear us only if we cut off Assam and India". Continued he "the plight of Muslims in Assam is known to all of us. CAA (Citizenship Amendment Act, 2019) and NRC (National Register of Citizens) are already being sent to detention centres there is a bloodbath going on there. In six-eight months you may find out that all Bengalis-whether Hindus or Muslims, have been killed". 
The politics of land in Assam has always been a central point to understand its cultural history. Subhash Saha, the writer of 'Assam's Freedom Struggle', in his first volume wrote: "those who still bear the pain of an incomplete freedom struggle to them I deliver my words". Beneath the layer of self-determination struggle of Assam, there are many more layers of separatist fights between different indigenous clans. But the common factor has always been the right to land. Thus, the united liberation movement of Assam was sculpted on a communist line. 
In the past, there have been ethnic clashes in countries like Macedonia, Senegal, Ethiopia, Indonesia, Srilanka, etc, so in Assam, the clashes can't be seen in isolation. Naturally, the Indian state was trying to impose their own constitutional order to take command on land but it was never easy since every resistance was militant and was divided into multiple fractions. In Kokrajhar only, there have been Bodo-Adivasi, Bodo-Muslim, Dimasa-Jemi-Naga clashes. We may understand from these examples, that the history of fights in Assam has never been linear hence never became a 'problem' to the Indian state machinery.
In a place like Karbi Anglong, there had been multiple clashes not only between Karbi-Kuki but also between Karbi-Khasi, Karbi-Dimachha-Bengma, Adivasi-Bihari, etc. Though the mighty Indian state had always tried to use the clashes for the government's electoral advantage, such attempts were never downright successful. The United Liberation Front of Assam (ULFA), established in April 1979, was involved in the struggle for Assam's self-determination. After the disintegration of ULFA, there had been clatters over the land again.
Before the ULFA movement started, there had been huge immigration of Bengalis from Bangladesh, the then East Pakistan. Though Bengali upper-caste Hindus have settled over the years in Assam, they could not integrate themselves beyond their casteist practices, as the Bengali 'Bhadralok' Brahminism is predominant. And it naturally had a clash with Assamese Brahminism over the plight of superiority.
Interestingly, when Assam was fighting its liberation struggle there was no methodical isolation of Muslims. While to the Indian state, Karbi-Kuki-Dimasa is considered nothing but tribal minorities who could be dispossessed at any moment, to the people of united Assam, Assamese Muslims were not a minority. Their identity was primarily Assamese. But the immigrants from Bangladesh, especially the Bengali Hindus, were treated in segregation to the vulnerable Assam tribes.
Bengali Hindus have always nurtured their own casteist diction, which made them utter 'Urey' for people of Orissa, 'Mero' for Marwaris, Mohammedan for Muslims and 'Khotta' for the Biharis since decades. If we read 'Rashtodrohir Dinlipi' or 'The Diary of Anti- National', we will get to encounter Parag Kumar Das's revolutionary thoughts through his lines extending to Assam's liberation struggle in a relentless narrative as he said: "Assam, for all residing humans in Assam". Before ULFA organised a political struggle, 'Bongal Kheda' a massive ethnic cleansing of Bengalis in Assam took place.
The partition of British  India into East and West Pakistan on a communal line caused the horrific partition of people that triggered massive immigration. From the then East Pakistan, almost 3m Bengali Hindus were forced to migrate, who primarily took refuge in Assam, losing their land behind. In 1948, the tension over land rights between vulnerable Assamese people, especially ethnic and indigenous people, and immigrants sharpened naturally. After "Bongal Kheda" pogrom, the ethnically-polarised people of Assam unitedly stood for their land and built up self-determination movement. Ethnic militias in Assam targeted immigrants, partially benefiting the Indian state, since the class struggle was hardly addressed. Those from East Pakistan, migrated to Dandakaranya from the path of Assam, were also forced to leave and later massacred. This layered history of Assam, its self-determination struggle, vulnerability causing hatred against immigrants, did never fit to the design of Islamophobic Indian state. 
Lest we forget, besides Muslims, 1.2m Hindus are not listed in the Assam NRC list and are about to be sent to detention centres where already people are getting killed. Assamese people's vulnerability of losing lands to immigrants, reducing to hatred gave birth to anti-CAA and pro-NRC crescendos. Still, there have been left students' mass organisations who have been continually raising voices against NRC that's a ploy to produce countrywide cheap labour, be it Hindu or Muslim. Often JNU, AMU, Jamia Millia Islamia scholars like Imam imposed their idea of Indian Constitution on ethnic tribes and Muslims in Assam or North-East since they failed to understand the different land dynamics there. Hence they must stop analysing Assam from a myopic constitutional viewpoint. The answer to the pain of immigration and fear of losing land to immigrants both are hidden in a struggle to stop the Indian state's war against the poor, vulnerable and exploited sections. The NRC, the rich man's war on the poor can only be fought by the unity of tribes and immigrants. 
The NRC isn't merely peculiar to India; from US President Donald Trump's detention centres to lock Mexicans to the British Prime Minister Boris Johnson's tirade against immigrants, from the settlement colonies and apartheid of Zionist Israel to the butchering of ethnic people by Brazilian dictator Jair Bolsonaro, the model of exclusion, oppression and waging of war against the poor by snatching their rights, their identity and by evicting them from their normal course of life is a global phenomenon of international monopoly-finance capital to shift the burden of their crisis on the shoulders of the extreme poor and vulnerable masses, whom it wants to use as cheap slave labour pool.
Thus, in this war of the rich against the poor through the NRC, no one will be spared. In this conflict of the ruling class, those who are still resisting oppression by being a part of it will suffer an ordeal at the hands of the perpetrators of injustice. Those detention camps building up all over are certainly not to accommodate cattle but poor people of our country whose voice is still unheard in the protest sites of Shaheen Bagh or Park Circus. Once their voice is heard, the whole process would revolutionise towards a class war to fight the super-rich or their mouthpiece NGOs.
At the same time, there is a dire need to fight the Indian state's witch-hunting of Muslims, from Dr Kafeel Khan to Imam, and all those who are against the Hindutva fascist state machinery of Modi must be united to defend each other's right to dignity and people's political freedom. Amidst ideological differences, destroying the roots of ultra-democracy, friends should unite against the Hindutva fascist state, the enemy of democratic essence, only then, this fight against the NRC and the CAA can challenge the extreme rich, the ruling classes, and further sharpen it towards a class struggle that can pulverise the CIA-Mossad-funded Hindutva fascist camp, which is trying to rebuild India on the model of the apartheid Zionist Israeli occupation state.
Dhrupadi Ghosh is a PhD student of Department of Sociology, Jamia Millia Islamia. She is a sculptor, an artist who use art to exhibit dissent brewing in the society. She writes on campus, gender, caste, communalism and class politics.