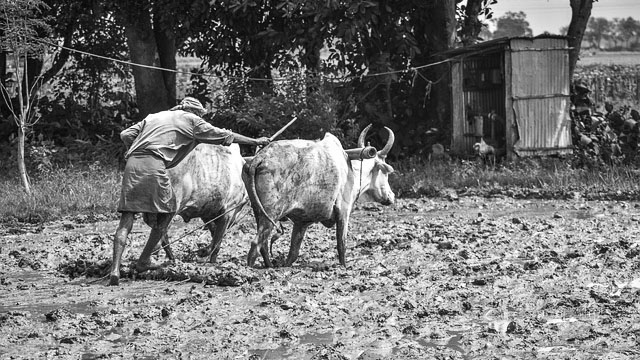 After chit fund scams, microfinance debt trap exploits Bengal villagers
Reading Time:
5
minutes
At Bakali village of West Bengal's Jalpaiguri district, Harun's wife Saira is worried about her husband's health. He is suffering from waist pain due to calcium deficiency. A construction worker like Harun has no choice but to work. Resting at home is a luxury for people like Harun as the weekly repayment date of his microfinance loan is approaching. He pays Rs 735 as weekly instalments for a loan of Rs 30,000 taken at an interest rate of 22.33% per annum from ASA International India Microfinance (ASA India). He owns little land, and he has taken the loan for potato cultivation, the sole profitable crop in the district.
But this year potato has yielded heavy losses due to excessive harvest and the state government's indifference in procurement. Chief Minister Mamata Bandopdhyay-led state government has not procured potatoes from this region. So, Harun has no option but to work even if he is not well. With heavy losses in potatoes, Harun and his wife's dream to repay the loan with profit from potato cultivation didn't realise. This is Harun's third loan. Harun also lost Rs 30,000 in the 2013 Rose Valley Scam, in which Bandopadhyay's ruling Trinamool Congress (TMC) is allegedly complicit.
Harun's ordeal is not a unique case. Many people in the Jalpaiguri district, around 90% of the residents of Bakali and neighbouring villages have taken loans from microfinance companies. Take the case of Russel (15) whose mother took a loan from ASA India. Russel also works as a part-time construction labourer. "We took a loan of Rs 40,000 for potato cultivation for two years and we are now paying Rs 485 per week and could not repay due to the losses incurred during potato cultivation," Russell hesitantly told this correspondent.
Another villager, Bablu (40), was also working with Russel. He had also taken loans from Bandhan Bank. He too lost a huge amount of money in the Rose Valley Scam in 2013. Since then, Bablu had taken loans thrice. When asked about the loan's interest rate, he could not say anything. When this correspondent asked his mother, who goes to a neighbour's house where the bank personnel come to collect the weekly instalments, about the loan book, she showed the book, but the book does not mention either the loan's tenure or the interest rate. She pays Rs 575 weekly for a loan of Rs 50,000. When she was asked why she doesn't know the interest rate, she informed that upon asking the same to the bank personnel, she has been asked to visit the bank to find out herself.
Firdousi Begum was cutting vegetables for lunch when she was asked about her loans. "We don't fit the criteria of taking loans. So, we have taken loans in the name of my sister-in-law, Reshma," Firdousi said. Her family has taken loans from ASA India. They have taken a loan of Rs 50,000 and pay Rs 605 per week at the interest rate of 23.25%. As per the loan book, they have taken the loan for their medicine shop. Reshma's husband had also lost money in the Rose Valley Scam. This is also the third time they have taken loans.
In Bakali, every villager has some land. But only the Kisan Credit Card (KCC)-holders can access the loans given by the government or the public sector banks (PSBs) at lower interest rates. But due to the complex rules and lackadaisical attitude of the government, only 1.5m farmers in West Bengal out of more than 70m farmers have KCCs. So, despite being landowners, these villagers don't have access to KCCs and are compelled to take loans from microfinance companies at higher interest rates.
Some villagers have agricultural land in their possession but don't have papers in their names, so they can't apply for KCCs. Whenever the government grants a moratorium on farm loans, these villagers are deprived of the benefit because such moratoriums are applicable only on loans taken from the PSBs. The relatively affluent villagers of Bakuli have KCCs. In 2018, the State Bank of India's chief economic advisor had perfectly summed up the situation when he said, "What is distressing is while small farmers pay exorbitant interest, affluent farmers get subsidised credit."
An assured and sufficient minimum selling price (MSP) is needed to rescue these villagers from the noose of private microfinance loans that act as a form of usury. These villagers only gain some profit through potato cultivation and the governments at both the state and the centre should ensure that the farmers don't suffer losses. Paddy cultivation isn't much profitable. The PSB services should be easily accessible to them.
After the 2013 chit fund scams involving Rose Valley, Sarada, etc, there has been a visible trust deficit among the villagers like Harun, Bablu, etc. They were afraid of depositing money in savings schemes. Against this backdrop, the microfinance companies like ASA India, Bandhan, etc, started thriving and the villagers started taking credit from them. These vulnerable classes began to lose whatever surplus money they have to these microfinance companies.
The microfinance companies give loans mostly to women. Most of the married women must be at loggerheads with their husbands to repay the loans. This gives rise to domestic violence. In Assam's Sivasagar district, poor women hit by the lockdown appealed to the Bharatiya Janata Party (BJP) government to allow them a moratorium on the loans they have taken from the microfinance companies. Assam Chief Minister Himanta Biswa Sarma has told the media that the BJP will help women with loan moratorium as per its poll promise and is bringing down the total outstanding loan amount to Rs 82.50bn from Rs 125bn by discussing with the microfinance companies.
During the pandemic the villagers are more prone to take loans for cultivation or small businesses, as they can't go in search of work to neighbouring country Bhutan or the southern state Kerala. The migrant labourers go outside the state and even the country to earn some money that they bring home to invest mostly in farming. But due to the pandemic, this cycle is disrupted. The trouble these poor villagers are mired in is helping the microfinance companies to make profits.
The increasing loan portfolio is an indicator of this trend. In the financial year (FY) 2020-21, the loan portfolio has grown 17% to Rs 2.11 trillion. In India, West Bengal is one of the top five states in terms of the gross loan portfolio and out of ten districts with high amount of loans, nine—North 24 Parganas, South 24 Parganas, Murshidabad, Jalpaiguri, Nadia, Bardhhaman, Hooghly, Howrah and Cooch Behar— are from West Bengal.
According to a report published in Business Standard, "In its state-wise ticket size and macroeconomics analysis, the agency said it has observed that the average outstanding per unique borrower is the highest in West Bengal and Assam, and this has been the case at least for the past three years". It also reports that "40-50 per cent of the microfinance loan portfolio in both Assam and West Bengal are from one institution. (sic)" And it indicates the monopoly of a single institution in the microfinance sector.
The SIDBI and Equifax's Microfinance Pulse, Vol VII, November 2020 report on microfinance shows that in the second quarter (Q2) of the FY 2020-21, 300% more loans were disbursed—worth Rs 323.75bn—vis-à-vis Q1 of the same FY in terms of volume and 393% more in terms of value. Around 70% of the loans are in the bucket of Rs 10,000 to Rs 50,000, which means the poor villagers like Russel, Bablu or Saira took those loans. The Microfinance Pulse also shows that West Bengal is in the category of states with more than Rs 100bn outstanding.
The BJP-led Central Government and Bandopadhyay's TMC-led state government must wake up from their afternoon siesta and help the farmers by providing them with institutional credit through KCCs so that they can free themselves from the never-ending cycle of microfinance debts. It's important that the government plays a bigger role in the agriculture sector and provide subsidies and help the farmers in loan repayments to ensure a financially stronger West Bengal. With this, a legal guarantee for MSP and the government's procurement, as demanded by the farmers agitating at Delhi's borders, is needed to ensure financial security for the villagers. But if the political forces in West Bengal remain nonchalant about the microfinance crisis, there is no sight of relief for the farmers.
Moumita Alam is a non-conformist. She writes about the exploitation of the marginalised. As a teacher and a poet, her pen flares up against all forms of oppression. She loves to read when not writing and she thinks critically about the socio-political aspects of life. Keen to change the society to an egalitarian one for the present have-nots.