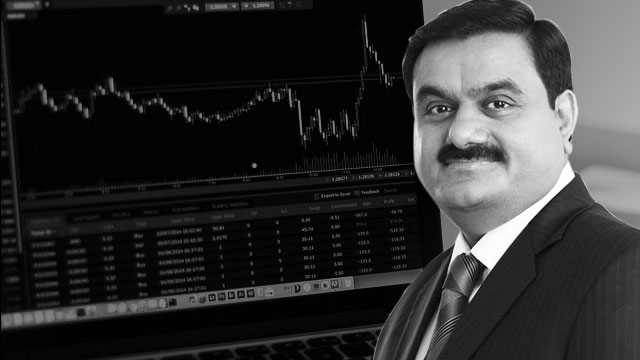 What does the NSDL's freezing of FPIs linked with the Adani Group imply?
Reading Time:
4
minutes
The National Securities Depository Ltd (NSDL) has frozen accounts of three foreign portfolio investment (FPI) funds, Albula Investment Fund, Cresta Fund and APMS Investment Fund, which collectively own shares worth Rs 435bn in the Adani Group, owned by controversial crony-comprador capitalist Gautam Adani. These FPIs linked with the Adani Group were frozen on or before May 31st 2021, however, this news exerted immense pressure on the six listed companies of the group—Adani Enterprises, Adani Ports and Special Economic Zone, Adani Power, Adani Transmission, Adani Green Energy and Adani Total Gas—on Monday, June 14th 2021, causing up to 20% fall in intra-day trade.
The Economic Times reported that Adani Enterprises' plummeted 20% to Rs 12.82bn following the news. The share of Adani Ports fell 19% to Rs 6.81bn, whereas other companies like Adani Green Energy, Adani Power, Adani Total Gas and Adani Transmission fell by 5% each. According to the custodian banks and law firms handling foreign investors, these three FPIs' accounts are blocked by the NSDL as they didn't provide adequate ownership information according to the norms of the Prevention of Money Laundering Act (PMLA). It's doubted that the Adani Group may have formed these fictitious FPIs at foreign locations to artificially soar share values of the group's companies.
FPIs invest in Indian stocks and when they buy a large number of shares of any company, the stock price rises. This fictitiously increases the net worth of the company in question. Showing an increase in net worth, without producing any asset, these companies then take huge loans from public sector banks. Most don't repay debts, resulting in higher non-performing assets or bad debts that later cause a banking crisis and wreaks havoc on the economy. Most FPIs are shell companies registered in offshore tax havens like Mauritius.
The Economic Times report, cited above, shows that Adani Total Gas shares soared 335% in 2021 alone until June 11th. The shares of Adani Transmission soared 264%, Adani Power 200%, Adani Enterprises 235%, while at the lowest level were Adani Ports, which soared 74% and Adani Green soared 17%. The combined market value of the Adani conglomerate is around Rs 9.5 trillion. The FPIs played a crucial role in soaring the values of these companies.
"Among the biggest foreign investors are a few Mauritius-based funds holding over 95% of assets in these companies," Bloomberg Intelligence analysts Gaurav Patankar and Nitin Chanduka wrote in a note dated June 10th. "Such concentrated positions, along with negligible onshore ownership, create asymmetric risk-reward as large investors conspicuously avoid Adani," the Patankar and Chanduka wrote.
Riding on this high tide, Mr Adani became the highest US dollar earner in 2020 and the second-richest Indian in 2021, trailing Mukesh Ambani. Mr Adani's wealth has increased to $77bn, with a spike of $43.2bn in 2021 itself until June 11th. Mr Adani's meteoric rise is closely connected with his ties with Prime Minister Narendra Modi and his ruling, Hindutva fascist Bharatiya Janata Party (BJP).
Since 2014, when Mr Modi ascended to power, Mr Adani's—as well as Mr Ambani's—wealth has increased manifold as these two big crony-comprador capitalists have benefitted most from the government's policies. So far, Mr Adani and Mr Ambani have operated with utmost impunity, and nothing has stopped their juggernaut.
Amid such bonhomie, the NSDL's freezing of the FPIs linked with the Adani Group raises questions. Why the NSDL froze the FPIs linked with the Adani Group? What's the volume of fictitious investments behind the soaring of the Adani conglomerate's worth? While these questions are normal, there is another angle, which also needs a close analysis. Is there a role of the competition of Mr Adani behind this new development? Was it a hit job? A market correction?
As Mr Adani now forays into the cement sector and plans to strongly compete with the established players while enjoying the patronage of the Modi regime and the BJP, there is enough ammo to fuel speculations. "Adani Cement Industries Ltd (ACIL) plans to manufacture most types of cements, challenging dominant players like Aditya Birla Group's UltraTech Cement Ltd, LafargeHolcim companies Ambuja and ACC, Dalmia and JSW Cement," a Business Today report said.
It's unlikely that the cement manufacturers, who also enjoy a cordial relationship with the BJP and Mr Modi, will try to use the NSDL to stop Adani's juggernaut. But as the NSDL froze the FPIs linked with the Adani conglomerate, Mr Adani's net worth fell as well. According to Business Today, Mr Adani's net worth slipped $7.6bn or Rs 550bn on Monday, June 14th. Though he recovered a part of his fortune, by the time trading closed on Monday, Mr Adani's net worth dropped to $70.8bn from $74.9 on Friday, registering a net loss of $4.1bn or Rs 293.07bn.
This isn't a small jolt for the tycoon. The Adani Group plunged into damage control. "We regret to mention that these reports are blatantly erroneous and is done to deliberately mislead the investing community. This is causing irreparable loss of economic value to the investors at large and reputation of the group," Business Today quoted the Adani conglomerate's statement.
When India got an additional 75m in its poorer bloc (with a daily earning of $2 or less) in 2020, the news of the NSDL freezing the FPIs linked with the Adani conglomerate exposed how capitalism is profiteering, unabated. Thus, thanks to capitalism's debauchery India's richest are getting richer amid the pandemic, without producing any asset.
The Adani conglomerate, with its close ties with the BJP, can't be cowed by the NSDL. But this incident of the NSDL freezing the FPIs linked with the Adani conglomerate signals a counter-current flowing in Mumbai's Dalal Street and India Inc's corridors, which is trying to end the hegemony of Mr Adani. How far this manoeuvre can continue, to what extent the Adani conglomerate will suffer and what will be its political implications are to be seen in the days to come.
An avid reader and a merciless political analyst. When not writing then either reading something, debating something or sipping espresso with a dash of cream. Street photographer. Tweets as @la_muckraker