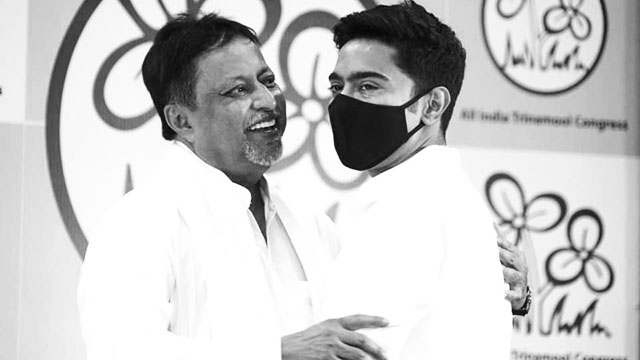 Will Mukul Roy's return to the TMC absolve him of all crimes?
Reading Time:
5
minutes
West Bengal watched a political circus on Friday, June 11th 2021, when Mukul Roy returned to the Trinamool Congress (TMC), after spending nearly four years in the Bharatiya Janata Party (BJP), proved that the question of ideology doesn't exist in the right-wing camp. Moreover, Mukul Roy's return to the TMC also exposed the hollowness in Chief Minister Mamata Bandopadhyay's claims of fighting and uprooting the Hindutva fascist BJP.
During the press meet at the TMC headquarters on Friday, Bandopadhyay refuted the allegation that Roy is one of the "traitors" she had referred to during the canvassing for the 2021 West Bengal Assembly elections. According to Bandopadhyay, Roy wasn't one of those who defiled the party or demean it. By party she certainly meant herself. She said that the doors of the TMC are ajar for those turncoats who didn't defile the 'party' during their stint with the BJP.
"Mukul didn't foul mouth us during the elections. We are not going to take those people who betrayed our party. We will only welcome those who were gentle, sober and did not cause bitterness," Bandopadhyay said. Roy also praised Bandopadhyay's leadership to show his renewed loyalty towards her.
Bandopadhyay's target was Suvendu Adhikari, the TMC turncoat and the BJP's leader of the opposition, who used derogatory remarks about her at the Nandigram constituency where both contested against each other. Adhikari used communal slurs, called Bandopadhyay "Mumtaz Begum" to titillate the Islamophobic Hindu supporters of the BJP and said that a TMC victory will turn West Bengal into a "Kashmir". Adhikari's communal rabble-rousing helped him defeat Bandopadhyay at Nandigram.
However, though Bandopadhyay targeted Adhikari, whose family was patronised by her for long, Roy isn't clean on that count as well. Mukul Roy's return to the TMC can't absolve him of his communal crimes and, like Adhikari, he too never rationed his criticism against Bandopadhyay. During his four-year-long tenure with the BJP, Mr Roy, who is also an accused in the murder of TMC's former legislator Satyajit Biswas, left a trail of communal vitriol and occasionally lambasted Bandopadhyay, right from the beginning of his BJP career by accusing her of running a private limited company instead of a political party.
During the 2018 West Bengal Panchayat elections, when Roy was handling the BJP's poll strategy, he accused Bandopadhyay of "raping democracy" as violence between the BJP's thugs and TMC's goons escalated throughout the state. "Today Bengal is bleeding. Those who are trying to file their nomination, they are being beaten, stabbed and families are being threatened. In Bengal, democracy is being raped by the state government under the leadership of Mamata Banerjee, (sic)" Roy was quoted by India Today.
As one of the principal organisers of the anti-Muslim violence under the garb of armed Ram Navami rallies—a quintessential northern Indian festival alien to West Bengal—Mr Roy blamed Bandopadhyay for abetting state terrorism. It was Roy's planning, implemented by the BJP's parent body Rashtriya Swayamsevak Sangh (RSS), which triggered severe violence in West Bengal during the 2018 Ram Navami. Roy took part in armed RSS rallies to provoke violence in North 24 Parganas district and vehemently supported the concept of armed rallies to terrorise the Muslim community.
During the canvassing for the West Bengal Assembly elections, Roy asked Bandopadhyay whether she considers the Muslim community as cows? He made personal allegations against Bandopadhyay regarding having hilsa fish in lunch before going to Iftar programmes in which Muslims break their fast during the holy month of Ramzan.
Under Roy's watch, the BJP-RSS goons, patronised by Arjun Singh of Bhatpara, launched a massive attack on Muslim neighbourhoods in Telenipara of Hooghly district in May 2020, amid Coronavirus lockdown, accusing the minority community of spreading the virus. Roy even went to meet Jagdeep Dhankar, the governor, and complain against the state government for violence fuelled by his colleague Singh, another TMC turncoat. Roy even accused the Muslims, without naming them, of the NRS Hospital violence.
Two years before Mukul Roy's return to the TMC, he accused his current party of fuelling violence in West Bengal in a letter written to Union Home Minister Amit Shah on June 11th 2019. "All the incidents of violence throughout the state have been carried out by cadres of Trinamool Congress with the active help and support of the administration at the direct insistence of TMC supremo the Hon'ble Chief Minister of the State Mamata Banerjee," Roy wrote in the letter. He accused Bandopadhyay of filing false cases against him and Singh, calling vindictive politics.
After the BJP faced its poll debacle on May 2nd, Roy asserted that he would continue his struggle as a BJP soldier, rubbishing claims of him re-joining the TMC. In a tweet dated May 8th 2021, 33 days before Mukul Roy's return to the TMC, the former BJP vice president said: "My fight would continue as a soldier of BJP to restore democracy in our state. I would request everyone to put the concoctions and conjectures to rest. I am resolute in my political path." BJP president JP Nadda said in a tweet that Roy's tweet will remain as a guide to action for all BJP workers.
At this time, Roy became vocal in raising the issue of "post-poll violence" targeting BJP workers and added communal colour to the incidents. An optics was created to raise the demand for president's rule in West Bengal. Dhankar has been complicit in this scheme as well. However, after Mukul Roy's return to the TMC, his son Subhranshu Roy claimed that the BJP is planning to do communal polarisation in the state and trying to destabilise the state government using the threat of the president's rule. But he forgot to mention that it was his father who raised the demand for a president's rule in the state much before his party leadership in December 2020.
The Twitter timeline of Mr Roy will clearly show how he had been castigating the TMC after the results were out. It wasn't his conscience that forced Roy to leave the BJP, which he claimed is a party no one can survive in, rather, he took the step to secure his son's parliamentary career. Subhranshu Roy's career can only shine if he remains with the winning side in West Bengal and veteran Roy knows it very well that without Bandopadhyay no one can provide his son such a scope.
Mukul Roy's return to the TMC isn't a victory of the latter's ideology against the Hindutva fascist BJP, as there is not much difference in their agendas. It's not a victory of anti-fascist forces against the RSS. Moreover, Roy's inclusion isn't something the anti-fascist and progressive forces can jeer. Roy wasn't a saint in the BJP and did exactly what the RSS ordered him. By absolving him of his crimes and belittling his heinous role, Bandopadhyay is exposing her comfortability with Hindutva fascism and its apparatchiks like Roy. This shows how different right-wing parliamentary forces have been normalising Hindutva fascism by providing a haven to its flagbearers.
An avid reader and a merciless political analyst. When not writing then either reading something, debating something or sipping espresso with a dash of cream. Street photographer. Tweets as @la_muckraker