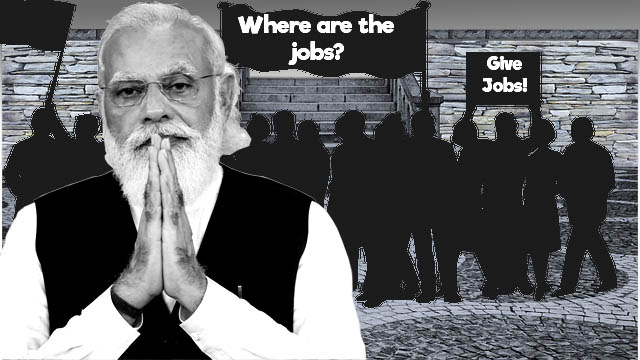 National Unemployment Day on Modi's purported birthday on September 17th
Reading Time:
3
minutes
India's unemployed youth celebrated Prime Minister Narendra Modi's purported birthday on September 17th as National Unemployment Day. As Centre for Monitoring Indian Economy's (CMIE) data shows that India's unemployment rose to 8.32% in August 2021 from 6.96% in July 2021, the unemployed youth had no other way to express their gratitude towards the prime minister, whose reign brought them despair and utmost frustration, except this celebration.
Showing sheer indifference to the unemployed youth, Mr Modi said he is "humbled and overwhelmed beyond words" for the wishes he got from his servile lackeys. Modi's purported birthday on September 17th—in his school records the date of birth is registered as August 29th 1949—was observed by the ruling Bharatiya Janata Party (BJP) activists through a "Seva and Samarpan" (service and devotion) campaign, under which nearly 211m vaccine doses were administered on this day to create a positive optics for the government.
But throughout the official celebrations of Modi's purported birthday on September 17th 2021, there has been no discussion on the topic of unemployment, a term that Union Finance Minister Nirmala Sitharaman deliberately omitted from her Union Budget speeches of 2020 and 2021. The BJP, following Ms Sitharaman's footsteps, tried to obfuscate the fact that unemployment is soaring in India and at present, it's parked at 7.6%, while the urban unemployment rate is 9.1% and the rural unemployment rate is 6.9%.
The employment rate dropped from 37.4% in July to 37.2% in August 2021. In absolute terms, from 399.7m in July 2021, employment fell to 397.8m in August 2021, according to the CMIE's analysis. In a month, 1.9m jobs were lost. Moreover, the farm sector, where a reverse migration to villages fuelled higher employment, also suffered during the same period. Employment in agriculture fell by 8.7m in August as kharif sowing was 1.7% less than 2020.
Only 6.8m non-farm jobs were created to absorb those rendered unemployed by the farm sector's crisis, ie, the net job deficit was 1.9m. Industries didn't create adequate jobs as well. While 10m factory jobs have been permanently lost since Modi announced his arbitrary nationwide lockdown from March 25th 2020 onwards, the manufacturing sector, where 40m were employed before March 2020, employed only 28m in August 2021, a fall from 29m in July 2021.
Nearly 60% of India's educated youth are unemployed. The only jobs that are increasingly hiring people now are informal in nature. The retail industry's employment reached 64.4m in August 2021 from 59.9m in July but there was only 940,000 regular salaried job addition among these. More jobs are created in self-employment, where people, who are frustrated with their job search, are turning up either as small traders or are joining daily wage jobs.
Apart from these, the high fuel prices have quickened the wholesale price index inflation to 11.39% in August 2021. Within the fuel category, cooking gas, petrol and diesel witnessed inflation of 48.1%, 61.5% and 50.7% respectively. This is spiralling overall inflation, though the food inflation moderated a bit from 4.46% in July to 3.43% in August. The high inflation along with high unemployment is intensifying India's economic crisis. Unsurprisingly, Modi remains nonchalant.
In this scenario, the BJP is liberally heaping praises on Modi and crediting him for unleashing some euphoric "development" in India. What exactly is the "development"? Who did it serve? Who all have benefitted from this "development" spree? These are a few questions whose answers aren't provided by the BJP. Modi denies the existence of unprecedented, four-decade-high unemployment in India. He denies there is an economic crisis. This denial is a bigger problem than the crisis itself.
Amid such a gloomy scenario, a celebration of Modi's purported birthday on September 17th as National Unemployment Day isn't merely an act of humour, but it exhibits the anger and discontent of the youth, who are seeking employment desperately in a gloomy situation. With time, their discontent will not be limited to such celebrations but will be seen in the streets and Modi's signature communal polarisation won't reverse the situation at that time.
Unsigned articles of People's Review are fruit of the collective wisdom of their writers and the editors; these articles provide ultimate insight into politics, economy, society and world affairs. The editorial freedom enjoyed by the unsigned articles are unmatchable. For any assistance, send an email to write2us@peoplesreview.in