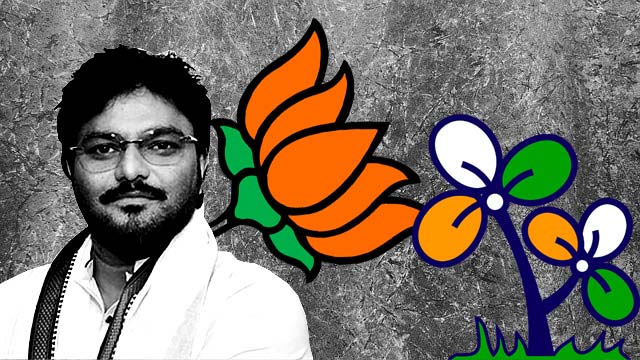 Babul Supriyo joining the TMC exposed Mamata's tryst with Hindutva fascists
Reading Time:
5
minutes
Former Union minister of state and India's ruling Bharatiya Janata Party's (BJP) two-times member of the Parliament (MP) from West Bengal's Asansol, Babul Supriyo switched to the state's ruling Trinamool Congress (TMC) on Saturday, September 18th 2021. Supriyo was inducted into the TMC by its spokesperson and Rajya Sabha MP Derek O'Brien and its all-India general secretary Abhishek Banerjee. On July 31st 2021, Supriyo had announced that he will quit politics and resign from the MP's post but later decided to continue as an MP.
"It was with great disillusionment that I had announced that I will quit politics. A great opportunity has been extended by Didi (West Bengal Chief Minister Mamata Bandopadhyay) and Abhishek Banerjee and I am happy to accept that," Supriyo was quoted by The Hindu.
Supriyo joined the TMC at an hour when the BJP is preparing to fight the assembly by-elections in politically-crucial Bhabanipur and two more constituencies. Bandopadhyay is contesting the Bhabanipur by-elections against the BJP's non-Bengali candidate Priyanka Tibrewal. Bandopadhyay was defeated during the assembly elections held in March-April 2021 by her former protégé Suvendu Adhikari, who switched to the BJP in December 2020.
The BJP had earlier named Babul Supriyo among the celebrity campaigners to canvass for Tibrewal, but he had declined the offer. Now Supriyo told the media that though he believes a popular mass leader like Bandopadhyay needs no election campaign in Bhabanipur, he will be glad to be a part of her campaigning. His sudden volte-face is causing surprise to many as Supriyo remained a bitter opponent of Bandopadhyay throughout his political career since 2014 and even after losing the 2021 West Bengal Assembly elections to her TMC, he refused to congratulate her, whom he referred to as a "cruel lady".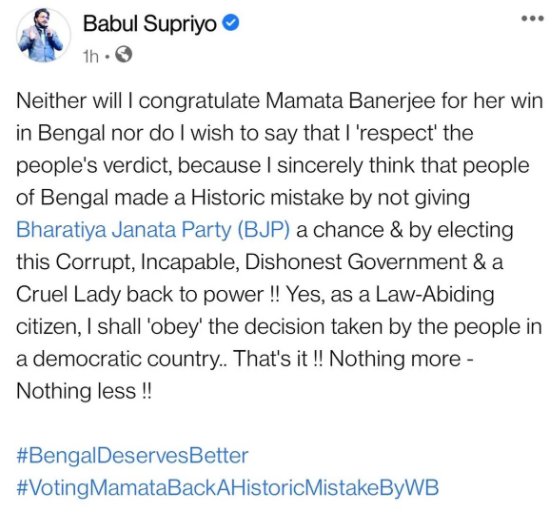 Supriyo's decision to quit politics and his acrobatic stunts started after he was purged by Prime Minister Narendra Modi from his ministry due to his failure in leading the BJP to victory in the West Bengal Assembly elections. Supriyo was a candidate in the polls from South Kolkata's Tollygunj but lost to the TMC's Arup Biswas. Even at that time, Supriyo clarified he won't join the TMC and will revere both Modi and Union Home Minister Amit Shah forever.
But the BJP was reluctant to let him go as it would further weaken the saffron party in West Bengal. The BJP knows that it can't retain Asansol if a by-poll takes place now, as the Party had lost all assembly constituencies in Asansol, except one, to the TMC during the recent assembly polls. Due to this reason, Shah cajoled Supriyo to not resign as an MP.
Due to this Supriyo, by advocating an oxymoron formula, declared that though he had quit politics, he will remain Asansol's MP. Asansol is a very crucial seat for the BJP as it has invested a lot of money to flare up communal tensions in the city. It was the only seat that the BJP had won in West Bengal in the 2014 Lok Sabha elections, at the peak of the "Modi wave", apart from Darjeeling, which it has been winning due to the support of Gorkhaland agitators since 2009. Supriyo managed to retain the seat during the 2019 Lok Sabha elections as well.
Despite Supriyo's "resignation" drama, it was clear he didn't leave the Hindutva fascist Rashtriya Swayamsevak Sangh (RSS), which shaped his ideology and outlook. Thanks to the RSS, the singer-turned-politician had been spitting Islamophobic vitriol for years on social media. He played a pivotal role in organising large-scale anti-Muslim violence in Asansol in March 2018. The violence killed two, wounded several and rendered many homeless. Though Supriyo's complicity in inciting the violence is well-known, no action has been taken against him in the last three years.
Bandopadhyay, due to some mysterious reasons, didn't allow her police and administration to prosecute Supriyo for his alleged crimes in Asansol. Though Supriyo attacked Bandopadhyay in the vilest way, with extreme virulence, she didn't reciprocate with equal fervour ever. Ignoring the lessons of the 2014 poll debacle in Asansol, Bandopadhyay didn't field any strong candidate against Supriyo in the 2019 Lok Sabha elections. She fielded former flop film actress Moonmoon Sen against Supriyo. This decision drove many TMC supporters to vote for Supriyo in anger.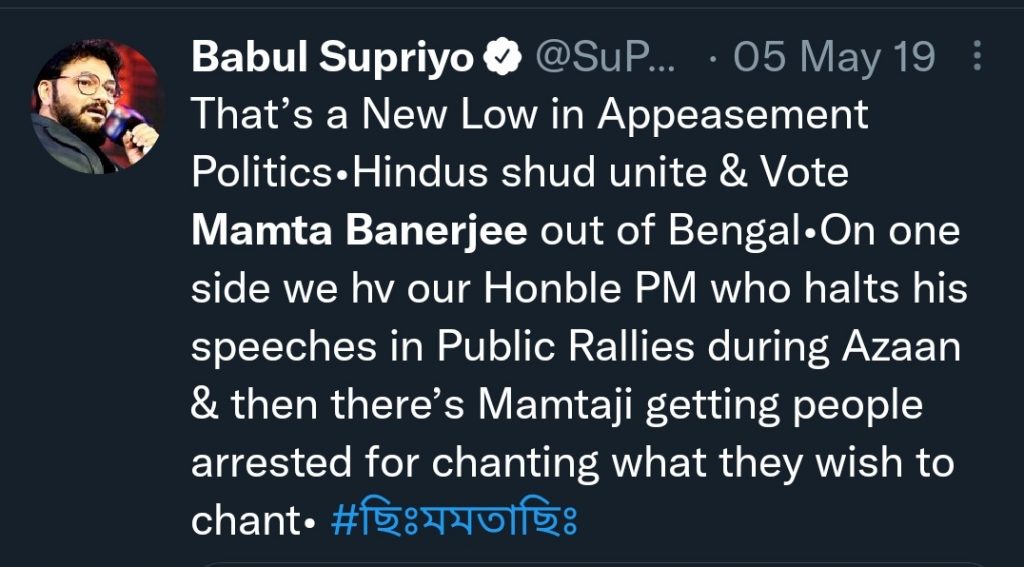 Now, as Supriyo has joined the TMC, it's to be seen how soon he can publicly shun his previous political standpoints and whether he can vehemently attack the BJP and the Modi regime, of which he was a part until two months ago. It's to be seen how Supriyo will validate his swing, as he had attacked Bandopadhyay and the TMC until the recent past. It's also to be seen how he retains his loyalty to Modi and the BJP, as he had claimed during his decision to quit politics and how he justifies his "return" to politics after a few weeks of "quitting".
It's clear that Supriyo didn't quit or oppose Hindutva fascism and joined the TMC because it's advancing the RSS's agenda in West Bengal. The RSS leadership had several reasons to be happy over the TMC's victory in West Bengal. By easily penetrating the TMC using its Trojan horses, the RSS is securing its political hegemony in West Bengal on one hand, and, on the other, it's ensuring that the state's politics revolve around Hindutva fascism by controlling both the ruling TMC and its principal opponent BJP.
By inducting Supriyo in the TMC, Bandopadhyay didn't convert him into her version of "secularism" but turned her party into a radical Hindutva fascist outfit. Bandopadhyay's TMC won the assembly polls as the Muslim votes, the overwhelming secular and anti-fascist votes consolidated in her favour against the BJP. By weaning away hardcore fascists and rioters like Supriyo, Bandopadhyay is betraying the voters' faith in her.
One can remember how the 2018 anti-Muslim violence in Asansol killed the 16-year-old son of Maulana Imdadullah Rashidi, a Muslim cleric. Maulana Rashidi had then declared that if any enraged Muslims resorts to violence to avenge his son's killing, then he will leave Asansol forever. While Rashidi, who, along with other Muslims and secular Hindus, advocated for peace and harmony, it's Supriyo who continued to fuel violence in Asansol. Can the people of the city and West Bengal forget this? Can they forgive Bandopadhyay of the betrayal?
Hindutva fascists like Supriyo won't change their ideology. But by legitimising them, Bandopadhyay is exhibiting how she is comfortable with Hindutva fascism. She has exposed the hollowness of her purported anti-BJP tirade. With RSS's men like Supriyo in her ranks, Bandopadhyay won't fight the Hindutva fascists but will work under the aegis of the RSS to promote a corporate-feudal rule, the Brahminical theocratic dictatorship that will turn India's majority of lower-caste Hindus, ostracised Dalits and minority Muslims, Christians and Sikhs into cheap labourers for the feudal-corporate nexus.
Unless a genuine people's opposition is built to resist the Hindutva fascist juggernaut and the naked opportunism of the so-called Opposition, there can be no rescue from the ordeal. While people like Babul Supriyo will thrive, the common people of West Bengal, the workers, the peasants, the Dalits, tribals and Muslims shall suffer under untrammelled Hindutva fascist hegemony.
An avid reader and a merciless political analyst. When not writing then either reading something, debating something or sipping espresso with a dash of cream. Street photographer. Tweets as @la_muckraker