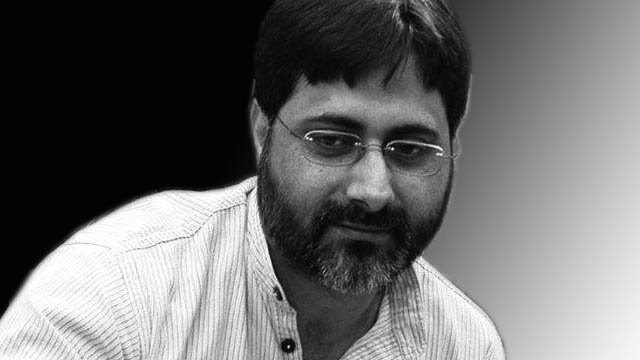 Not guilty Prof SAR Geelani is dead, so is the conscience
Reading Time:
4
minutes
In the aftermath of the parliament attack in December 2001, the Delhi Police's Special Cell arrested and tortured a man, who became an overnight villain for the Islamophobic media universe of India, which is driven by blood-thirsty hounds of the ruling classes donning the self-knitted free journalist label to conceal the beast within. They accused the man of collaborating with the militants who attacked the parliament when a heated discussion was cornering the ruling Bharatiya Janata Party (BJP)-led National Democratic Alliance government over the "coffingate scandal". The man's photograph and a story curated by the ancestors of the ilk of Arnab Goswami made him a despised character in the urban, upper-caste Hindu, elite and middle-class drawing rooms. 
The man easily fitted into the frame prepared by these journalists for the "enemy of the state" because in a post-9/11 world, where bearded and religious Muslim men got branded as "terrorists" or "jihadists", this man was a Muslim, a professor of Arabic in a Delhi University college named after a former Muslim president, and above all a Kashmiri. Not merely a Kashmiri, but a Kashmiri with a conscience and an opinion that criticised India's brutal military actions in the valley. 
He was convicted by a trial court for a role in the parliament attack case and condemned to death, but a strong defence movement and intervention by lawyers like Ram Jethmalani saved him from the gallows, unlike his fellow co-convict Afzal Guru. The Delhi High Court acquited him of all charges and the Supreme Court upheld that acquittal, though, with a rider of suspicion that ruined his already jeopardised career. 
That man, Professor Syed Abdul Rahman Geelani or Prof SAR Geelani, died on Thursday, 24 October 2019, in New Delhi. Prof Geelani suffered a cardiac arrest. He is survived by his wife and two daughters. Until his death, he was a vocal critic of Indian occupation of Jammu & Kashmir.
Prof Geelani was again arrested in the month of February 2016, when the BJP's new government under Narendra Modi, who shot to fame over the 2002 Gujarat anti-Muslim pogrom, cracked the whip on those who criticised the Brahminical Indian state's Jammu & Kashmir policy and martial rule.
Even though there were voices in support of the students of Jawaharlal Nehru University, who were framed by the zealot regime for their dissenting views and were charged with sedition for merely protesting against the institutional killing of Guru, there was a conspicuous silence on the case of Geelani's arrest. Later, he got bail from the court. 
With his death, the Hindutva-inclined Indian press, from the market's evangelist Times of India, its competitor Hindustan Times, to the smallest and insignificantly mundane outlets used a similar type of headline to publish the news that read — Former DU Professor SAR Geelani, who was convicted and later acquitted by the Supreme Court in the parliament attack case, died. 
The similarity of the caption, following the cue from the wire agency, gave a glance of what was brewing within. SAR Geelani, the man we wanted to call a terrorist, but couldn't, due to the Supreme Court acquitting him, is dead. Yay! Party time!
Jubilation over Geelani's death displayed the gory side of Indian socio-politics at a time when the BJP is sweeping the Haryana and Maharashtra assembly elections, despite mismanaging the economy and pushing millions into sheer poverty and despair, only because it titillated the urban, upper-caste Hindu, elites and middle-class by dehumanising Kashmir and creating a hyper-masculine military power optics to dupe these war-frenzy Islamophobic nincompoops. Geelani breathed his last when the entire Kashmir valley is reeling under an unprecedented blockade for 80 days, during which the people have been rendered incommunicado. Geelani died when his Kashmir was brutally ravaged by a state that cares only for its territory and has no regards for human rights.
Newspaper copy, the mocking on social media and a vitriolic rage with which Geelani is abused in Indian mainstream prove the fact that the concept of democratic discourse, seeking truth through facts and the ideology of secularism can't easily grow and attract talent in India until the Hindutva fascist power headed by Modi and the BJP can command the obeisance of the majority of the masses. Modi's success is that he has radicalised a large number of Indian Hindus through his propaganda tools. 
People who cheer for Hindutva terrorism-accused Pragya Singh Thakur and Aseemanand, people who cheer for the killers of slain Maharashtra Anti-terrorism Squad officer Hemant Karkare, people who vote people like Thakur and send them to the parliament, people who vote communal rabble-rousers, terror-accused and sheer liars, are now chest-thumping to express their happiness over Geelani's death, because for them, their Thakurs and Aseemanands are good terrorists but Geelani is a bad terrorist because he is a Muslim. But Geelani cares a lemon for them.
Before his death, Geelani probably knew that the US House Foreign Affairs Committee was discussing Kashmir, during a hearing on "Human Rights in South Asia" in Washington. and Rep Ilhan Omar nailed the Indian Brahminical agent of the empire who is deployed by the ruling classes as a journalist. He may have known that the world is now taking interest in Jammu & Kashmir. His observations aren't known. They won't be known ever.
Geelani's body will undergo a post-mortem, though the family didn't want this. There is a suspicion in the air that the Modi regime may not allow the body to reach Kashmir because it may trigger massive protests and his tomb may become a pilgrimage for those who seek Kashmir's self-determination. Like Maqbool Bhat and Guru, there may be a permanent arrangement made for Geelani's final abode in New Delhi.
"We talk about the freedom of expression, we hold seminars, and large debates, but where is it? The whole Kashmir is under curfew. The whole Kashmir is gagged, Kashmiris wherever they are, if they come out on the streets protesting and mourning, they are gagged. First goons and uncivilised elements in the society are facilitated to trash them, hit them, beat them, then police harasses them," Geelani said in an interview years ago.
Geelani is dead. Long before his death, the conscience of the Indian, educated, upper-middle-class and the rich also died. People who eulogise Thakur and Aseemanand had said everything they could to dehumanise him, yet his mosquito net never let them in. Adieu SAR Geelani, the man who was acquitted but never acquitted.
Editorial desk of People's Review provides you the editorial view point and also shares the outlook of the collective wisdom that manages the publication. Send letters to the editor at: Write2us@peoplesreview.in