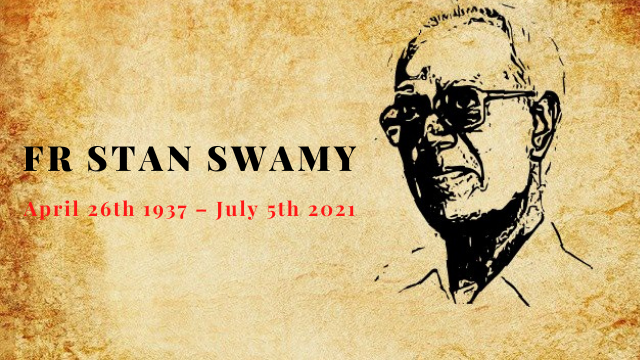 Fr Stan Swamy: the state's cold-blooded murder couldn't kill his spirit
Reading Time:
3
minutes
The Indian state has killed Father Stan Swamy, 84, a Jesuit priest and tribal rights activist whom Prime Minister Narendra Modi's government arrested in October 2020 under the draconian Unlawful Activities (Prevention) Act (UAPA). Fr Swamy breathed his last at Mumbai's Holy Family Hospital at 1.24pm on July 5th 2021, the hospital's director Dr Ian D'Souza, told the Bombay High Court's division bench of Justices SS Shinde and NJ Jamadar.
Fr Swamy was admitted to the private hospital on May 29th, after he filed a petition in the High Court's bench to be shifted from the Taloja prison as he was suffering from COVID-19 and Parkinson's disease. He was lodged in the infamous Taloja Jail in the Bhima Koregaon case of January 1st 2018, in which firstly the Pune Police and then the National Investigation Agency (NIA) arrested prominent rights activists who are Mr Modi's critics and opponents of the ruling Bharatiya Janata Party (BJP). Along with the other accused, who are also booked under the UAPA, Fr Swamy was labelled as an "Urban Naxal" by the Modi regime and the BJP's toady press. His heroic struggles for Jharkhand's tribal people's rights made him a thorn in the eyes of big corporations that sponsor Modi's Hindutva fascist juggernaut. With his death both the BJP and the corporates seeking to seize control of the mineral-rich tribal land and forests in Jharkhand are rejoicing.
It's the state machinery's persecution that killed Fr Swamy, who was earlier even denied a sipper. His repeated pleas to be not arrested and jailed amid the COVID-19 pandemic fell to deaf ears and he, along with the other accused—arrested in mid-2018—were left in the jail and once taken to the JJ Hospital in Mumbai, where he didn't want to stay. His situation worsened in the Taloja prison and it was only in late May that he was allowed by the Bombay High Court's bench to get admission in the private hospital.
The medical bail plea of Fr Swamy didn't work at all and he died as a prisoner. The NIA, managed by Modi's right-hand man Amit Shah, didn't take Fr Swamy in custody but vehemently opposed his bail plea, stating in an affidavit that there was no "conclusive proof" of his ailments. Now, the same NIA won't answer how Fr Swamy died and why its officers and Mr Shah shouldn't be prosecuted for aggravating his health crisis, resulting in his death or for cold-blooded murder?
The NIA didn't prove that Fr Swamy was a member of the banned Communist Party of India (Maoist) [CPI(Maoist)]. It didn't even prove in the court that others arrested in the Elgar Parishad – Bhima Koregaon case are members or activists of the frontal organisations of the CPI(Maoist). In such a case, it's the allegation of being Maoists, without an iota of evidence, that is keeping these men and women locked up without bail even when the COVID-19 pandemic is endangering the lives of India's undertrials lodged in the prisons. Fr Swamy, who died with the Maoist tag, despite being a Christian evangelist, didn't even get minimal healthcare from his captors. His death wasn't due to medical negligence by the Taloja Jail authorities, but due to the state machinery's vengeance.
Around 87 years ago, Rudolf Alfred Bosshardt, another Christian evangelist, was held captive by the Chinese Red Army in China and he was one of the two Europeans who took part in the Long March. He was later released by the Red Army in 1936 after he marched with them for nearly 2,500 miles. They didn't kill the priest by denying him his human rights like the right to treatment. Bosshardt wrote his experience in "The Guiding Hand: Captivity and Answered Prayer in China" and lived for 96 years. Fr Swamy, who wasn't taken captive by the Maoist insurgents but the Indian state, wasn't as lucky as Bosshardt.
Unlike the European, the tribal people's priest Fr Swamy's painful death in custody epitomised the condition of the Indian people who are choking due to the corporate-Hindutva fascist nexus that's curtailing their minimum democratic and human rights on a daily basis. History won't glorify tyrants like Modi or Shah. It won't even remember the officials who killed Fr Swamy and others. But both history and the tribal people shall remember Fr Swamy in a positive way. The Modi regime didn't achieve success in killing Fr Swamy, rather it dug its grave a bit deeper by this heinous act. The people's struggle against Hindutva fascism and its comprador corporate sponsors shall deliver justice to Fr Stan Swamy and all those who are persecuted by this sclerotic regime.
Editorial desk of People's Review provides you the editorial view point and also shares the outlook of the collective wisdom that manages the publication. Send letters to the editor at: Write2us@peoplesreview.in