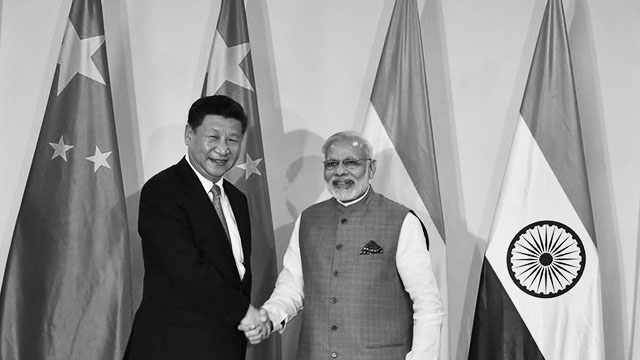 China's strategic retreat from Galwan valley opens scope for a long-lasting peace
Reading Time:
4
minutes
According to reports in the Indian mainstream press––quoting unnamed Indian government sources––the Chinese People's Liberation Army (PLA) troops have withdrawn their deployments from the contentious forward positions in eastern Ladakh, around the loosely-defined border called Line of Actual Control (LAC). This development took place after India's National Security Advisor Ajit Doval spoke to the Chinese State Councilor and Foreign Minister Wang Yi on the evening of Sunday, July 5th 2020. With this, it seems, for the time being, the tension between the two nuclear power neighbours will start reducing.
After border tensions escalated between India and China at the desolate high altitude war theatre in eastern Ladakh's Galwan valley in May, there had been several high-level discussions between the two sides to de-escalate the tension. On June 15th, 20 Indian soldiers were killed after a brawl between Indian Army and PLA troops, in which clubs, rods and stones were used rather than firearms due to two previous agreements that ban their usage in such brawls. This incident sparked a row after India's opposition politicians and mainstream press called it an incident of Chinese aggression against India, matching the US's tonality, to incite jingoism and force the government into a war with China.
The situation worsened due to this as Indian Prime Minister Narendra Modi's Hindutva fascist Bharatiya Janata Party (BJP) was caught in an embarrassing situation. The BJP, which sweeps elections projecting Modi as a firebrand nationalist and militaristic personality – to titillate its core voters, is left perplexed by this development. On one hand, without a dedicated US support––on which Washington dillydallied despite Secretary of State Mike Pompeo, a former CIA chief, resorting to bile-inducing imperialist rhetoric––the Modi regime couldn't retaliate against a super-power like China, while on the other hand, it couldn't let down its hyper-nationalist Hindutva fanatic support base that echoed the collective sentiments of the middle-class and elites – calling for a war against China.
Showing greater political maturity, Modi restrained his rhetoric on China and didn't take any adventurist step despite the opposition Congress party's incitement and a massive wave of Sinophobic sentiment flooding the country's middle-class and elites, Modi's core vote bank. Though the BJP and its parental body Rashtriya Swayamsevak Sangh (RSS) projected his trivial steps like blocking 59 apps with Chinese connections, his visit to Leh, which is 200 km far from the LAC, etc, as "great retaliatory steps" to hoodwink their chauvinist Hindutva fascist followers, the majority of the middle-class and the rich still craves for a war. Modi's successful aversion of a war-like scenario with China has helped to avoid a major humanitarian catastrophe in South Asia.
Though the Indian and Chinese military officials and diplomats have been engaged in bilateral talks since May, when the two sides started getting engaged in brawls in places like Sikkim and Ladakh, its result was found only on Tuesday, June 30th. China's English daily Global Times reported on July 1st that Indian and Chinese sides have agreed to "disengage front-line border troops in batches and take effective measures to ease the situation in the border areas". As a result of this, the troop withdrawal by the PLA was reported by India's mainstream press on July 6th and 7th. However, the Chinese side is not interested in a unilateral troop withdrawal and expects India to fulfil its promises, the failure to do so may again spark tension between the neighbours.
The Global Times quoted Chinese Foreign Ministry Spokesperson Zhao Lijian treating the question of withdrawing the PLA border troops carefully from the LAC saying "We hope the two sides could meet each other halfway in implementing these agreements." The ruling Communist Party of China's mouthpiece People's Daily didn't comment on the story until the time of writing this article. Unlike India, the Chinese press has given the news of Indo-China conflict a negligible focus. This shows that China isn't marketing the conflict to distract the people's attention, rather it's trying to establish peace without compromising on its sovereignty.
Though the troop withdrawal by the PLA in Ladakh will not bring down the tension or the Indian media's war cry, it will help to normalise the ties between the countries and ensure normal trade and commerce resumes between the neighbours independent of the US's diktat. But, despite showing restraint and political maturity for the time being, if Modi later capitulates to the US and its military-industrial complex for an immediate war with China––to promote which US President Donald Trump has sent warships to the South China Sea––then it will become disastrous for the economically-ruined country.
Trump is looking at militarily engaging China with a lackey state of the US so that he can derive maximum leverage during his forthcoming re-election bid. There can be no better place for Trump than India, where the Modi regime has shown excessive servility towards Washington DC in the last six years. For Trump, a war between China and India would help him in his "Trade War" against China, in which the US has been suffering immensely since 2018-19. A war between India and China would also ensure that the white people remain safe in Europe and America, while the brown and yellow, considered expendable by the white-supremacists, can become cannon fodder for the empire's interests.
By escaping this trap, Modi and his regime have, for the time being, exemplified political maturity. But both Modi and the RSS command know that there will be no end to the contradiction between India and China, as New Delhi will be compelled again and again by the US to involve into a border tension with Beijing so that the Americans can derive political mileage. Right now, the BJP and RSS will market the Chinese strategic retreat––ironically from one part of their territory to another–– as a victory of Modi's muscle-flexing at Leh and China won't respond bitterly to this as it will allow the western war theatre to cool down for the time being for its strategic interests.
This is the perfect situation for India to take an attempt to build a long-lasting peaceful relationship with China and take the bilateral relationship outside American influence. But this is something neither Modi nor the BJP-RSS would dare to do. They will refrain from irking the US, even though they may avert a war with China for the moment. To ensure long-lasting peace in the region and a democratic approach is adopted to resolve the disputes with China, a pragmatic, far-sighted and anti-imperialist government is needed. Neither Modi nor his American puppet opposition, led by the Congress party, can exhibit such leadership. India-China peaceful coexistence will remain a mirage until a progressive political force runs the government. Until then, the Damocles sword of an Indo-China war will continue to hang over the Indian people.
An avid reader and a merciless political analyst. When not writing then either reading something, debating something or sipping espresso with a dash of cream. Street photographer. Tweets as @la_muckraker