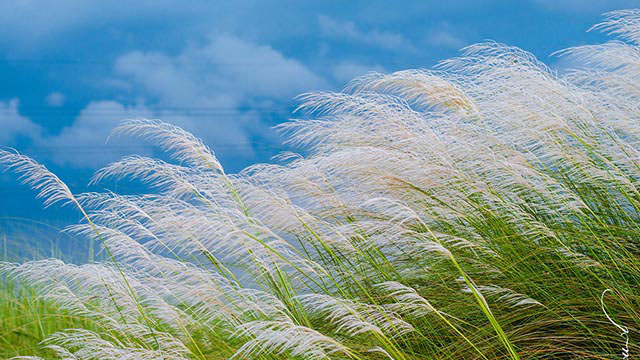 Autumn in West Bengal: The season of pain and not celebration
Reading Time:
4
minutes
Anyone with the slightest inkling of Bengali culture and literature knows how autumn has been portrayed as a season of joy, clear sky, white cotton clouds and Kash Phul (Kans grass). It rarely bothers about the grim realities, the dark clouds that hover over the gloomy faces of the common people. When a pen looks up to the sky, it forgets to look at the ground reality, thanks to Coronavirus and the soundproof houses where people can only hear the television's cacophony and (un) social media rantings.
Autumn is a period of lull in the traditional seasonal crop cycle of Bengal. The paddies sown in the monsoon haven't ripened yet. Though in some areas, the farmers cultivate Bhadohi Dhaan (one type of rice crop), which is harvested in September-October, but due to less or almost negligible profit now, farmers don't cultivate this variety anymore.
Kharif paddies are harvested either at the beginning or at the end of November. Autumn mainly comprises two months, September and October. During this period, the farmers of West Bengal survive mainly on their savings from previous crops like potatoes and by doing part-time work, mainly in the construction sector.
Many young men from rural West Bengal go to neighbouring country Bhutan or to Indian states like Kerala, Delhi, Maharashtra, etc, to survive these months by working as daily wagers. But as the pandemic has hit hard the construction sector, the migrant labourers have fewer opportunities outside West Bengal at present. This year, the farmers incurred huge losses in potato cultivation, so there are no savings for them to survive this autumn.
The rising prices of essential commodities added further burden on them, increasing their hardship. From sugar to petroleum, the price of each essential commodity has touched the sky. Sugar prices have soared significantly by Rs 400-500 per quintal. Moon, a small grocery shop owner based in the Jalpaiguri district, informed.
Prices of all necessary household items have skyrocketed and, as her shop is in a tea garden area, it has become hard for the customers—who are mainly tea garden workers—to meet their daily needs with the meagre amount, Rs 200 per day for men and Rs 150 per day for women, that they earn.
Petrol and diesel prices have set a record. As per the latest information, in Kolkata, one litre of petrol costs Rs 108.11 and a litre of diesel costs Rs 99.43 on Sunday, October 24th 2021. A year ago, in October 2020l, petrol cost Rs 82.59/litre and diesel cost Rs 73.99/litre respectively in Kolkata.
With rising petrol and diesel prices, the prices of vegetables are also high now. One kilogram of onion costs Rs 50 in the Jalpaiguri district of West Bengal. Even two months back, the onion prices were around Rs 20/kg. As the wintry vegetables don't come to market before November, every year this time people bear the brunt of high prices of vegetables. And incessant rain in many parts of West Bengal created a flood-like situation. This untimely rain damaged the vegetable cultivation plots. When asked about the high prices of vegetables, a small vegetable seller said that he is apprehensive of further price rise due to this heavy rain.
Under Pradhan Mantri Ujjwala Yojana 1,47,43,862 LPG connections were provided to the Below Poverty Line cardholders of the rural areas. Motivated by the so-called "success" of this scheme Prime Minister Narendra Modi has launched Pradhan Mantri Ujjwala Yojana 2.0 without any step of checking the cooking gas price within the limit of these poor people.
In October, a domestic cooking gas cylinder costs Rs 926 in Kolkata. Last year, in August, it was Rs 621 in Kolkata. As a result, we see a marginal rise in using cooking gas in households despite having a gas connection. They can't refill the cylinders.
When this correspondent asked fellow villagers about refilling their cylinders, she was told that they can't afford to refill their cylinders anymore. When asked a man and his wife also told that they voted for Modi in the last election and expressed their anger, sadness and helplessness about the rising prices of all essential commodities.
The skyrocketing price of mustard oil has made Bengali fritters less oily. Bengalis who are known for spicy, saucy, oily fries and dishes, are now grappling with the high price of mustard oil. In less than two years, the price of mustard oil has doubled. At the end of 2019, it was Rs 90/litre, now it's almost Rs200/litre. The upper-class Bengalis can still satisfy their tastebuds and fat bellies, but for the poor pakoda seller and lower-class people, it's a hard battle for survival.
Around 2.2m have been affected by the floods in West Bengal. But amid the hullabaloo of joy and celebration over Durga Puja, these flood victims didn't capture the headlines of the mainstream press.
In a state, where unemployment is taking the shape of an endemic, the government is doing nothing but embracing rhetoric. The urban upper-caste and upper-class-centric mainstream media is busy feeding their narrative 24×7. For them, the flood, hunger, joblessness, etc, don't exist. What is real for them is glamorising the festival season, connecting it with happy, joyous autumn and the bright clear sky.
The government, the media, etc, are suffering from myopia and sharp criticism can't help to fix the issue. Autumn is also the prelude to winter. When the poets are busy enjoying the advancing cold waves and romanticising the weather, several people in the villages of West Bengal are dreaded by the footsteps of the bone-chilling winter.
Moumita Alam is a non-conformist. She writes about the exploitation of the marginalised. As a teacher and a poet, her pen flares up against all forms of oppression. She loves to read when not writing and she thinks critically about the socio-political aspects of life. Keen to change the society to an egalitarian one for the present have-nots.