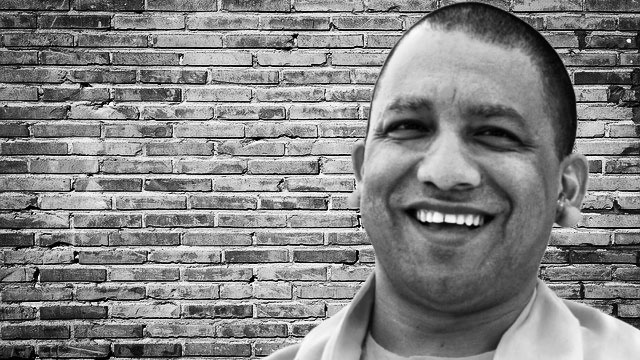 Can "love jihad" bogey help Yogi Adityanath to retain support base?
Reading Time:
4
minutes
Uttar Pradesh Chief Minister Yogi Adityanath, a firebrand Hindutva fascist rabble-rouser, used the "love jihad" cliché to threaten Muslim men with the death penalty if they date any Hindu woman. While addressing a rally in the state on Saturday, 31st October 2020, Adityanath, infamous for his bigotry, said "I warn those who conceal identity and play with our sisters' honour. If you don't mend your ways your 'Ram Naam Satya' (northern Indian Hindu funeral procession hymn) journey will begin." The issue of "love jihad" pays a rich dividend to Adityanath's regime and the ruling Bharatiya Janata Party (BJP).
The Hindutva fascist camp, led by the BJP's parental body Rashtriya Swayamsevak Sangh (RSS), use "love jihad" as a leitmotif to vilify the heterosexual inter-religious couples if the man is a Muslim and the woman a Hindu. They allege that "virile" Muslim men seduce "innocent" Hindu women hiding their own religious identity, and then force such women to convert to Islam for marriage. A lot of police cases are registered with similar allegations ever since Prime Minister Narendra Modi's government was formed in 2014.
Though India's official census shows that there are 80.5% Hindus, including the ostracised Dalits and the tribal masses, and only 13.4% Muslims, the RSS's ecosystem popularises the vitriolic propaganda accusing Indian Muslims of being a part of an international conspiracy to turn India into an Islamic country. Driven by utmost insecurity, fearing losing their caste hegemony and social privileges, the upper-caste Hindu elites and middle-class subscribe to this virulent politics. The belligerence with which they eye the Muslims, make them gullible for any form of Islamophobic content.
This agitation over the "love jihad" is too trite for the Muslims and secular forces but it helped the BJP and the RSS to garner mass support, especially from insecure, boisterous Hindutva-incensed fanatics. While parents of women who dare to defy the social restrictions on inter-religious marriage, especially with Muslims, lodge fake complaints of "love jihad" with the police, the Hindutva fanatics also create kerfuffle whenever they trace any inter-religious heterosexual couple; even those sitting in restaurants don't escape their ire. They have banned friendship between Hindu women and Muslim men. This mob vigilantism has the state's endorsement now.
One of the factors that fuelled Adityanath's political rise has been the Hindu Yuva Vahini, a fascist stormtrooper organisation he founded to guard "honour" of Hindu women from Muslim men. In one of his rallies before becoming the chief minister, Adityanath shared the stage with a man who called upon Hindu youth to dig graves of Muslim women and rape their corpse if Hindu women elope with Muslim men.
Operating as a semi-terrorist organisation in eastern Uttar Pradesh, the Hindu Yuva Vahini has been complicit in crimes like rioting, murder, abduction of women and rape. The organisation, along with other Hindutva fascist organisations, has been attacking inter-religious heterosexual couples, whenever such a couple is traced. It has rolled out a policy of "ten Muslim women for one Hindu woman" to run a reign of terror.
Adityanath rants over curbing the "love jihad" issue after the Allahabad High Court called it unfair to convert someone to marry into Islam. Given Adityanath's bigoted track record, it's clear that such a new law will be biased against the Muslims and torment them violating their right to marry someone. The cryptic death threat is the chief minister's open challenge to the established law of the land, which has no provisions to punish someone to death for marrying someone from a different religion. This threat issued on "love jihad" signals to heightened mob vigilantism in the state by organisations like the Hindu Yuva Vahini and other organisations.
Under the pretext of "love jihad", the Hindutva fascists even attack brands that depict inter-religious harmonious living in advertisements. The recent outrage over a Tanishq Jewellery advertisement by the Hindutva fascists on social media forced the company to withdraw it. Surf Excel, a laundry detergent brand from the house of global giant Unilever, faced a similar ordeal in 2019 due to its advertisement depicting the friendship between a little Hindu girl and a Muslim boy.
Though the Union government, ruled by the BJP, denied the existence of anything called "love jihad" in the Parliament, its fraternal organisations have launched a series of a vicious campaign to malign heterosexual inter-religious couples. They have carried out campaigns to abduct Hindu women who fall in love with Muslim men and even abduct and rape Muslim women. The bush telegraphs on "love jihad" even sparked the Muzaffarnagar pogrom in 2013, killing and displacing hundreds of Muslims. A large number of Muslim women were gangraped during this pogrom.
Now, as Adityanath's regime faces a serious challenge from the Dalits, following the Hathras gangrape and murder case, in which the BJP and the RSS threw their weight behind the accused, it's desperate to wean away the ostracised community from its opponents by using Islamophobia as the most effective weapon. In this, "love jihad" plays a key role. As the Dalits form the footsoldiers of the RSS and execute all pogroms targeting Muslims, it's important to provoke them using the patriarchal "love jihad" tonic.
After facing a nationwide rebuking over the lawlessness in Uttar Pradesh, especially over Hathras, "love jihad" cacophony, along with rhetoric over Pakistan and beef, are a few issues left for Adityanath to retain the "Hindu" vote bank and the BJP's support base, which will be needed after a year and a half when the state will go to polls. Thus, persecuting Muslim men for something like having an affair becomes imperative for the sclerotic regime. But at a time, when inflation is shooting up due to falling value of the Indian rupees, unemployment is constantly on the rise and a total disarrayed state is seen in the economic front, it's to be seen how many Dalits and the backward class Hindus will gulp the bait of Adityanath and the BJP.
An avid reader and a merciless political analyst. When not writing then either reading something, debating something or sipping espresso with a dash of cream. Street photographer. Tweets as @la_muckraker