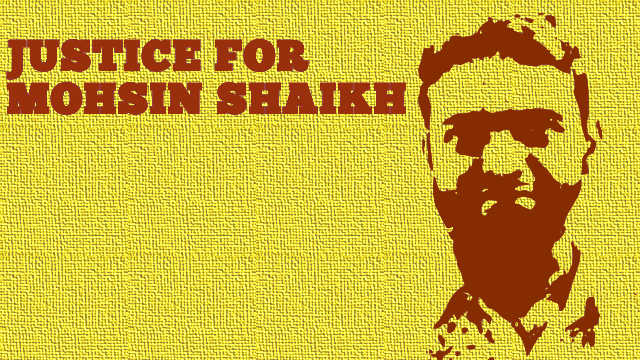 Commemorating Mohsin Shaikh's mob lynching and denial of justice
Reading Time:
3
minutes
On June 2nd 2014, less than four days since the Narendra Modi-led Bharatiya Janata Party's (BJP) government came to power, a young Muslim techie Mohsin Shaikh was lynched to death by a mob of feral right-wing thugs belonging to the Hindu Rashtra Sena when he was on his way home from afternoon prayers. His skull cap and beard had given away his identity as a Muslim, a community the mob was targeting after a rumour that someone had morphed the picture of Maratha king Shivaji and the right-wing Shiv Sena founder Bal Thackeray.
Today marks the seventh death anniversary of Shaikh, who became the first hate crime victim after Modi's ascension to power. The Indian government doesn't—understandably so—provide any specific resources or data on hate crimes, especially those against minorities. It was proven when, in July 2017, Hansraj Ahir affirmed to the Rajya Sabha that 'The National Crime Records Bureau does not maintain specific data with respect to lynching incidents in the country.'
However, a few independent organisations tracking the series of such macabre atrocities provide an eye-opener.
The DOTO Database—an online platform that documents religious identity-based hate crime against minorities in India—shows 1,195 incidents have been reported since 2014, the same year Modi's BJP won an absolute majority to form a government. The same website shows that 233 people have been killed while as many as 22,980 were victimised, of which 20,926 victims were Muslim.
The website, which displays current statistics of hate crimes, blames the Hindutva fascist groups for being the biggest contributor to these. The Hindutva fascist groups are identified as perpetrators in 555 of the 1,195 incidents. Unsurprisingly, Yogi Adityanath-ruled Uttar Pradesh came on the top of the list among the states with maximum incidents reported, 343 of 1,195 hate crimes against minorities.
The same state where a Muslim meat seller, Mohammad Aqeel Qureshi, died in questionable circumstances in the intervening night of May 23rd and 24th 2021. While the Uttar Pradesh Police is asserting that Qureshi was wanted in several crimes and tried to evade police questioning and might have died after he allegedly jumped off his terrace, his five-year-old daughter, Alfiya, told The Wire that she saw the police throw her father off the terrace of their house in Bulandshahr's Morche Waali Gali. "One leg here, one leg there, and his head was here when he was thrown," she was quoted saying.
Incidentally, the DOTO database, reports that the fourth largest group responsible for perpetrating religious identity-based crimes against minorities are police/investigative agencies, 56 of 1,195 reported cases.
Seven years have passed since Mohsin's death, years during which his father died of heart failure while fighting a legal battle against his son's murderers and the remainder of his family was pushed into abject poverty, struggling to make ends meet.
In February 2019, accused Dhananjay Desai was released on bail from Yerwada jail. As is the case with most hate crimes, the wait for justice continues for the victims' families, the delay adding to the impunity of criminals committing these crimes, evident from the incidents of mob lynchings that continue unabated across the country.
What's worse is that the number of incidents of hate crime may be far larger than the ones documented by several hate crime trackers in the country, most of which rely on news reports from the English language press, which often ignores incidents that come from the hinterland which aren't fatal or striking enough. Even then, it has become impossible to deny the massive spurt in hate crimes against the minority communities since Modi's rise to power.
June 2nd remains a flagrant reminder of the same. Mohsin Shaikh also looms as a stark reminder for all, showing how the Muslims can be considered expendable and "lynchable" by Hindutva fascists. Justice remains a distant dream for all victims who survive the trauma and the families of those who succumb.
Unsigned articles of People's Review are fruit of the collective wisdom of their writers and the editors; these articles provide ultimate insight into politics, economy, society and world affairs. The editorial freedom enjoyed by the unsigned articles are unmatchable. For any assistance, send an email to write2us@peoplesreview.in