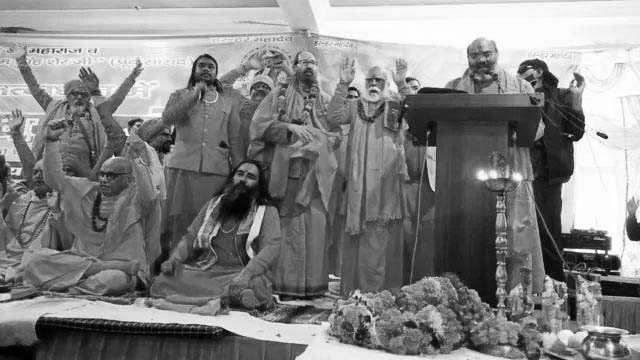 The anti-Muslim genocide calls by Hindutva fascists revealed the hypocrisy of many
Reading Time:
6
minutes
In two separate incidents, anti-Muslim genocide calls were given by India's Hindutva fascists who enjoy the support of Prime Minister Narendra Modi's ruling Bharatiya Janata Party (BJP). While one of the events was held in the capital New Delhi, the other one, called the "Dharma Sansad" (religious conference), was held in BJP-ruled Uttarakhand's Haridwar. In both places, the organisers raised genocidal slogans against the minority Muslim community with sheer impunity.
While the so-called "Dharma Sansad" was held from December 17th to 19th under the aegis of notorious Hindutva fascist rabble-rouser Yati Narasinghanand Saraswati and other Hindutva fanatics, the event in Delhi was organised on December 19th by the Hindu Yuva Vahini (HYV), which was founded by BJP's Uttar Pradesh Chief Minister Yogi Adityanath. The Delhi event was presided over by Suresh Chavhanke, who runs a television channel called Sudarshan News, which is infamous for vitriolic anti-Muslim propaganda.
A galaxy of Hindutva fascist rabble-rousers like Yati, dressed up as Hindu monks, delivered vitriolic speeches at the Haridwar "Dharma Sansad". Puja Shakun Pandey aka Sadhvi Annapurna Maa, Mahamandleshwar of the Niranjini Akhada and the general secretary of the notorious Akhil Bharatiya Hindu Mahasabha (ABHM), Mahamandaleshwar Swami Prabhodananda Giri, the chief of a militant organisation called Hindu Raksha Sena, BJP leader Ashwini Upadhyay, BJP women's wing leader Udita Tyagi, etc, took part in this event.
Hindutva fascists like Yati are accused of imparting weapons training to the youth in western Uttar Pradesh in an apparent bid to raise a terrorist army to attack Muslims. Several of Yati's followers are accused of promoting lynching and advocating violence against the Muslims, especially of abetting the 2020 Delhi anti-Muslim pogrom. There have been multiple police complaints against Yati in the past, however, using his political clout he manages to remain scot-free.
Pandey, who now calls herself Sadhvi Annapurna, had been accused several times of promoting anti-Muslim hatred and promoting violence against the minority community. She remains a firm defender of ABHM's Nathuram Godse, who killed Congress party's leader MK Gandhi in January 1948. Upadhyay had earlier this year organised a similar rally of Hindutva fanatics at New Delhi's Jantar Mantar, where anti-Muslim slogans were raised. Even though he was arrested later, he got an easy bail from a Delhi court.
Yati reportedly said that Hindus should resort to buying firearms, apparently to kill Muslims, while continuing the "economic boycott" of the minority community. He said that he will offer Rs 10m to any Hindu wanting to be a Prabhakaran—slain chief of Tamil nationalist guerrillas in Sri Lanka—or "a Bhindranwale or a Shabeg Singh", referring to the two top militant commanders of the Khalistan movement who were killed during Operation Blue Star in 1984.
Yati gave the call to the Hindus to arm themselves with better quality weapons. He said, "Shashtra Mev Jayate" (weapons shall prevail), which is a vulgarisation of the Indian state's motto "Satyameva Jayate" (Truth Alone Prevails), taken from the Mundaka Upanishad of Atharva Veda. Yati said that though swords look good on stages, one with better weapons shall win the battle. Swami Premanand, another rabble-rouser dressed as a monk, also emphasised the necessity of buying weapons.
Another Hindutva fanatic, Sagar Sindhuraj Maharaj seconded Yati by saying, "I keep repeating that buy a mobile phone worth Rs 5,000 but keep a Rs 100,000-worth weapon. You should at least keep sticks and swords at home." Sagar also said that only Muslims who will accept the Hindu religion as supreme and convert shall be spared, while the rest should face the genocide.
Pandey said: "If you want to finish them, then kill them all… we need 100 soldiers who can kill two million of them to win this…". Referring to the Rohingya genocide in Myanmar, Prabodhanand said, "Get ready to kill or get killed, there is no other option. Just like in Myanmar, every Hindu, including policemen, army personnel, politicians, should start the 'cleansing' as happened in Myanmar."
At the Delhi event, anti-Muslim genocide calls echoed the venue, where participants took oath in a Nazi-style, under Chavhanke, to carry forward a crusade against the Muslims until a "Hindu Rashtra" (a theocratic dictatorship of the upper-caste Brahmins). They pledged to carry out an "armed struggle" for the "Hindu Rashtra".
Through such hatemongering, Yati and his associates are not just promoting the concept of suicide attacks by Hindutva terrorists targeting Muslims, but also mobilising common, politically backward Hindus, who look up to monks with reverence, to violate India's Arms Act, 1959, and other laws of the law that prohibits any such speech or provocation to violate established laws and disturb communal harmony.
But the Indian state and the courts didn't take any suo motu cognisance of such acts. This immunity from the law in a Hindutva fascism-ruled country has provided enough ammo to people like Yati and Pandey to operate with sheer impunity. While to the rest of the world, such anti-Muslim genocide calls would have raised an eerie alarm and triggered government clampdown on people like Yati, Chavhanke and Pandey, the Indian state machinery remains nonchalant, showing its unapologetic endorsement for such massacre calls.
In a tweet thread, Mohammed Zubair, the co-founder of fact-checking website AltNews, cited instances during the Haridwar "Dharma Sansad", where speakers after speakers called upon Hindus to participate in an anti-Muslim genocide with utmost impunity in front of cameras.
The videos of these two programmes, where anti-Muslim genocide calls were given, have drawn international ire as well. Several international celebrities, including former tennis star Martina Navratilova, have expressed their shock on social media finding how anti-Muslim hatred is so normalised and institutionalised in India. But Prime Minister Modi and his colleagues remain tight-lipped on the issue as a token of support to such anti-Muslim genocide calls.
At a time when the poll-bound Uttarakhand government is peddling lies on the purported Muslim population growth, such programmes calling for anti-Muslim genocide and enticing the majority community with Islamophobia appear to be aiding the BJP's narrative in the forthcoming elections. Moreover, as the BJP has lost many voters in poll-bound western Uttar Pradesh and Uttarakhand, due to the victorious farmers' movement against Modi's farm reforms, such hatemongering appears as a frantic bid to consolidate a vote bank for the BJP before the elections take place.
The Uttarakhand Police has filed a first information report against Yati and others for promoting enmity between communities, no stringent charges under the colonial-era sedition law and the draconian Unlawful Activities (Prevention) Act (UAPA)—used in galore against activists, intellectuals and journalists who criticise the Modi regime or the BJP—have been used against them. Uttarakhand's Director-General of Police (DGP) Ashok Kumar said the UAPA can't be invoked as there was no incidence of violence involved. The police, acting on the FIR only took down a few videos from the social media, while they continue to float on WhatsApp.
It's worthy to remember that activists like Meeran Haider, Sharjeel Usmani, Umar Khalid, etc, have been booked under the draconian UAPA and are languishing behind the bars for their efforts to promote the concept of secularism, which is supposed to be one of the characteristics of the Indian state according to its Constitution's Preamble. The persecution of these activists for standing up for secularism shows how Modi's rule has mainstreamed Brahminical bigotry in the administration, which was earlier layered and cautiously handled.
It's easy to fathom what would have happened if a similar event was held by a Muslim organisation and had the participants bayed for the blood of Hindus. All hells would have broken loose on India's Muslim community. The entire community would have suffered state repression and Muslims would have to prove their loyalty at each step. Apologists would have popped up here and there, trying to bail out the community.
No international bodies, which decry alleged human rights violations in China or the Democratic People's Republic of Korea or Russia, have been moved by the threats raised by such state-sponsored fascist thugs like Yeti, Chavhanke or Pandey. No human rights organisations have also raised the incident in the last week, and there is an ominous silence on the issue in even so-called Islamic countries.
The major western countries, including the US, are benefitting from Modi's pro-market, neo-liberal economic policies, which provide them with access to unbridled plundering of Indian natural resources, minerals, burgeoning market and a right to exploit its "cheap" labour force. It's unlikely they would want to disturb the equation by harshly criticising the Modi regime for promoting violence and genocide. Moreover, though the BJP leaders were present in such events, the ruling party can still distance itself from these acts and call the people like Yeti and his associates "fringe elements".
For the sake of India's cheap raw materials and labour, as well as its ever-growing market that caters to its affluent and urban middle-class sections, the western powers will remain tight-lipped about the gross human rights violations and will only pay lip service but take no affirmative action when there is large-scale violence in the country. This exhibits the hypocrisy of western democratic values and their selective concerns for "human rights" and "minority rights".
On the other hand, the alternative power bloc of the world, led by China and Russia, will also remain mum on the issue as they cajole Modi to join their league, providing them greater access to Indian raw materials, markets and labour force. As Modi does a tight-rope walk, balancing India between these two power blocs, it's unlikely that Beijing or Moscow, who have murkier records in their hinterland regarding human rights, will pressurise him to safeguard Indian minorities' lives.
The "Dharma Sansad" in Haridwar and the Delhi event of the HYV under Chavhanke proved that the Hindutva fascist forces are trying to fuel a massacre of Muslims and push the country towards a civil war. This merely doesn't threaten the minorities alone, but also the national security of India. Though the anti-Muslim genocide calls were given by the so-called seers from these events, the onus isn't on the Muslims to condemn such acts and people.
Events like the "Dharma Sansad" in Haridwar or the one in Delhi, which gave anti-Muslim genocide calls, are problems of the Hindu society. Those upper-caste Hindus who call themselves "secular", those Dalit activists who work among the ostracised communities and talk about Bahujan politics, must mobilise the people of their communities to oppose, isolate and defeat such genocide-mongers and their enablers. As this is a cancerous problem within the Hindu society, unapologetically abetted by the present disposition, the Hindus must defeat the menace and prove their loyalty towards the Constitution.
Unsigned articles of People's Review are fruit of the collective wisdom of their writers and the editors; these articles provide ultimate insight into politics, economy, society and world affairs. The editorial freedom enjoyed by the unsigned articles are unmatchable. For any assistance, send an email to write2us@peoplesreview.in