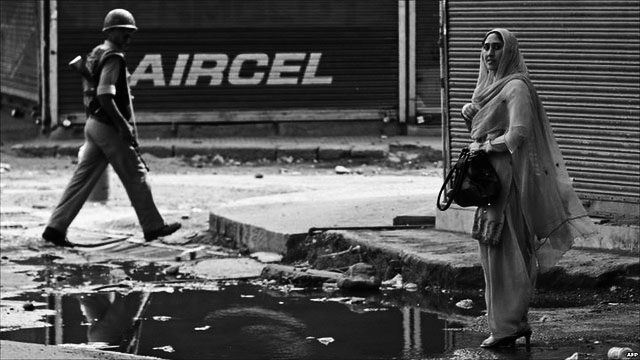 Robbed of "Special Status", Kashmiris feel insecure, humiliated and reduced to a bounty of war
Reading Time:
3
minutes
After Union Home Minister Amit Shah presented the bills on 5 August 2019 to recommend the abrogation of Article 370, bifurcation of the state and converting Jammu & Kashmir into two union territories, the whole country entered a celebration mode. The rights of the people of Jammu & Kashmir has been reduced from of special status to even below the state level, it will be a union territory with a rudimentary legislature.
The decision surprised everybody in the country but has triggered the euphoria in masses to amass the spoils of war, a victory that was long-awaited. The people in Jammu & Kashmir are in a state of shock, as the former chief minister of Jammu & Kashmir in an interview rued, that "I have not seen this kind of India before". The pro-India leaders of Jammu & Kashmir are branded corrupt, demonised on national news channels as mediators or go-betweens, who did not allow the government's funds — purportedly allocated by the centre for the welfare of the people — to reach the beneficiaries.
As soon the news flashed on national media with their custom of drum beating, it was followed by a flood on the social media platforms with posts of people congratulating each other, taking credits of how once they used to ask questions about the solution of Kashmir issue. Even the so-called liberals, revolutionaries and many advocates of an impartial democracy supported the move.
This move has also generated debates and discussions in all circles, from academicians, journalists, to Indian middle-class discussing how this step will benefit the rest of Indians. Yet the irony remains that the people in Kashmir have been silenced by a total gag, an unprecedented communication blockade resulting in a zero communication with the outside world. People in the region still do not know how the rest of India is celebrating this move as a triumph of the majority over the much-hated minority. Moreover, most of the Indians are not aware of the present situation in the Kashmir valley and are ignorant about the ground reality and how Kashmiris are suffering. The hyper-nationalist Indians justify this step as a move towards the development of Jammu & Kashmir as they believe everything is normal and will remain normal even when the curfew and communication blockade will be lifted.
From construction of big temples, to the universities dedicated to Hindu teachings, with the names that are already decided and been declared on social media like "Sharda Peeth University", to ashrams for 'Vanaprastham' time, to institutes like "Avantipura Shankaracharya Think Tank", etc and nurturing a dream of buying land at the most affordable rates are making the rounds in general discourses. Then the fantasies take an absolutely ugly turn, with bigoted men posting photos of Kashmiri women with derogatory messages on Facebook, Twitter and other social networking sites. The usage of foul language for the Kashmiri women is beyond the term obnoxious.
A user tweets on Twitter: "Now Kashmiri girls can marry with boys like me" another user tweets "soon our vishesh log of Bharat leke pahunch jayengey aur ghar Jamai rah jayengey" (soon our special people from India will reach and become son in-laws to stay there), another user tweets "bhai swayamvar hoga aapka Kashmir mein, tayari karo, Girls r dying for you" (Brother, you can have an opportunity to choose your bride in Kashmir, get ready, girls are dying for you), then another tweets, "you don't need to spend money on buying land in Kashmir when you can simply marry a Kashmiri girl and ask land in dowry", another user writes, "Someone said Indian can marry Kashmiri girls, Now am looking for Kashmiri girls. Now I can marry a Kashmiri girl", another guy captions his photo with "Now everybody wants to date and marry Kashmir girls". Another Twitter user shares the photo of Deepak Kalaal in Kashmiri attire and captions it "Only girl who can save Kashmir from the tharki (pervert) Indian".
The messages communicated in the above posts show clearly the mindset of a large number of feral men who are let loose to post anything that comes in their mind. The posts on social media are full of threats as if some war has been won and now the winning party is waiting to collect their part of the booty. These users are neither blocked nor warned, there are no #MeToo advocates, they aren't reprimanded by so-called feminists, who claim to be the flag bearers of women emancipation.
Instead of showing solidarity with the people of Kashmir, the people of Kashmir are abused, maimed and demonised on social media with alarming messages. If the recent move is for the welfare of Kashmir why is there a situation as an ongoing war with people of Kashmir, adding fuel to the existing situation? If this bill is for the rights of Kashmiri women, why are people abusing and insulting Kashmiri girls on social media? Conferring open threats to people of Kashmir and usage of lecherous language for the Kashmir women on social media platforms are never acceptable on moral grounds.
The burning question in the minds of Kashmiris living in India is, how the mindset of people changed overnight? The way India has embraced the Kashmiris after the announcement is debatable.
I have worked with leading English dailies of Kashmir. I have done my MA in Mass Communication & Journalism in 2006, from MERC, Kashmir University. I have done PhD in Journalism from MCRC, Jamia Millia Islamia, in 2014. Apart from academic qualifications, I have worked as a reporter in local English Dailies of Kashmir. I regularly contribute articles and columns to various online news organisations and newspapers.