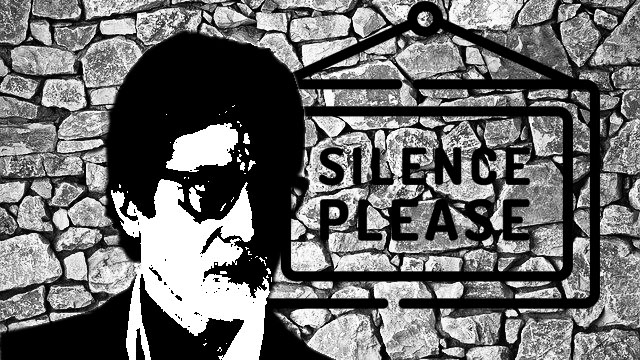 Amitabh Bachchan and the silence of the stars at the hour of fascism
Reading Time:
5
minutes
I can vividly remember my childhood when we had the chance of watching films on Sunday evenings on Doordarshan channel. This is a part of childhood that most of the kids of the 1980s and early 1990s would remember. The streets would go deserted when the lord of actors, Amitabh Bachchan's films were telecasted; the next day, everybody would sing the tracks from that film. Young boys would recite the dialogues of Agneepath "Poora naam, Vijay Dinanath Chauhan, baap ka naam, Dinanath Chauhan, maa ka naam, Suhasini Chauhan, gaon Mandwa…" ("full name Vijay Dinanath Chauhan, father's name Dinanath Chauhan, mother's name Suhasini Chauhan, village Mandwa"), or  one of the famous dialogues  from  Sholay "Tumhara naam kya hain Basanti?" ("What's your name Basanti?") or of Namak Halal "I can talk English, I can walk English…". 
Such performance by the actor would make people roll on the floor laughing. Bachchan's way of romancing actresses would bring young girls, itch inside the women, smiling and scratching their legs as if it's happening in front of them, while young men would go euphoric. Bachchan was a larger than life icon, a fashion icon, an idol for both the wannabe fans and other actors within the film industry.
For years people have adored Bachchan as an evergreen hero; he comes back, again and again, to fit into those roles carved for him, romanced most of the actresses, some of whom were much younger than him and it was a dream come true to work with him in a film for many. 
Like his screen life, Bachchan's personal life was ever interesting, nail-biting and adventurous as well. The actresses he romanced, the people who were his friends, etc, became ingredients of Bollywood gossips. Who can forget Bachchan's shifting interests in the film industry? Who can forget the allegations of his romantic hookup with Rekha, or Parveen Babi, who, in her last days, blamed Bachchan for her miseries.
Similar was Bachchan's political preferences and stunts; shifting with time and need. The friendship between Bachchan and the Gandhis was the talk of the town in the 1960s, and it remained the same throughout the 1970s and early 1980s too. Who can forget his controversial speech after the assassination of Indira Gandhi in 1984, when Bachchan raised his arm shouting  "Khoon ka badla khoon se laengey" (Blood for blood) twice,  provoking people to kill Sikhs? It's so similar to Yogi Adityanath, the present chief minister of Uttar Pradesh, vowing to take revenge on protestors against the contentious Citizenship (Amendment) Act, 2019, or CAA and the National Register of Citizens (NRC) in his state and penalising the Muslims heavily for the vandalism done by the state. 
Then in the early 1990s, the relationship between the Gandhis and Bachchans soured, especially after Bachchan's name came out in the Bofors scandal and after the assassination of Rajiv Gandhi. A few years later, the Big B, found another political lever due to another prominent politician called Amar Singh who would call Bachchan his brother. But the relationship could not sustain for long after Amar Singh was expelled from the Samajwadi Party. Even Singh accused the Bachchans for his falling out with his party leadership.
Bachchan is the same person who spoke up before 2014, made jokes on onion price, falling rupee rate and high prices of petrol too. Moreover,  his wife and former actor Jaya Bachchan, who is an MP of the Samajwadi Party, advocated mob lynching for the accused of the Hyderabad veterinary surgeon's gangrape and murder.
However, when the whole country has hit the streets to protest against discriminatory CAA, NRC and National Population Register (NPR), Bachchan, like the majority of film industry honchos, has decided to remain silent. There are memes on social media doing rounds that caricature him, the mouth of Bachchan is shown gagged in one. Even after a lot of requests from his fans, especially Muslim fans, to speak up, Bachchan didn't dare to oppose Prime Minister Narendra Modi's government on the CAA, NPR and NRC.
All my childhood memories came back, as I started witnessing another favourite movie, but this time, Bachchan is in the green room. Preparing to deliver his dialogues, grimes after the shot is over, thinking how tactfully he played the character of Vijay Dinanath Chouhan and made people believe in the euphoria he created. Bachchan is paid handsomely and he is preparing himself for on-screen roles that can earn him money. He isn't bothered about off-screen roles, to be a real hero in real life.
A whole bunch of fans want him to speak up, rise for them, for their rights, as the angry young man, his typical image that has imprinted in the minds of his fans. Yet it is too much of an expectation the fans are yearning from Bachchan. It's imperative to remember that he and other actors actually entertain us, they act perfectly, they play the on-screen characters, take us to the surrealistic world. That's where these socially-divorced actors are confined to. Bachchan or such famous actors like him aren't revolutionaries, they aren't the rebel they portray on-screen, they are mere actors, trying to make money by pleasing the powers that rule India and the film industry.
Bachchan's dialogues are written by some writer, the film scripts are written by other writers; Bachchan follows the director, signs the film for a producer, who explains him the whole idea of the film and convinces him how it is going to evolve and what effect it will have on the audience and his career. After the shooting is over he gets paid a hefty amount, then we put a portion of our savings to buy tickets in a theatre to watch his films and feel euphoric.
So it is our fault, not his; Bachchan is doing his job, it's we who drain ourselves into the character he played. Bachchan never told anyone to admire him or follow him. He is an entertainer, that is it. So is every actor associated with the film industry. Expecting them to show courage in real life is too much to ask for in the era of the fascist rampage.
Now I recall what my parents used to say when I skipped my studies and other important things to do, to watch his films. They used to tell us that these actors are here to earn money and live a luxurious life, wasting our time behind them is our loss at the end of the day.
It is us who have to protest, we have to fight for our rights, they are mere entertainers, making their money; it's important to ignore them. They don't care about people.  The people for them are just agents of their business endeavours, mere ticket purchasers for them. Bachchan isn't in the film industry to become a role model, he has been there for himself, for making money and a career. Even the late Om Puri used to vent out his frustration over why Bachchan keeps on getting awards and films when there are other actors. It didn't matter to the film industry. 
These celebrities, actors, stars like Bachchan are no better in this country more than entertainers, who openly vow to support the party in power for their petty gains. Lest we forget that, it is better we shun them to make them silent forever in our minds too. 
I have worked with leading English dailies of Kashmir. I have done my MA in Mass Communication & Journalism in 2006, from MERC, Kashmir University. I have done PhD in Journalism from MCRC, Jamia Millia Islamia, in 2014. Apart from academic qualifications, I have worked as a reporter in local English Dailies of Kashmir. I regularly contribute articles and columns to various online news organisations and newspapers.