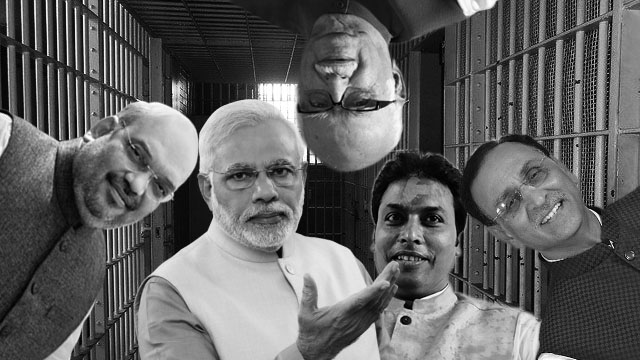 Which BJP leaders will go to detention centres due to an honest NRC?
Reading Time:
6
minutes
The Indian citizens are in despair over how they can prove their citizenship to the state machinery when the National Register of Citizens (NRC) process will start. Everyone is worried about the documents that they have to arrange to prove their citizenship. At the same time, the Bharatiya Janata Party (BJP) leaders are incessantly preaching that the NRC and the Citizenship (Amendment) Act, 2019, are beneficial for the country and how easy it would be for anyone to prove their citizenship or acquire citizenship as a refugee. In this article we will see, if the process of NRC is quite transparent and neutral, then what all documents a few of the top-ranking BJP leaders and ministers have to arrange to prove their Indian citizenship.
Lal Krishna Advani was born on 8 November 1927 in Karachi. He joined the pro-British Hindutva extremist politics at a young age. He was accused of being a part of a conspiracy to assassinate Pakistan's founder MA Jinnah. Still, this "patriotic" son of India didn't choose India as his country during partition and remained in Pakistan until 1957, when he finally migrated to India leaving behind his Hindu brethren in Sindh sans a Hindutva fanatic leader.
Therefore, according to his birthplace and date, Advani isn't a citizen of India due to birth. The interpretation of Section 6 (a) and (b) (i) of the Indian Constitution clearly states that if any individual or their parents or grandparents were born in undivided British India and if they have migrated to India from the present territories of Pakistan (or present Bangladesh) before 19 July 1948, then they will be considered as Indian citizens. Now, the fact is that Advani didn't enter India within this cut-off date. Therefore, he has lost the chance to be automatically considered as an Indian citizen; however, he will be considered an Indian citizen only if he can show that he had applied for Indian citizenship upon migrating and received a certificate for the same from the government, which isn't consumed by termites till date. In case he didn't apply for citizenship upon arrival, or if his citizenship certificate is consumed by termites, then he will be considered as an "illegal infiltrator" according to the Citizenship (Amendment) Act, 2003 (CAA 2003), a law that he once passed in the Parliament.
Gujarat's Chief Minister Vijay Ramniklal Rupani was born on 2 August 1956 in Burma (now Myanmar). As he wasn't born in Indian territory therefore he isn't an Indian citizen by birth. The question is whether Rupani's parents lived permanently for five years in India before 26 January 1950? Or did they migrate to present-day Indian territory from Pakistan before 19 July 1949? If they had, then Rupani's parents were Indian or else he will have to face a lot of trouble.
If only Rupani could prove that his parents were Indian through documentary evidence and that he has his citizenship documents on the basis of his parents' Indian citizenship, then he will be considered as an Indian citizen. In case the termites have dined on such documents, then Rupani won't be considered as an India citizen but as an "illegal infiltrator".
The Wikipedia page of Tripura Chief Minister Biplab Deb, also from the BJP, was edited 37 times in three days from the publication of the final NRC in Assam on 31 August 2019. Before the NRC was published, Wikipedia showed that Deb was born in Chandpur of present-day Bangladesh on 25 November 1971. After the final NRC was published in Assam, questions were raised on Deb's Indian citizenship. Therefore, the Wikipedia page was edited to change Deb's place of birth to Tripura's Gomati district. As the editing was done in a hurry, therefore, the wrong place of birth led to several lacunas and inconsistencies in his biography. These inconsistencies were corrected through subsequent edits to make the story consistent.
As Deb was born in former East Pakistan (Bangladesh was formed after the Liberation War in December 1971), therefore, he isn't Indian by birth. Even his parents were not Indian during his birth, which makes his case different vis-a-vis Rupani's. Deb will be considered an "illegal infiltrator" unless he can prove that his parents had arrived in India on a visa before his birth, then applied for Indian citizenship and got a certificate before returning to East Pakistan, amidst severe violence, for childbirth. If only such a certificate of their citizenship still exists, Deb can be called an Indian citizen, else through the CAA 2003, BJP's Atal Bihari Vajpayee-led regime withdrew the right of "infiltrators" like Deb to apply for citizenship.
Deb can be considered as an Indian citizen only in two cases: one, if he can produce a birth certificate of 1971 showing he was born to Indian citizens in Tripura; two, if he can prove that his grandparents or parents migrated to India before 19 July 1948. Both of them are impossible for Deb despite having absolute control over the state machinery.
Amit Shah was born in Mumbai on 22 October 1964. Though the Shah surname is of Persian origin, we cannot assume that his parents belonged to Iran. Even if his parents migrated from Iran, as Shah was born in India after the Constitution was adopted, so he is naturally an Indian citizen due to birth. However, that will apply if only he can show his birth certificate.
The catch is, there was no birth certificate at that point in time, which makes it imperative for Shah to prove through documents that his ancestors have either lived in India continuously for five years or more before 26 January 1950 or that they had migrated to the present Indian territory from the present-day Pakistan/Bangladesh before 19 July 1948. If Shah fails to prove such evidence, then not only will he be considered as an "illegal infiltrator", his multi-talented son Jay Shah will also face the wrath as according to CAA 2003, any children of illegal immigrants, even if they're born in India, will be treated as "illegal infiltrators".
Indian Prime Minister Narendra Modi was born on 17 September 1950 in Vadnagar of Gujarat. The prime minister claimed at one point in time that he used to sell tea at the Vadnagar Railway Station, and the Wikipedia page was edited several times by his followers in 2016 and 2017 to tamper with the history of the place. Due to his birth, according to Section 5 of Indian Constitution Modi is an Indian citizen. All he needs to do is show his birth certificate. As there weren't any birth certificates then, Modi just needs documents to show that either of his parents had migrated to India before 19 July 1948 from Pakistan/Bangladesh or that his parents lived in India before 26 January 1950.
If Advani or Deb's parents had informed the government in writing soon after their migration to India that they have come to India due to religious persecution in Pakistan or present Bangladesh, then they don't have to show any documents to prove religious persecution to avail the benefits of the CAA. However, if Advani or Deb's parents didn't inform the government in writing that they were forced to flee from Pakistan or Bangladesh due to religious persecution, then they will have to show documents — citizenship proof of Bangladesh or Pakistan, travel documents, etc, — according to the rules of the CAA to apply for Indian citizenship.
Unlike Advani or Deb, Modi, Shah and Rupani won't even get the chance to apply for citizenship under the CAA, leave alone facing rejection, because they didn't come from Afghanistan, Bangladesh or Pakistan. There are good chances that under a fair and transparent NRC, this Gujarati trio will be spending the rest of their lives in detention centres.
Birth certificates were issued in India from 1969 onwards, though not on a large scale. Due to lack of infrastructure and awareness, the birth certificates neither became popular nor reached everyone. Thus, many of those born in the 1970s and the 1980s don't have their birth certificates. Those "youth" leaders of the BJP, who are going door-to-door to campaign to whitewash the CAA, aren't even aware that if they were born after 1 July 1987 then they can't claim citizenship using their own birth certificates, they have to show the birth certificate of their parents as well.
Those born on or later than 3 December 2004 will have to sit in a detention centre and cry foul about the NRC in case either of their paternal or maternal grandparents fail to prove Indian citizenship. Moreover, whether many of the BJP leaders, like millions of Indians, will be able to trace the documents that can prove their ancestors migrated to the Indian territory before 19 July 1948 or have lived continuously for more than five years before 26 January 1950, depends on whether the "anti-national termites" had treated such documents as their meal or not. Still, for Modi, Shah, Rupani or Deb, the easiest way to gather their citizenship records will be to approach the BJP IT Cell's Photoshop experts. One will be able to produce a brand new, glossy birth certificate of Modi dated 1950 using Arial or Times New Roman font within minutes.
Whether they show documents, manage them through unscrupulous means or modify rules to allow greater leverage to themselves, the BJP and its leaders have actually made the CAA-NRC combo as an Albatross around their neck. They have no scope now for redemption and it seems either they will themselves end up in detention camps or make the country a large-scale detention centre for all; so far only the latter possibility looks feasible for the BJP.
[This article was originally published in Bengali by
People's Magazine
. Translated, edited and republished with the due permission of the author and the publisher.]
Soumo Mondol started his journey as a student activist in West Bengal. He is a radical Marxist thinker, a left-wing activist who fights for the cause of the poor, the marginalised and the oppressed people.