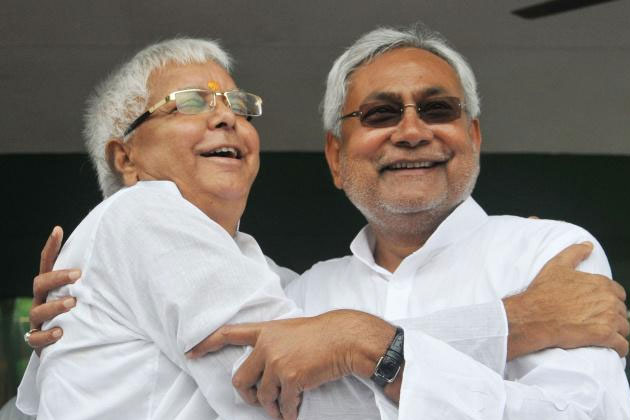 Unity of Opposites – Opportunism Leads in Bihar
Reading Time:
2
minutes
(This article was first published in June 2015 in the previous version of People's Review. Due to an incident of hacking the old website was pulled down and we could only restore the old articles in this section)
The recently concluded deal between the newly amalgamated parts of the erstwhile Janta Party, namely the RJD of Lalu Prasad Yadav and Janta Dal (United) of Nitish Kumar, brought together the two warring factions under a common umbrella, thanks to the efforts of Mulayam Singh Yadav and HD Deve Gowda.  Lalu Prasad Yadav generously declared that Nitish Kumar is his choice for Chief Ministerial candidate of Bihar, a surprising move that eulogised the very Nitish Kumar whom Lalu considered the political bête noire in the Bihar arena. These recent developments in Bihar showed the people clearly that there is no limit of political bankruptcy in the right wing camp of Indian polity and anyone can form alliance with anyone if the situation compel them to do so.
The erstwhile Janta Party constituents were pawns of Congress and BJP, with most parties that splintered from the parent Janta Party of JP Narayan brand either swinged towards Congress government or towards BJP to keep themselves politically relevant in the dynamic political situation of the country. The recent unity move is a desire of Mulayam – Lalu – Nitish Kumar clique to see someone among them at the helm of the nation after the 2019 elections with external support from the Mamata Banerjee led Trinamool Congress and the opportunist parliamentary left parties. The unity is more about seizing every opportunity of winning power than to combat the growing menace of BJP – RSS led communal brigade.
The unity of opposites in this case cannot last long due to the very compulsions of realpolitik, that brought them together. The antagonism between the entities will erupt time again due to the personal ambitions of the leaders of each such factions and lack of any discipline within these organisations. The caste politics will also play a very vital role in driving a wedge in this marriage and the unity can destabilise anytime.
The BJP can still have its own way, through money power they will try to win over more seats in the forthcoming Bihar elections, the Congress as usual does not stands any chance in Bihar, however, the Nitish – Lalu faction will ensure that a balance is achieved by drawing support from other small entities of Bihar politics.
Unsigned articles of People's Review are fruit of the collective wisdom of their writers and the editors; these articles provide ultimate insight into politics, economy, society and world affairs. The editorial freedom enjoyed by the unsigned articles are unmatchable. For any assistance, send an email to write2us@peoplesreview.in