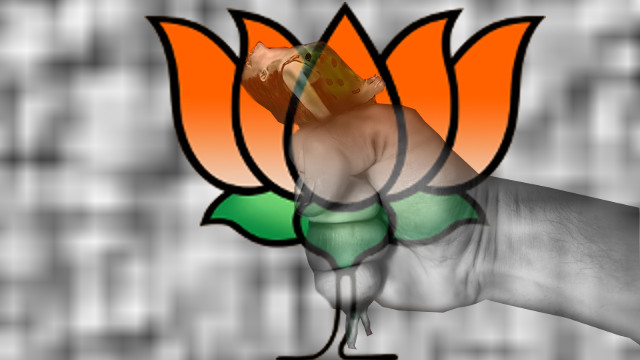 Scams, Sexual Abuse, and Nepotism Exploding Within West Bengal BJP
Reading Time:
8
minutes
For the first time in India RSS 'pracharaks' are facing charges of rape and while one has been arrested three others have obtained anticipatory bail from the Calcutta High Court.

The case has rocked West Bengal and also the state BJP as the complainant is none other than a woman BJP state committee member and among the accused is Shivprakash, BJP's national secretary for the organisation.

Scams, sexual exploitation of own party workers and nepotism seem to be ruling the roost in West Bengal BJP which is still dreaming about capturing power in this state.

BJP leaders in this state from where the founder of Jana Sangh Shyama Prasad Mukherjee hailed were considered to be committed and perceived as honest persons breaking their backs and toiling for the 'Hindu cause'.

However, the scenario rapidly changed after the party came to power at the Centre in 2014 and the old guards were replaced by Prime Minister Narendra Modi and BJP national president Amit Shah. While Atal Bihari Vajpayee was sick, senior leaders like LK Advani, Murli Manohar Joshi and others were sidelined and left sulking.

In West Bengal, former state president Rahul Sinha, a tested leader, was replaced by an unknown non-entity from the RSS- Dilip Ghosh.

Ghosh dismissed most of the old-timers and appointed relatively novice persons practically with no experience and newcomers to important posts in various party committees. The result soon started pouring in.

The recent arrest of a former BJP state general secretary and RSS 'pracharak' Amalendu Chatterjee from Delhi following a complaint by a woman BJP state committee member blew the lid on how women are being sexually harassed and exploited by a section of senior leaders of the BJP.

On 31 August, 2018, the victim lodged a complaint with the Behala Police Station against Amalendu Chatterjee, who allegedly had repeatedly raped her promising marriage. Shivprakash, BJP national general secretary (organisation) and observer of West Bengal, Bidyut Mukherjee, RSS "Prant Pracharak" for South Bengal including the Andamans, Dilip Ghosh, West Bengal BJP president, and Subrata Chatterjee, state BJP general secretary, are also named by the victim.
The police registered a case of criminal conspiracy, rape, attempt to rape, carrying out an abortion without a woman's consent, and criminal breach of trust against the accused men.

The victim alleged: "All the five are RSS pracharaks and as such unmarried and exploited me sexually. I never expected it from such men who are supposed to be committed and lead a life of celibacy".

On 18 September, 2018, a team of Kolkata Police arrested Amalendu who had gone into hiding from Karol Bagh in Delhi and on 24 September they brought him to Kolkata where he has been remanded to police custody. The police raided several places to nab Shivprakash and Bidyut in vain.

On 1 October, 2018, Shivprakash, Bidyut and Subrata obtained anticipatory bail from the Calcutta High Court thereby admitting about the case against them.

The victim told this correspondent that all the five men were RSS pracharaks and on good faith she had associated with them being a BJP state committee member. In her complaint, she mentioned in details how Shivprakash and Bidyut allegedly tried to rape her at a luxury hotel in central Kolkata and how Dilip and Subrata manipulated and urged her to meet them in the hotel room for an urgent and important meeting.

(A video recording of the victim's statement is in possession of the correspondent.)

West Bengal Chief Minister Mamata Banerjee too commented: "Women leaders and workers within the BJP are no more secure. They are being exploited by their own leaders. It's shameful and condemnable. The police will take stern action and provide all help to the victims."

This sexual scandal has rocked the West Bengal BJP as never before such accusations had been hurled against such senior leaders. Other than this scam several more in the recent past has made the BJP high command in Delhi sit up.

The West Bengal BJP is also reeling under the LPG distributorship scam in which party workers were promised agencies but duped and it amounted to several crores of rupees. The Kolkata Police arrested the mastermind Ranajit Majumdar, who was the convenor of the state BJP's Good Governance Cell, and he is now in judicial custody. Ranajit has reportedly named several senior leaders of the BJP and the RSS who were allegedly involved in the multi-crore scam involving officials of the petroleum ministry.
The first scam to surface after Ghosh took over as president of the state BJP was of Jayprakash Majumdar, the state BJP vice president, allegedly taking a huge amount of money from SSC examinees who had appeared for the Teachers Eligibility Test (TET) promising them legal aid. The examinees who detected an irregularity in the recruitment had been on a 'dharna' in central Kolkata since mid-2017. Several political leaders cutting across party lines visited them.

From the BJP was Jayprakash among others. He lured them and according to one of the agitators, they paid him Rs 9 lakhs as he assured them to hire top lawyers to file a case in the Calcutta High Court on their behalf. However, after a few months, they found out that Jayprakash had done nothing and they went to the state BJP headquarters at Muralidhar Sen Lane.

A youth leader, Amitabha Roy was outside the premises and guided them to meet Dilip Ghosh. The next day they met Ghosh in vain. The agitators then went to Jayprakash's office in Bidhannagar but allegedly were threatened and shown a gun and asked to leave. One of the agitators complained: "He (Jayprakash) threatened us saying that he was the state BJP vice president with direct communication with Amit Shah in Delhi and we better leave".

They angry agitators then lodged a police complaint with the Bidhannagar City Police. The police immediately did not initiate any action but investigated the matter and were assured that no leader would side with Jayprakash. This month, Jayprakash was arrested on charges of cheating and criminal intimidation and spent days in police custody and in jail. The criminal case is still going on.

The incident was a blot though Jayprakash claimed it was a "political conspiracy", while Dilip Ghosh's excuse was that when the incident took place, during that time Jayprakash was in the Congress.

At the same time, another huge scam involving trafficking of babies was also on and it involved allegedly top BJP leaders. The state CID, while investigating the case, stumbled upon a nursing home in central Kolkata. It was owned by a former CPI(M) councillor in Bidhannagar — Dr Dilip Ghosh. This doctor had later changed sides and was a close associate of BJP president Dilip Ghosh. They raided his nursing home and his residence and arrested him. He is still in jail.

The child trafficking case rocked the West Bengal BJP and also shocked people as names of BJP MP Roopa Ganguly and BJP's central observer to the state, Kailash Vijayvargiya, figured in the racket.

After the state CID raided the premises of 'Bimala Sishu Griha', an NGO in Jalpaiguri and arrested Chandana Chakraborty, the chairperson. After her arrest, she started dropping names. She said, "Juhi Chowdhury took me to Roopa Ganguly and to Kailash Vijayvargiya". Juhi was personal secretary of Roopa and was appointed a general secretary of the women's wing when Roopa was its president. The NGO had been selling babies violating all adoption rules.

Police said dark-complexioned girls were sold for anywhere between Rs 80,000 and Rs 1 lakh, while fair ones got them as much as Rs 1.5 lakh. Male infants were sold for Rs 2 lakh or more. Dr Santosh Samanta of Sree Krishna Nursing Home was entrusted with preparing the death certificate for the infants sold. He made around Rs 60,000 from each such sale.

Though they approached the courts Roopa and Kailash could not evade interrogation by the CID.

The doctor Dilip Ghosh, Juhi and Chandana are still in jail and reportedly cursing Roopa and Vijayvargiya as they allegedly made the money and left them to rot behind the bars.

The next were cases of complaints of sexual exploitations of BJP workers. To begin with, take the case of Deblina Chakraborty Shastri, a professional astrologer and a widow, who was not only sexually harassed but even physically assaulted by a BJP goon in the presence of a former district BJP president Gopal Sarkar.

Deblina alleged, "I was being repeatedly harassed by the North Kolkata Suburban Bharatiya Janata Yuva Morcha vice president Koushik Ghosh, who demanded sexual favours from me and after I refused, he kept on sending me lewd messages through Whatsapp and telephone calls. This started from March 2017 and I promptly put my foot down and warned him to stop. As it continued I went to the state BJP office and in person complained to Kailash Vijayvargiya and state general secretary(organisation) Subrata Chatterjee in November last year. I was then a member of the core committee of the state on health."

"My nightmare turned worse as Koushik, who is close to another state general secretary Raju Banerjee, deputed a known goon of our area in Belghoria –Subhankar Bose to threaten me and even assault me in our local party office in front of the district president Manash Bhattacharya. They assured me of strict action and persuaded me not to lodge a police complaint", she said while narrating her tale of woes.

Deblina, who early this year was appointed as convenor of the party's district cell- "Beti Bachao, Beti Padhao", alleged that the threats and sexual harassment by morphing her photograph in Whatsapp and on Facebook continued by Subhankar and he kept stalking her. "I ultimately lodged an FIR with the Belghoria Police Station on 10 April 2018, but no action was taken. Prior to that, I wrote to state President Dilip Ghosh and state women's wing president Locket Chatterjee naming Koushik and Subhankar pleading them to take action but nothing happened. Till date, they are continuing with their anti-social activities not only against me but several other women workers who complained of being sexually exploited by both Koushik and Raju."

"I have also written to the PMO and also to several BJP national leaders including the party president Amit Shah. The goons enjoy immunity as they are being patronised by our state leaders namely Raju Banerjee, Subrata Chatterjee and I moved the West Bengal Women's Right Commission as these BJP leaders had prevailed upon the local police station", she further alleged.

When this correspondent contacted Koushik Ghosh, he got excited hearing the name of Deblina and refused to speak over phone saying: "How do I know whether you are a criminal? I refuse to discuss this issue…"

Deblina moved the state women's commission last month and it has served a notice to the police directing to initiate action and questioned why no action was taken against the accused since he had committed serious offences against a woman.

Like Deblina several young women leaders of BJP, who are local leaders various districts of West Bengal, have lodged verbal complaints against Raju Banerjee for sexually exploiting them after luring them with posts of office bearers in their respective districts and cells and 'morchas'.

A married woman from Bankura who preferred anonymity, actually suffered a nervous breakdown after Raju allegedly ditched her for another woman of the party.

Alleged former state BJP vice president Ashok Sarkar: "Not only women but even young men were sexually exploited by RSS leaders."

Never before a Bengal BJP president's educational qualifications had been challenged. Sarkar moved the Calcutta High Court challenging Dilip Ghosh's qualifications as he stated differently in two his declarations – one stating that he was a matriculate before the CBFC and that he had passed higher secondary and then obtained a diploma for a polytechnic in Midnapore before the Election Commission during the state assembly polls in 2016.

During the hearing, Ghosh's lawyer stated that his client had forgotten the name of the college where he studied after the judges asked him to file an affidavit with copies of his educational qualifications.

The case is still pending and Sarkar stated: "I am sure he would lose the case and arrested on charges of fraud and forgery. Has anyone ever heard that a person forgets in which school and college he had studied? The man is a fraud and by accident became state president of BJP. I am waiting for the day he would lose the case and would be arrested."

"The two BJP observers from the high command, Vijayvargiya and Shivprakash, are in league with him and each month the Rs 50 lakhs sent by the central high command in Delhi to them are being squandered. They do not spend it but divide it among themselves and other corrupt office bearers. All the present state general secretaries have their fingers in that huge pie and given licence also to loot and extort money from businessmen in Kolkata", alleged Sarkar who had been associated with the BJP for over four decades but was expelled after he filed this PIL.

At present the Bengal BJP which claims to be growing and plan to oust the ruling TMC is rocking with so many scams and cases of sexual abuse that a young leader remarked: "It is now cash, love, sex and dhokha (betrayal) by our leaders who have realised that in 2019 the Modi-Shah combine will be defeated and hence loot and enjoy for a year."

Arup Chanda is a Kolkata-based journalist with 36 years of experience, and he has worked with major English dailies of India like The Telegraph, The Statesman, New Indian Express, The Economic Times, etc.