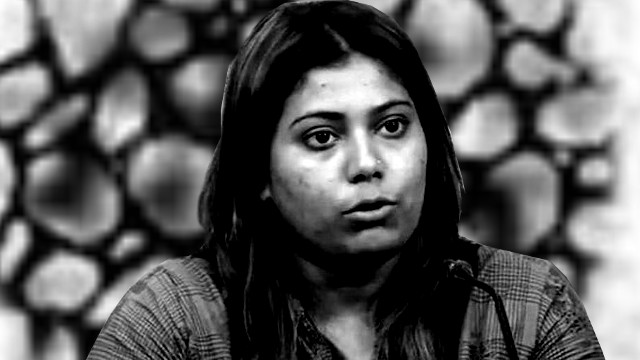 BJP's Priyanka Sharma can't cry victimhood after her party's nasty record of suppressing dissent and caricature
Reading Time:
6
minutes
A nationwide uproar was instigated when Priyanka Sharma (25) was arrested from Howrah, West Bengal, by the police for posting a morphed image of Chief Minister Mamata Banerjee, superimposing her face on Bollywood actress Priyanka Chopra's Met Gala 2019 photograph. This caricature, though was shown in a lighter mood, had a deep political undertone that got masked in the subsequent cacophony over the Freedom of Expression (FOE) and the right to free speech, which became a focal theme for those who demanded an unconditional release of Sharma.
However, if we look closer, like the Supreme Court's vacation bench that allowed her bail, we will find that it's not a simple case of a woman getting harassed for mocking or ridiculing a notorious politician, rather, it's a carefully designed optic for triggering an emotive tug for a woman who would be portrayed as a victim of fascism by a political outfit that's ironically the harbinger of the worst kind of fascism in Indian politics.
Sharma isn't a common woman. She is a leader of the Bharatiya Janata Yuva Morcha (BJYM), the youth wing of the notorious Bharatiya Janata Party (BJP), the parliamentary arm of the Hindutva fascist fountainhead Rashtriya Swayamsevak Sangh (RSS). The BJP is the principal opponent of Banerjee's Trinamool Congress (TMC) in West Bengal, where it's trying to wrest control at least 50% of the total 42 Lok Sabha seats in the present election.
Though the BJP has built a strong organisational presence in West Bengal since 1998, when the present chief minister helped it as an ally to entrench deep inside the state, it still can't make any difference with the organisational strength alone due to the omnipotence and omnipresence of the TMC at the grassroots. Hence, since the last five years, the BJP and other Hindutva fascist organisations are trying to carve its own space in the state's politics using communal vitriol against the state's minority Muslim community to polarise the majority Hindu community, including the Bengali Dalits (Namasudras) and the myriad tribal groups. This heinous crime of polarising is yielding rich dividend for Sharma's party.
At the height of the election campaign, where Prime Minister Narendra Modi is hurling choicest abuses at the chief minister of the state, who was his former ally, when the BJP president Amit Shah's roadshow in Kolkata is turned into a launchpad for a monstrous attack on Bengali culture and heritage by his non-Bengali thugs, when a former IPS officer-turned-politician fighting the election on a BJP ticket threatens her opponents with violence by her men brought from Uttar Pradesh, at that time, sharing a morphed image of a woman politician, who is the chief minister of the state, is not only a dirty political act, it also smells of a conspiracy to malign the state's regular Bengali politicians by the outsiders, the non-Bengalis, who are claiming a stake in the state's politics under the aegis of the BJP and the RSS like Sharma.
Why Sharma had to share a morphed image of Banerjee? What was the fun factor in pasting Banerjee's face on Chopra's body? Why she failed to counter the allegations of Banerjee against her boss Modi and his right-hand-man Shah politically and opted for a cheap trick? Was the sharing of the content done for pure fun or was it driven by a political compulsion? How would have she and her party reacted if Modi's face was superimposed on someone else's photo? How would she and her party react if a meme of Modi or Shah surface on their numerous WhatsApp groups or social media timeline?
You don't have to be a researcher to understand how Sharma and her ilk would react to memes, cartoons or criticism of Modi or his associates. Sharma, who is an outsider, a non-Bengali upper-caste Hindutva fanatic on the payroll of the BJP and the RSS, employed to promote communal enmity, vitriol, spread fake news to incite riots in West Bengal for her non-Bengali handlers, is not at the moral high ground to claim victimhood or seek refuge of the FOE or free speech because it's her party that has been cracking the whip on those who share any content critical of Modi or other leaders in the Hindutva fascist pantheon. Her party and people like her have been the biggest threat to the FOE and free speech that existed in the country. Her party and its ideological mentor – the RSS – are averse to the idea of dissent and therefore, she can't claim the dissenter's or the critic's niche in West Bengal, the state she and her north Indian colleagues loath for its unique cultural heritage and the distinct identity of the Bengali Hindus, tribal people, and other aboriginal people.
Did Sharma hear about Mudassir Rana? A school teacher based in Uttar Pradesh, Rana was arrested by the rabble-rouser and riot-instigator Yogi Adityanath's police one night because he shared a funny meme of Modi on his Facebook timeline that he got from his friend's timeline. The police slapped Section 153(A) on him because he simply refused to visit a Bajrang Dal office and prostrate before its leaders to apologise.
Is Sharma aware of Zakir Ali Tyagi, an 18-year-old from Muzaffarnagar, Uttar Pradesh? He was picked up by the police, brutally tortured and locked up in the jail for 42 days in 2017, where even he had to pay bribes to use the toilet. Tyagi lost his job in a nearby steel plant when he came out of prison because he was labelled as a terrorist. What was his crime? He asked how could the river Ganga be a "living entity" and criticised the Ram Mandir agitation of the BJP. For this crime, the young man's life was ruined by Sharma's colleagues and their bootlicker policemen. Will Sharma and her FOE gang stand beside such a worker who is rendered jobless?
In October 2017, a teenager, S Thirumurugan, was arrested in Tamil Nadu for criticising Modi in a private chat. The teenager's FOE will be vehemently opposed by Sharma and her communal riot monger non-Bengali colleagues because he didn't criticise Banerjee, BJP's bete noire.
Jarir Ahmed Barbhuiya, a resident of Ratanpur in Cachar district, was arrested by the BJP government of Assam for posting a cartoon of Modi, which the local RSS and BJP found objectionable. The man had to go through immense trouble since then, and as he was a political nobody like the rest, none cared for his FOE like they became vocal about Sharma's rights. Moreover, he was a Muslim and not a Brahmin like Sharma that the media would even stare at the gross human rights violation.
The BJP's wrath didn't spare even those who are renowned, while the corporate-controlled mainstream media didn't vociferously oppose their tormenting by the BJP. Divya Spandana, a Congress social media influencer, was slapped with a sedition charge for calling Modi a thief on Twitter. Kishorechandra Wangkhem, a journalist in Manipur, languished for more than a year under the stringent National Security Act (NSA) for criticising Chief Minister N Biren Singh and Modi on social media. The slapping of NSA for merely criticising the BJP's leaders didn't trigger a debate over fascist onslaught on FOE, while Sharma's few days in police custody gave rise to a loud outcry because it was the BJP now at the receiving end.
Sharma and her ilk are sheer riot mongers; they are the apparatchiks of communalism and rabble-rousers. They are paid huge amount of money by the RSS and its donors to use social media to trigger communal pogroms against the minority Muslim community in West Bengal and to enslave the majority Bengali Hindus and tribal communities under the Hindi-Hindutva colonial rule. It's imperative to understand that though Banerjee's government has its own reactionary and fascist character, which it exhibits time again against its opponents, yet, when it's cracking the whip against the BJP, though cosmetically, it's exposing the BJP's hypocrisy and double standard on FOE or free speech. By attacking Banerjee personally and spewing venom against her using fabricated information, the RSS and the BJP are committing a grave crime, which should be strongly dealt with as it can trigger massive communal violence in the state.
The Hindutva fascist camp is trying to turn West Bengal into a fiefdom of non-Bengali upper-caste Hindu elites, middle class and ardent Brahminical fanatics, whom Sharma represents. Thus, neither Sharma nor the BJP can demand the right to democratic treatment because the saffron camp has itself cast the last vestige of democratic ethos that existed in India until 2014 into oblivion. The Modi regime has hastened the shrinking of critical journalism and democratic discourse. For the betterment of West Bengal, to protect the communal harmony that still exists despite the violent aggression of the RSS-led Hindutva fascist camp, to maintain peace and harmony in the society, and to protect the people of West Bengal, each fascist stormtrooper and their commanding officers like Sharma must be resisted and overthrown from the political arena of the state. A BJP-less West Bengal will be a better, healthy and happy state with its own set of problems that the vast majority of Bengali Hindus and Muslims, tribals and Gorkhas, Rajbanshis and Rabhas, and all other communities will resolve through their collective political efforts.
Neeladri Mukherjee is a former high school teacher and a Rabindra Sangeet lover. An M.A. in Political Science (not entire), Neeladri is a close observer of West Bengal politics, South Asian affairs and the trade union movement.