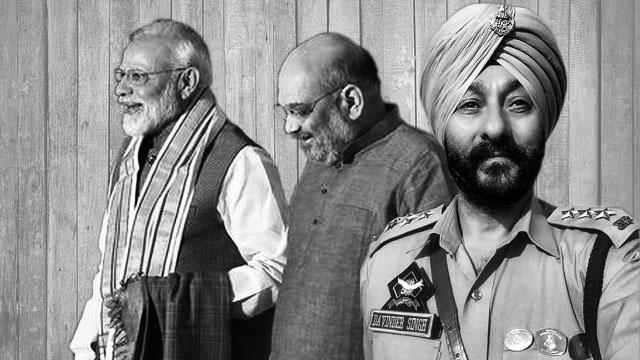 Davinder Singh: A rogue cop or a pawn who fell from grace?
Reading Time:
4
minutes
"What's in a name?" When William Shakespeare used this often-quoted dialogue in his magnum opus, Romeo & Juliet, little did he know that the world will become a ghastly place after a few centuries. It will become a place where the name will have the power to change the narrative and perception regarding any event. What can epitomise this better than the case of Jammu & Kashmir (J&K) Police's Deputy Superintendent of Police (DSP) Davinder Singh, who was recently nabbed by the police when he was trying to travel to New Delhi with two Hizb-ul-Mujahideen militants — Naveed Baba and Altaf — with dubious credentials? Davinder Singh is a controversial police officer, whose name has been in news, on and off, since the last two decades. With his recent arrest, a whole new can of worms is unearthed.
The name Davinder Singh has saved the optics from becoming one of ignominy for the entire security apparatus of the Indian state managed by Prime Minister Narendra Modi's closest aides like Home Minister Amit Shah and the notorious National Security Advisor Ajit Doval. If it was a Muslim name, then it'd have created a storm and many heads would've rolled for nurturing a traitor within the ranks of the police force, a crucial weapon for the Indian state to suppress the Kashmiri people's struggle against oppression. 
There is a long list of crimes that the name Davinder Singh is associated with since a long time. As an officer of the Special Operation Group (the dreaded counter-insurgency force accused of massive human rights violation) of the J&K Police, also known as the Special Task Force (STF), Singh was accused of torture and extortion. No action was taken against him. Throughout his STF career, Singh, along with a pack of hyenas, made an immense amount of money through extortions.
The biggest accusation came from none else but Afzal Guru, the lone convict of the December 2001 Parliament Attack case, who was executed by the Indian state in February 2013. In a letter to his lawyer Sushil Kumar, Guru accused Singh and another J&K Police DSP Vinay Gupta of torturing him at an STF camp. Guru alleged he could only free himself from these cops by coughing up Rs 80,000 and his scooter in the late 1990s. Guru wrote that Singh forced him to take a man, named Mohammad, to Delhi and arrange for his accommodation. Mohammad was later killed during the 13 December 2001 attack on Indian Parliament. No one believed Afzal Guru's allegations. Guru remained unheard and was hanged while Singh was decorated by the same regime that now arrested him.
A lot has been written on Davinder Singh's role and the conspicuous concealments done by the Indian state's security apparatus. Questions are raised why Singh was with Baba, who is accused of killing Bengali migrant workers in South Kashmir when a Hindutva-sponsored tour of far-right members of the European Parliament was taking place last year? Or why he was sent to the airport to receive foreign envoys whom New Delhi cajoled to tour the Kashmir valley recently? Or why were Singh and his accomplices coming to Delhi before 26 January, Republic Day, and the Delhi assembly elections, especially when there are a lot of protests going on in the city against the contentious Citizenship (Amendment) Act, 2019 (CAA), and the National Register of Citizens (NRC) that have drawn international attention? 
There have been conspiracy theories, and real doubts raised on the complicity of Modi-Shah and Doval behind the actions of Singh. Critics fear that a terror attack in the capital city may be on the agenda of the Bharatiya Janata Party (BJP) before the crucial assembly election. The murky track record of the saffron camp reaffirms such doubts and creates panic in the heart of peace-loving people.
It was a militant attack on a paramilitary juggernaut in Jammu & Kashmir's Pulwama district last February that helped the BJP to trigger a nationwide jingoistic hysteria and polarise upper-caste Hindu votes. Kashmiris came under Hindutva attack all over India. A so-called Surgical Strike at Balakote in Pakistan, which apparently ended up killing a crow and destroying some trees, according to the international press, helped Modi sail through high tidal waves of anti-incumbency sentiments caused by high unemployment, rapid economic deterioration, and unfulfilled promises.
If a similar event happens in Delhi before the crucial assembly election, it won't just help the BJP to sweep the Delhi Assembly election but also help it to pulverize the heroic resistance struggle against the CAA and NRC, especially in Shaheen Bagh.
Even though such a possibility of a terror attack in Delhi, before the Republic Day or the election, looms large, it's actually the arrest of Singh that raises doubt. From a junior police officer to a powerful DSP, Singh's meteoric rise happened with the consent of the Indian state. His fall from grace raises several doubts. Why did he fall from grace? What Modi, Shah and Doval wanted that Singh couldn't deliver? Why he was handed over to the National Investigation Agency (NIA) soon after being arrested? How can the NIA, controlled by Doval, do any fair investigation when it's accused of diluting terror charges against the Hindutva fascist terrorists like Pragya Thakur aka Sadhvi Pragya and Naba Kumar Sarkar aka Aseemanand? Can India ever know what conspiracy was brewing in the Hindutva pot that the arrest of Singh covered up? 
The name Davinder Singh won't create a hysteria as it's not Muslim but his uniform and complicity will keep raising uncomfortable and unavoidable questions for the Indian state for years. The Indian state and the Modi regime can't just cover up the faux passe, the ulterior motive with which it has been using Islamist militants and terror groups, through a complex web of frontal organisations and the Indian state to fuel Islamophobia. Singh was merely a pawn, his fall won't end the dirty business of national security, rather strengthen the position of Modi, Shah and Doval.
An avid reader and a merciless political analyst. When not writing then either reading something, debating something or sipping espresso with a dash of cream. Street photographer. Tweets as @la_muckraker