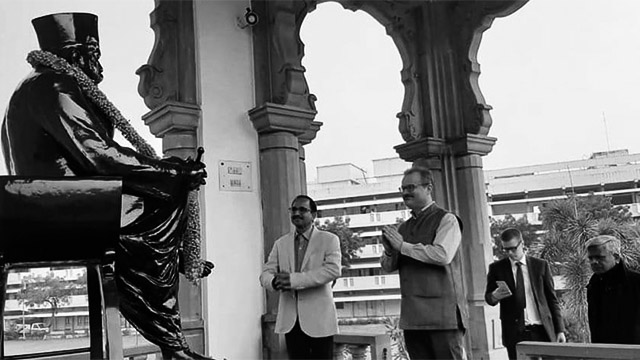 US Consul General David Ranz pays tribute to RSS paramilitary's 1st chief
Reading Time:
4
minutes
German Ambassador Walter Lindner sparked raging controversy in July 2019 after he visited the headquarters of the Rashtriya Swayamsevak Sangh (RSS) in Nagpur, Maharashtra, India and laid flowers at the feet of the paramilitary's first chief.
"The RSS shares the fascist ideology of the Nazi Party and supports extreme Hindu nationalism," reported The Jerusalem Post. "During World War II, RSS leader M.S Golwalkar openly admired Adolf Hitler and Benito Mussolini, and took inspiration from Adolf Hitler's ideology of racial purity." Consequently, thousands signed a petition demanding Ambassador Lindner's resignation.
Similar controversy has ignited after David Ranz, the US Consul General in Mumbai, paid a similar visit to RSS headquarters on 6 February 2020. Accompanied by RSS-Nagpur President Rajesh Loya, Ranz paid tribute to a statue of RSS's first chief, KB Hedgewar, by laying flowers at its feet.
Hundreds have signed a petition demanding Ranz's resignation. The petition insists that Ranz must resign for what is perceived as an endorsement of the "Nazi-inspired RSS paramilitary." The petition notes that the RSS was founded the same year that Hitler reformulated the Nazi party and claims Ranz's visit condones the RSS's "ideological and institutional inspiration by European fascist movements like those of Hitler's Germany and Mussolini's Italy."
Notably, Hedgewar had declared that India is an exclusively Hindu nation. "The Sangh wants to put in reality the words 'Hindustan of Hindus'," said Hedgewar. "Hindustan is a country of Hindus. Like other nations of other people (eg. Germany of Germans), this is a nation of Hindu people." According to the petition, after an RSS co-founder visited Mussolini in Italy, he described the RSS "under Hedgewar" as a fascist institution of the same kind as those led by Mussolini.
The petition further references writings by M.S. Golwalkar, the longest-serving RSS chief, which praised Nazi Germany's "purging" of the Jews. It notes that the RSS has been repeatedly implicated in acts of mass violence against minorities. It also notes that the US's Central Intelligence Agency has labeled major RSS affiliates as "religious militant organizations."
The incident comes only a week after a petition requesting the US State Department add the RSS to its list of Foreign Terrorist Organizations garnered nearly 9,000 signatures.
The full text of the petition demanding Ranz's resignation follows:
On 6 February 2020, US Consul General David Ranz of the Mumbai consulate visited the K.B. Hedgewar memorial in Nagpur, Maharashtra to pay homage to him as the first chief of the Rashtriya Swayamsevak Sangh (RSS).

Ranz's visit condones the RSS paramilitary as well as its ideological and institutional inspiration by European fascist movements like those of Hitler's Germany and Mussolini's Italy. Its earliest leaders praised Nazi racial policies and said that Indian Muslims should be treated like German Jews. They demanded that India be declared a Hindu nation and taught that non-Hindus were traitors.

The RSS was founded in 1925, the same year that the Nazi party was reformulated with Hitler as its leader. In 1931, RSS co-founder BS Moonje met Mussolini in Rome. After praising the dictator's fascist youth group, ONB, for its "military regeneration" of Italian youth, Moonje wrote, "India and particularly Hindu India need some such institution for the military regeneration of the Hindus." He claimed that "the idea of fascism vividly brings out the conception of unity amongst people" and declared: "Our institution of Rashtriya Swayamsewak Sangh of Nagpur under Dr Hedgewar is of this kind."

Hedgewar was RSS chief from 1925–1940. He was succeeded by M.S. Golwalkar. The longest-serving RSS chief, Golwalkar, called it treason for an Indian to convert away from Hinduism or refuse to "glorify the Hindu Race and Nation." In 1939, he also wrote glowingly in support of Nazi racial policy: "To keep up the purity of the race and its culture, Germany shocked the world by her purging the country of the Semitic races — the Jews. Race pride at its highest has been manifested here." He called this "a good lesson for us in Hindustan to learn and profit by."

The RSS has been repeatedly accused of instigating violence. It has been banned several times, the first time following the assassination of M.K. Gandhi by a former RSS member.

In 2002, Human Rights Watch named the RSS and its subsidiaries as the groups responsible for an anti-Muslim pogrom that killed 2,000 in the Indian state of Gujarat. In 2012, Swami Aseemanand, a full-time RSS worker, confessed to orchestrating several terrorist bombings which claimed hundreds of lives from 2006 to 2008. Many other instances of bombings, assassinations, and pogroms have been laid at the feet of the RSS.

In 2018, the Central Intelligence Agency listed RSS subsidiaries like the Vishwa Hindu Parishad and Bajrang Dal as "religious militant organizations." In its June 2019 report, the United States Commission on International Religious Freedom warned that the RSS's agenda "to alienate non-Hindus or lower-caste Hindus is a significant contributor to the rise of religious violence and persecution."

The RSS (including its many subsidiaries) has been linked to many other major incidents of anti-minority violence all across India. These include the 1947 Jammu Massacre (20,000+ Muslims killed) and the 1969 Gujarat Riots (400+ Muslims killed) — both of which occurred shortly after visits by Golwalkar. Later RSS-sponsored pogroms include the 1985 Gujarat Riots (hundreds of Muslims killed), the 1987 Meerut Riots in Uttar Pradesh (hundreds of Muslims killed), the 1989 Bhagalpur Riots in Bihar (900+ Muslims killed), the 1992 nationwide riots following the Babri Mosque destruction (2,000+ Muslims killed), the 2002 Gujarat Pogrom (2,000+ Muslims killed), the 2008 Odisha Pogrom (100+ Christians killed), and countless other smaller-scale incidents.

The US diplomatic mission in India should have nothing to do with the RSS.

Consul General Ranz's laying of flowers at the feet of RSS chief Hedgewar is widely interpreted as an endorsement of the paramilitary. His action was reckless and prejudicial. He has discredited himself and his office.

We, the undersigned, demand that Consul General David Ranz resign or, failing that, be recalled. We demand immediate intervention by President Donald Trump and Secretary of State Mike Pompeo to achieve this goal.

https://www.change.org/p/us-secretary-of-state-mike-pompeo-after-endorsing-rss-us-consul-general-mumbai-must-resign
This article was originally shared on Medium, and it is reproduced with the permission of the author.
Pieter Friedrich is a South Asian Affairs Analyst who resides in California. He is the co-author of Captivating the Simple-Hearted: A Struggle for Human Dignity in the Indian Subcontinent. Discover more by him at pieterfriedrich.net.