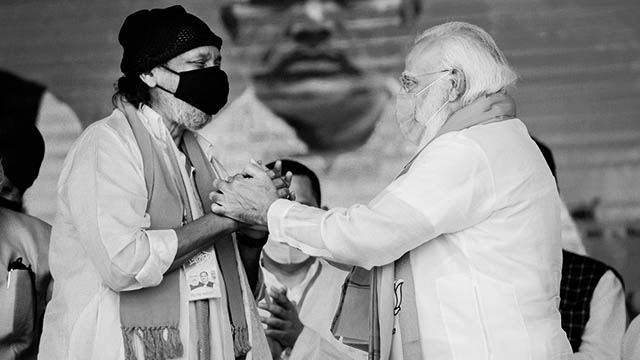 Why cobra Mithun Chakraborty needs Y+ security?
Reading Time:
4
minutes
Veteran film actor Mithun Chakraborty recently received very important person (VIP) security from the Central Government. The 70-year-old actor will get 'Y +' security coverage, which will be provided by the Central Industrial Security Force's designated wing for the purpose called Special Security Group or the SSG. The Central Government didn't mention any specific reason why Chakraborty received the SSG-led 'Y+' security, however, it's evident that the septuagenarian's recent political stunts won him this major favour.
Chakraborty joined Prime Minister Narendra Modi's Bharatiya Janata Party (BJP) on Sunday, March 7th, during the latter's mega rally at Kolkata's Brigade Parade Ground. Modi called Mithun, who reportedly started his political career as an ultra-left activist during the Naxalbari movement in the early 1970s and went underground for some time, "Banglar Chhele" (Bengal's boy) to counter West Bengal Chief Minister Mamata Bandopadhyay's campaign in the assembly elections that asserts her identity as "Banglar meye" (Bengal's daughter). Bandopadhyay accuses the BJP of being "bohiragoto" (outsiders) as it's averse to West Bengal's diverse society, culture, languages and people's lives.
As Mithun is handpicked by the Rashtriya Swayamsevak Sangh (RSS)—the BJP's parental body and the chieftain of the global Hindutva fascist movement—to become a key player for the BJP in the 2021 West Bengal Assembly elections, it's assumed that some larger role is planned for him. It's also assumed that he can be the BJP's chief minister if the Party manages to topple Bandopadhyay's rule. Mithun's popularity as a yesteryear actor, his Bengali upper-caste Hindu credentials can be his plus points.
Mithun Chakraborty has been hobnobbing with the RSS chief Mohan Bhagwat since October 2019. He visited the RSS headquarters in Nagpur and offered floral tributes to the memorial of KB Hedgewar, the founder of the organisation. He had breakfast with Bhagwat then. Later, in February 2021, to discuss the RSS's proposal for him in the 2021 Assembly election, Bhagwat paid a visit to Chakraborty at his Mumbai bungalow. It's reportedly this meeting that opened the doors of opportunity for Chakraborty at this advanced age.
Earlier, Chakraborty was associated with Bandopadhyay's Trinamool Congress (TMC) and was its member of the Parliament (MP) in the Rajya Sabha—upper-house of the Indian Parliament—from 2014 to 2016. Chakraborty claimed he was told by Bandopadhyay at Kolkata's Keoratala crematorium, where they met during legendary female actor Suchitra Sen's cremation in 2014, that she has "decided" to nominate him for Rajya Sabha. During his tenure as a Rajya Sabha MP, Mithun had only 10% attendance, didn't take part in any debate and asked zero questions.
At this time, Mithun Chakraborty's name popped up in the infamous Saradha Chit Fund scam. Chakraborty was a brand ambassador of the company that ran a Ponzi scheme to dupe millions. Chakraborty resigned from the MP's position citing ill-health and even, reportedly, returned the money he took as fees for his service from Sudipto Sen, the mastermind of the Ponzi scheme.
However, despite resigning as the TMC's MP, the Enforcement Directorate (ED) investigating the Saradha scam, kept summoning Chakraborty. Mithun became desperate to delink himself from the scam and it was not the only thing that was rocking his life's boat.
The Indian Express reported that a female actor alleged that she was raped by Mahaakshay Chakraborty, Mithun Chakraborty's son, in 2015 and he repeatedly raped her until 2018 and even forced her to abort her baby when she got pregnant. She also alleged that Mithun's wife Yogita Bali, a former female actor, was aware of her son's deeds and supported him.
A Delhi court, where the woman filed the complaint after moving to the capital in 2018, ruled that the case must be probed in Mumbai, where the alleged crime took place. Despite providing interim relief to Bali and Mahaakshay through anticipatory bail, the Delhi Court didn't acquit them from the case. Mahaakshay is married to a female actor and model Madalasa Sarma since 2018.
Mithun Chakraborty sought refuge at the RSS's headquarters to ensure he can save himself as well as his spouse and son from legal hassles. His entire focus has been on defending himself through hook or crook. This makes him politically fluid and capable to adjust to any ideology if it serves his purpose of surviving the storm. Now that he has got 'Y+' category security in West Bengal, where no political stalwarts face life threats, unlike BJP-ruled Gujarat or Uttar Pradesh, despite political violence killing scores of grassroots activists and supporters of purportedly 'peaceful' and 'democracy loving' parliamentary parties of all hues and shades, it seems that he has approached closer to his goals.
Ironically, the upper-caste Hindu elites and urban middle-class, who would be nagging incessantly over them being "tax-payers" and object to government's spendings on welfare activities or social development through public education and healthcare, didn't raise any concern about their "tax money" going to protect an old actor who has been no better than a political chameleon for years. Why no one is objecting to the "tax-payers money" going towards protecting Mithun Chakraborty?
During his introductory speech at Kolkata's mega Brigade rally, Mithun repeated dialogue from his Bengali film "Ami jol dhorao noi, bele borao noi, ami ekta cobra, jat ghokhro, ek chhobole chhobi" [I am neither a jol dhora (a non-poisonous water snake) nor a bele bora (another non-poisonous snake), I am a cobra, king cobra, which kills in one strike]. This ironically shows how the BJP is unleashing poisonous snakes in the political turf of West Bengal to topple Bandopadhyay's rule.
Now that the poisonous cobra is out of the bag, looking out for a prey to strike, the BJP and the Modi regime are arranging for impenetrable security coverage for it. Thus, when the government is cutting social welfare expenditures, especially on public education and healthcare, it's granting millions, if not billions, monthly to protect someone like Chakraborty, who earned it by joining the BJP. Can the Modi regime also provide such "Y+" security coverage to other film actors like Taapsee Pannu, Swara Bhaskar, Sidharth, etc, who regularly face threat from BJP's men? Or is this privilege only reserved for those who take up the BJP's cause as an influencer?
The cobras like Mithun Chakraborty, who would need 'Y+' security cover to spew venom, would now be on a rampage in West Bengal. The BJP and the RSS have already vitiated the environment in poll-bound West Bengal through years of incessant Islamophobic vitriol and by fanning communal violence. People like Chakraborty will only worsen the situation further. Still, despite having the 'Y+' category security, Mithun Chakraborty and his ilk will go down the annals of history as traitors, the modern Judas who sold West Bengal and its people to save their own corrupt and criminalised skins.
An avid reader and a merciless political analyst. When not writing then either reading something, debating something or sipping espresso with a dash of cream. Street photographer. Tweets as @la_muckraker