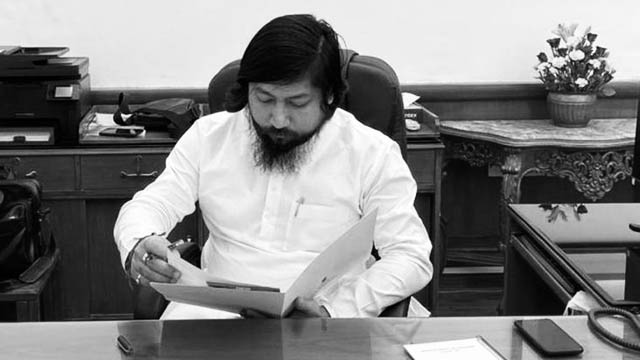 Nisith Pramanik Bangladesh origin row brings out the BJP's hypocrisy
Reading Time:
5
minutes
A ruckus is created over the newly-appointed Union Minister of State for Home Affairs and Ministry of Youth Affairs & Sports Nisith Pramanik's nationality after Ripun Bora, a member of the Parliament (MP) from Assam, accused him of being a Bangladeshi national. In his letter to Prime Minister Narendra Modi, Bora stated that Pramanik was born in present-day Bangladesh and, therefore, keeping him as a minister poses threat to national security.
Citing media reports by Barak Bangla, Republic TV Tripura, India Today and Business Standard, Bora alleged that Pramanik's birthplace is Harinathpur, under Palasbari PS, Gaibandha district of Bangladesh. "…I urge upon you to conduct an enquiry about the actual birth place and nationality of Nisith Pramanik in a most transparent way and clarify the whole issue as it creates confusion across the country, (sic)" Bora wrote in his letter.
Pramanik didn't issue any clarification on his citizenship. Even his boss, Union Home Minister Amit Shah remained mum on the issue. The West Bengal unit of Modi's Bharatiya Janata Party (BJP) defended Pramanik. It played with his "Hindu" identity to absolve him of any charge. "After all, he is a Hindu and under the CAA [Citizenship (Amendment) Act, 2019 (CAA 2019)] he is considered as a 'refugee'," state BJP leader Sayantan Basu said while defending Pramanik.
Udayan Guha, a ruling Trinamool Congress (TMC) member and a former minister, alleged that while Pramanik declared in his assembly election candidate form that he has studied till secondary school, the Lok Sabha's data shows him as a graduate in computer science. Earlier, the presence of multiple criminal cases, including in non-bailable sections, was cited by the Opposition when Pramanik was chosen by Modi for the crucial Ministry of Home Affairs (MHA). Pramanik has stated Dinhata in Cooch Behar district as his birthplace, which is highly doubted as well.
A Hindutva fascist rabble-rouser Pramanik, who was with the TMC and switched to the BJP before the 2019 Lok Sabha elections, was promoted as a minister of state during the recent cabinet reshuffle as Modi wanted to reward those whose regions gave the Party good results in the West Bengal Assembly elections.
Pramanik himself was elected as a member of the West Bengal Legislative Assembly (MLA) but resigned later as the BJP didn't even cross 100 seats in the 294-strong house. He chose to remain an MP and was instrumental in inciting post-poll communal violence against the Muslims in the Cooch Behar district, where the BJP has done relatively well in terms of polling. Pramanik's rise is directly proportional to the rise of the Hindutva fascist camp in the Cooch Behar district, located in the northern part of West Bengal, where the issue of migration of non-Muslim refugees from Bangladesh (called Bhatia) has caused severe political turbulence since the 1980s.
Under the aegis of its parent body Rashtriya Swayamsevak Sangh (RSS), the BJP managed to unite the Kamtapuri Rajbongshi people and the refugee Bengali Dalits in Cooch Behar, who were hostile to each other earlier, against the indigenous (Rajbongshi) and Bengali-speaking Muslims (Bhatia Muslims). The communal polarisation in Cooch Behar and the entire northern territory of West Bengal helped the RSS and the BJP to penetrate deep inside tribal belts and strategic areas where earlier identity movements centring around the lost kingdom of Cooch Behar played a pivotal role.
If Pramanik is now shown as a Bangladeshi and the TMC expects to incite indigenous Rajbongshi sentiments against him, then too, such a manoeuvre won't pay rich dividends. The communal polarisation of the non-Muslim Rajbongshis, the Matua and Namasudras, the Bengali-speaking Dalits, in Cooch Behar, now provides immunity to BJP leaders from Bengali-speaking refugee families. The BJP has been luring the Dalit refugees with the bait of citizenship for a long time by dangling the bait of the CAA 2019. However, that doesn't save Pramanik or any of the Rajbongshis and Hindu refugees from the wrath of the National Register of Indian Citizens (NRIC or NRC), which has been mandated by Section 14A of the Citizenship (Amendment) Act, 2003 (CAA 2003).
While Pramanik and the state BJP leaders may claim that the CAA 2019, with its retrospective cut-off date of December 31st 2014, will save Pramanik from being tagged as an "illegal migrant" as defined by the CAA 2003, the reality is different. The CAA 2019 is passed by the Parliament and has been enacted but as its Rules are not published by the MHA and tabled in the Parliament, the law is not in force.
Moreover, the CAA 2019 only allows those belonging to Hindu, Sikh, Jain, Buddhist, Christian and Parsi communities from Afghanistan, Bangladesh and Pakistan, who have migrated to India on or before December 31st 2014 due to "religious persecution" in their home countries and "have been exempted" under the 2015 and 2016 amendments to the Foreigners Order, 1948 and Passport (Entry into India) Rules, 1950. This means only those migrants who, upon reaching India, have registered themselves as "victims of religious persecution" at the Foreigners Regional Registration Office (FRRO) can apply for citizenship under the CAA 2019.
When an MHA representative was asked by a Joint Parliamentary Committee (JPC) that how many people will be able to apply for citizenship under the Citizenship (Amendment) Bill, 2016, which later became CAA 2019, the representative stated that 31,313 people can apply for citizenship under the new law, and their citizenship will be subject to security clearance from India's external intelligence agency, the Research & Analytical Wing (R&AW), and the internal intelligence agency, Intelligence Bureau (IB).
If Pramanik accepts that he was born in Bangladesh, then to ensure that he isn't considered as an "illegal migrant" according to the CAA 2003, which the BJP brought in December 2003, and can avail citizenship under the CAA 2019, he must prove that he migrated to India on or before December 31st 2014 due to "religious persecution" in Bangladesh and applied for a long-term visa (LTV) at the FRRO. If Pramanik has an LTV and is registered as a "victim of religious persecution" at an FRRO, then too, he won't be considered as a citizen of India but will free himself from the "illegal migrant" tag.
In this case, leave alone being a minister, he can't even remain as an MP. As the Constitution specifies, only citizens of India can be ministers, MPs and MLAs or other people's representatives. As the CAA 2019 is not applied because the BJP and the RSS don't want to expose its hollowness before the Dalits and backward caste Hindu refugees from Bangladesh, who won't get citizenship under it, therefore, Pramanik, as on the date of Bora's allegation, will be considered as an "illegal migrant" unless he can prove that he is an Indian citizen. Also, if his citizenship isn't proved, his election to Parliament in 2019 will be nullified.
Nisith Pramanik and his ilk have vociferously marketed the CAA 2019 as a solution to the citizenship impasse of the Bengali-speaking non-Muslim refugees from Bangladesh to woo these people and garner their votes. But the hollowness of the CAA 2019, whose Rules are withheld by the MHA under Shah's order even after 19 months of its gazette notification, is exposed when even the fate of someone like Pramanik hangs in the realm of uncertainty.
Indeed, the Modi regime won't take any action against Pramanik based on Bora's letter or the media stories. It's also true that Pramanik won't be prosecuted for the criminal cases registered against him as he will use his influence and power to stay aloof from the law. However, Nisith Pramanik's curious case shows India how the BJP values dubious men with a criminal background and depends on them to seize control of West Bengal.
An avid reader and a merciless political analyst. When not writing then either reading something, debating something or sipping espresso with a dash of cream. Street photographer. Tweets as @la_muckraker