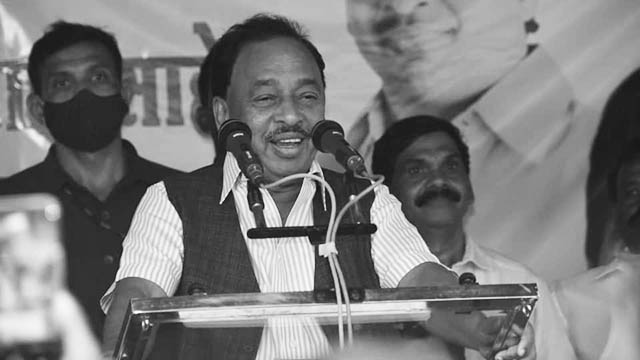 Narayan Rane's remarks against West Bengal and Mamata are uncalled for
Reading Time:
3
minutes
Union minister and Bharatiya Janata Party (BJP) leader Narayan Rane has been occupying the limelight in Maharashtra news due to his tussle with Chief Minister Uddhav Thackeray since he was arrested earlier this week for saying that he would've slapped the latter for forgetting the number of years of India's independence. However, in this series of diatribes, between the Shiv Sena and its former leader, Rane, West Bengal and its chief minister, Mamata Bandopadhyay, are drawn in.
After Rane's arrest and quick bail, the Union minister said that he won't "allow" a West Bengal-like environment to be created in Maharashtra. What exactly he wanted to drive home by referring to West Bengal? Did he mean a state where the BJP will face poll drubbing due to the people's consciousness? Did he mean a state that won't give in to the demands of communal hate-mongers? Or did he mean a state where the BJP is on the back foot due to the mass resistance against its fascist policies? Rane didn't clarify.
Later, Shiv Sena leader Sanjay Raut, attacking Rane, said "West Bengal is the lion of the country. It is the birthplace of revolutionaries. Lal Bal Pal, a prong of this trident is from West Bengal. That one prong has got into you. Don't forget that if you insult a state like this, then the country will never forgive you." He said that it's the state from where the BJP had to "run away" following its defeat.
Getting back at Raut, Rane said that "Sanjay Raut speaks without any sense. Vinayak and Sanjay Raut will lead to the fall of Shiv Sena… The distance between Konkan and Kashmir represents the difference between Mamata Banerjee and her becoming the PM". This refers to Bandopadhyay's aspiration to lead the Opposition bloc in the 2024 Lok Sabha elections, for which she has been approaching all major political parties of the Opposition.
What entitled Rane to bring in the West Bengal chief minister and her state in a polemic between him and his former party leaders? Is it the quintessential male privilege that ensures that men in politics consider women in politics as granted and can refer to them or bad mouth them or, worst, mock them for their ambitions and aspirations?
Even though Mr Raut's party is infamous for its fascism and patriarchal-feudal mindset, Mr Rane's BJP has left no stones unturned to vilify and demonise the West Bengal chief minister, including catcalls made by Prime Minister Narendra Modi during the assembly election campaigns. Did such vile attempts help the BJP even an iota?
It's Rane's feudal male privileges and fascistic outlook that's preventing him from acknowledging a woman politicians fight for the top position in the country by battling obnoxious propaganda and perception-creation mechanism deployed by Modi and his BJP. West Bengal, which taught the BJP a hard-hitting lesson during the intensely fought assembly polls, deserve the same respect from the politicians of other states that they show towards their home states. Abusing and denigrating one state and its democratically-elected chief minister isn't merely scabrous but also negates the Constitution of India, which Rane promised to uphold during his oath-taking ceremony.
Those in West Bengal, who voted en masse for the BJP in 77 constituencies out of 294, must see how its non-Bengali leaders despise the state and its people. Modi, who spoke in length about the "Sonar Bangla" (Golden Bengal) agenda of the BJP during the polls, remain mum on these vicious attacks on the state and its chief minister. Like ever before, his silence proves his active endorsement for such hate-mongering and the insults hurled against Bandopadhyay and West Bengal.
As Rane continues his vitriolic propaganda against West Bengal and Bandopadhyay, it's to be seen how the people of West Bengal react to such remarks? The BJP is already in a fractured and weakened condition in West Bengal. Any further public backlashes will become lethal for the BJP's existence in West Bengal. Rane may try to hold tight his collapsible Konkani support base by using provocative statements, but his party will eventually lose more in West Bengal in the days to come.
Irrespective of Bandopadhyay or anyone from West Bengal becomes the prime minister, it's imperative for the people of the state to teach the BJP leaders like Rane, who are driven by hubris and operate with sheer impunity, a lesson for insulting it. This can't be done better than obliterating the BJP's political existence by building up larger, democratic mass struggles against it at each nook and corner.
Unsigned articles of People's Review are fruit of the collective wisdom of their writers and the editors; these articles provide ultimate insight into politics, economy, society and world affairs. The editorial freedom enjoyed by the unsigned articles are unmatchable. For any assistance, send an email to write2us@peoplesreview.in