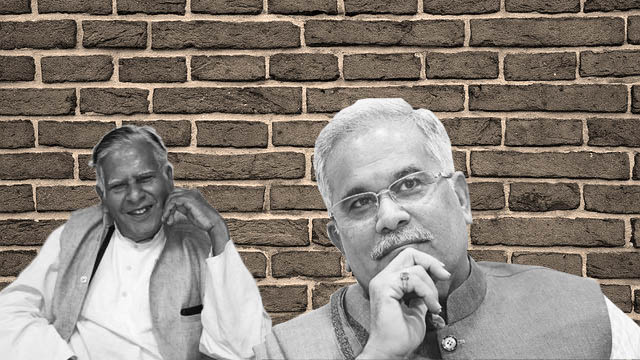 Bhupesh Singh Baghel's father's arrest exposed Congress's similarity with the BJP
Reading Time:
3
minutes
Chhattisgarh Chief Minister Bhupesh Baghel is flaunting his commitment towards his "constitutional role" after his government arrested his 86-year-old father, Nand Kumar Baghel, a Bahujan activist, for making critical remarks against upper-caste Brahmins. Mr Baghel Sr accused the Brahmins, who came to India from Iran and Central Asia and colonised the subcontinent's indigenous people, of being foreigners during a programme in Uttar Pradesh.
Nand Kumar Baghel was arrested by the Chhattisgarh Police from Agra and presented in a court in Raipur. Mr Baghel Sr refused to apply for bail, as per his lawyer. He has been sent to judicial custody for 15 days. It's unlikely that the ordeal of Sr Baghel will end soon, as his arrest and imprisonment are used by his son to market his government's 'impartiality' and to gain popularity.
"Nobody is above the law before my government, even if he is the Chief Minister's 86-year-old father. As Chief Minister, I have the responsibility to maintain harmony among different communities. If he made a remark against a community, I am sorry. Legal action will be taken," Bhupesh Baghel had told reporters on Sunday, September 5th 2021. After his father was arrested, Baghel Jr said that his father won't get any special treatment from his government.c
Chhattisgarh, after Jammu & Kashmir, is infamous since its inception for human rights violations. Thousands of innocent tribal people resisting the big mining corporations' aggression on their land and forests, are languishing behind bars accused of being ultra-left Communist Party of India (Maoist) members. The erstwhile Bharatiya Janata Party (BJP) government under Raman Singh, Baghel's predecessor, was notorious for arresting, torturing and imprisoning people for even exhibiting dissent.
The Congress party won the Chhattisgarh Assembly polls in 2018 as the people's discontent against the BJP's fascist pro-corporate rule grew manifold. However, since coming to power, Mr Baghel Jr has only followed the footsteps of his predecessor, Singh, and carried out the same sort of tyrannical policies, although at times with a façade of "constitutional rule". Now, when his police arrested the octogenarian Nand Kumar Baghel, Bhupesh Baghel is trying to market the optics to score brownies.
On the one hand, Baghel—who faces a stiff challenge from his minister TK Deo Singh over the chief minister's seat—wants to exhibit a strong and resolute statesman's face to consolidate his position in the power struggle within the Congress party, while on the other hand, by using a first information report (FIR) filed against his father by Sarv Brahmin Samaj in Raipur, Baghel pre-emptively arrested him to prevent Yogi Adityanath-led BJP government in poll-bound Uttar Pradesh from exploiting the situation.
A staunch Bahujan activist and Buddhist, Nand Kumar Baghel had earlier courted controversy in 2001, when his book "Brahman Kumar Ravan Ko Mat Maro" ("Brahmin Prince Don't Kill Ravan") was banned by Ajit Jogi-led Congress party's government. Bhupesh Baghel, who was a minister in Jogi's cabinet, remained a mute spectator even then. Mr Baghel and his father didn't live together ever since.
The Sarv Brahmin Samaj's FIR and the complaints against Mr Baghel in Uttar Pradesh by the upper-castes, affiliated with the BJP and its parental body Rashtriya Swayamsevak Sangh's (RSS) Hindutva fascist universe, accuse him of spreading enmity between communities. The prompt action by the Chhattisgarh Police and the proactiveness of the Uttar Pradesh Police, ironically prove how accurate Mr Baghel Sr's observations have been regarding the Brahminical tyranny.
In a country where the upper-caste men can rape and kill Dalit women and lynch Muslim or Dalit men with sheer impunity, talking about the heinous role of the Brahmins, who imposed the caste system on the tribal and indigenous people is considered a crime. Mr Baghel Jr's government didn't arrest the mining barons who have waged a war against Chhattisgarh's tribal people and their water-land-forests, because those people fund his party. But anyone opposing Brahminical tyranny is indeed an enemy of the state.
Alike the BJP, Bhupesh Baghel's Congress government is also persecuting those like Nand Kumar Baghel who criticise Brahminical oppression, which even people like Dr BR Ambedkar, one of the architects of the Indian Constitution, did. Mr Baghel's arrest proves that India's Brahminical rulers won't tolerate any sort of criticism and will immediately gag those who will oppose their hegemonic claims on India and its resources. This also confirms that the Congress party isn't an alternative to the BJP but merely its lite version with a secular façade. For emancipation from Brahminical-feudal oppression, the oppressed must fight a prolonged battle.
Unsigned articles of People's Review are fruit of the collective wisdom of their writers and the editors; these articles provide ultimate insight into politics, economy, society and world affairs. The editorial freedom enjoyed by the unsigned articles are unmatchable. For any assistance, send an email to write2us@peoplesreview.in