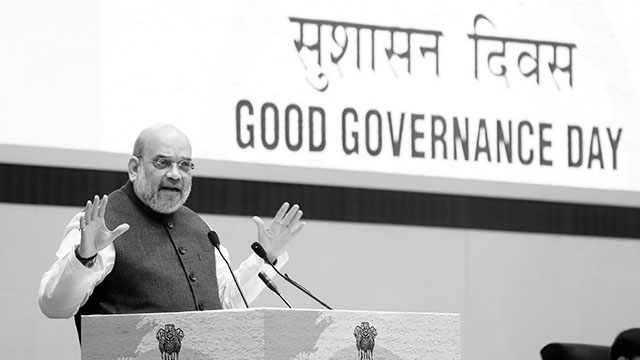 Amit Shah's claim of Modi's "good governance" vs the grotesque reality
Reading Time:
11
minutes
Union Home Minister Amit Shah heaped praises on Prime Minister Narendra Modi's government while celebrating "Good Governance Day" on the occasion of former prime minister Atal Bihari Vajpayee's birthday on December 25th 2021.
Claiming that the Modi regime has worked tirelessly for the poor and the marginalised sections, Shah praised his boss but left behind a trail of loose ends that can be used to prove him wrong.
Speaking at the concluding function of "Good Governance Week" at Vigyan Bhawan in New Delhi, Shah said: "The fruits of democracy reach the people only when we convert Swaraj into good governance and Shri Narendra Modi fulfilled this expectation of the people by taking everyone along and the result of this collective effort is that confidence of the people has increased."
Though using ornaments in a speech, to make it attractive, has been an old practice of career politicians, tall claims do need validated data to become authentic. Shah and his Bharatiya Janata Party (BJP) may say that the Modi regime is taking everyone along and the fruits of "good governance" are enjoyed by many, the facts speak otherwise.
"The Modi government has formulated clear policies that touch all sectors like agriculture, industry, infrastructure, defence, internal security, irrigation, rural development, urban development, tribal development and this has led to all-round development", Shah said during his address. However, data available in the public domain contradicts his statement.
What's the agriculture sector's scenario?
Agriculture has been the backbone of the Indian economy. For decades, the Indian farmers—especially the small and the marginal farmers—have been suffering economic hardships. Modi promised them salvation from their woes in 2014 to rise to power.
But soon after usurping power, he dumped the farmers. In a bid to bedazzle them before the 2019 Lok Sabha elections, Modi announced a dole of Rs 6,000 per year, given out in three instalments to a selected range of farmers. This, however, failed to uplift the farmers' economic condition or create demand for industrial goods in the rural areas.
Year after year, the contribution of the agriculture sector to the Indian GDP fell. It's nearly 18% at present though the sector employs 58% of India's population. The lack of a pro-farmer agriculture policy is the reason behind the fall.
The rising cost of inputs, especially the rise in fertiliser and fuel prices, unavailability of water, etc, coupled with an unpredictable weather condition abetted by the climate change and inadequate price offered by usurers for crops are aggravating India's farm crisis.
While former finance minister late Arun Jaitley had promised to double the farmers' income by 2021 in 2016, which was full of false claims, even in 2021 the farmers have seen no significant change in their lives. The cosmetic increase of minimum support price (MSP) for a few crops has failed to meet the farmers' expectations.
In 2020, Modi enacted three farm reform laws, which would've endangered India's farmers and its food security. Through a 378-day-long movement, the farmers forced the BJP to retreat and accept all their demands.
Though the government has set up a mechanism to negotiate with the farmers regarding their demand for a legal guarantee of MSP for all crops, Union Agriculture Minister Narendra Singh Tomar recently commented that the Modi regime may push the farm reforms again.
This resulted in speculations that the Modi regime may relaunch its offensive against the farmers after the 2021 assembly elections in crucial states like Punjab, Uttarakhand and Uttar Pradesh are over. Such a move will again create a stalemate and the farmers will continue to suffer due to corporate aggression.
What's the situation with industry and employment?
Modi asserted in 2019 that India will become a $5-trillion economy by 2025 and his policies will promote exports, improving India's balance of trade deficits and create jobs. However, that looks like a distant dream at present.
The Centre for Monitoring Indian Economy (CMIE) cited the data released by the Ministry of Commerce and Industry to show that India's merchandise trade deficit shot up an all-time high of $23.3bn in November 2021. The deficit was $17.8bn in October 2021.
Modi launched the "Make in India" scheme in 2014 promising that manufacturing will account for 25% of the GDP, but in 2021 it's stuck at 15% only. The "Aatmanirbhar Bharat" or Self-Reliant India scheme failed to make any major difference due to the low demand in the market caused by severe unemployment.
Also, Modi's much-hyped infrastructure development projects are failing to create enough employment. The unemployment data isn't released by the Modi regime to save itself from ignominy. According to CMIE's estimate, it's around 7.8%, which is quite high if compared with the data of the last four decades.
Employment rose marginally from 37.28% in October 2021 to 37.34% in November 2021. This translated into roughly 1.4m new job creation. However, with a large pool of unemployed people, it's imperative to create more job opportunities by increasing the government's spending.
Rather than handling the situation by strengthening the public sector, the Modi regime is hellbent to dismantle it and sell off public assets to big crony-comprador capitalists and foreign corporations. This will have a long-term impact on employment creation.
The reality of the "development" projects
"Before 2014, 60 crore (600m) people did not have a single bank account in their family, did not have a house, electricity, toilets, there were more than 10 crore (100m) households that did not have toilets, more than 3 crore (30m) families did not have electricity, more than 14 crore (140m) people did not have gas cylinders there was nothing to speak about in the health sector for them (sic)", Shah said during his address to the function.
While Shah mentioned Modi helping the poor open bank accounts, build toilets in their homes and provide cooking gases to poor women, none of these measures is sustainable. Data show how these programmes have failed to meet their stated objectives.
The Pradhan Mantri Jan Dhan Yojana (PMJDY) was launched with much fanfare in 2014 to provide zero-balance bank accounts to poor people. According to the government's data, out of 378.7m PMJDY accounts, 18.7% were dormant in January 2020.
On December 15th 2021, the total number of accounts increased to 441.2m, out of which 348.1m are opened in public sector banks (PSBs), which are the principal carrier of the PMJDY. The private sector banks have only 12.8m PMJDY accounts.
A total of Rs 1.49 trillion are deposited in the PMJDY accounts, out of which Rs 1.16 trillion is deposited in the PSBs and only Rs 452.29bn is deposited in the private banks.
As the Modi regime is all set to privatise the PSBs and sell them to those corporates who have destroyed them over years by not repaying debts, the PMJDY account holders and their deposits are all set to suffer.
Though many poor can access basic banking facilities under the PMJDY, they can't access credit from the banks due to the Reserve Bank of India's (RBI) policies. This has forced many of them to seek credit from private lenders who charge hefty interest rates.
The BJP has been always hyping Modi's Pradhan Mantri Ujjwala Yojana (PMUY) as a great achievement. Under this scheme, the poor women are provided free cooking gas connections and three free refills. According to the government's data, the scheme helped to increase cooking gas coverage from 62% on May 1st 2016 to 99.8% on April 1st 2021.
However, from Rs 410.50 on March 1st 2014, the cost of a cylinder refill rose to Rs 819 in March 2021. From November 2020 until August 2021, cooking gas price has been hiked by 44% and the Modi regime has stopped providing any subsidy on the cylinders from May 2020 onwards.
While Rs 1.46 trillion was allocated as subsidy for cooking gas in 2014, in the Union Budget 2021-22, it was reduced to Rs 120bn only. This has rendered the women, who have availed the PMUY, helpless as they find it difficult to refill their cylinders after their free gas quota is exhausted.
The Modi regime and the BJP also hail Modi's flagship Swachh Bharat Abhiyan (SBA), which planned to make India open defecation free by 2019. Modi declared that his SBA has achieved its target on October 2nd 2019, the 150th birth anniversary of MK Gandhi. However, much of the claims remain on paper, with little real change at the grassroots.
Much before Modi announced India open defecation free in October 2019, it was found in a government survey that 60% of toilets built under the SBA have no water connection, rendering them useless. Moreover, fewer toilets per 1,000 population force several poor people to continue to defecate in the open, increasing their health risks.
What India has achieved under Modi?
Shah said in his address: "People's expectation from good governance is that the model of development should be all-touching and all-inclusive, there should not be any area of the country which does not have access to development and there should not be any person in the country who is not included in the model of development."
However, Modi's development model hasn't been "all-touching and all-inclusive". While the minorities like the Christians and the Muslims constantly face threats from the BJP and its fraternal Hindutva fascist organisations, the richest of the rich have been appropriating the fruits of "development", leaving the poor deprived and throwing them to an abysmal crisis.
According to the World Inequality Report 2022, India's per person annual income is Rs 204,200. While the bottom 50% earns Rs 53,610, the top 10% earns 20 times more or Rs 1,166,520.
The top 10% and 1% hold 57% and 22% of the total national income, only 13% goes to the bottom 50%.
When it comes to wealth accumulation, per person wealth in India is Rs 983,010, out of which the bottom 50% owns almost nothing, with an average wealth share of only 6% or Rs 66,280.
The middle-class is surprisingly considered relatively poor, with an average wealth share of 29.5% or Rs 723,930.
The top 10% has a 65% share of the total wealth or Rs 6,354,070, while the top 1% owns 33% of the total wealth or Rs 32,449,360.
According to an Oxfam study, India's top 1% has four times the wealth held by 953m people, the poorest 70% of India. The richest 10% controls 74% of the average wealth. This was a pre-pandemic finding, while the pandemic itself helped the super-rich to increase their wealth by 35%, while the poor continued to suffer.
A Pew Research study showed that India's middle-class—ie, those with a daily income between $10 and $20—shrunk by 32m in 2020. At the same time, 75m more people were added to the poor category, ie, people who earn $2 or less daily.
No corruption?
"Today, even after 7 years, we can say with confidence that this is a government where there has not been even a single allegation of corruption, this is a great example of transparency", Shah said during his speech.
Forget the long list of scams during Modi's tenure as Gujarat's chief minister, or those during his tenure as the prime minister, including Nirav Modi fleeing India duping the Punjab National Bank, a crucial PSB, or Lalit Modi's IPL scam, or Modi's patron Gautam Adani's tax evasions, but can India forget the mother of all scams– the Rafale Jet scam?
This scam became an albatross around the Modi regime's neck. Even though India's Supreme Court rejected the plea to investigate the scam, the recent findings in France allege that kickbacks were used by Dassault Aviation to get the new controversial deal approved.
India can't forget the demonetisation scam, which was undertaken by the Modi regime on the behest of the US government's USAID and resulted in the destruction of the economy.
Under Modi, a handful of crony-comprador capitalists—who liberally donate to the BJP—are provided leeway through tweaking of policies that favour their businesses. The rest, especially the unorganised sector, suffered a great setback in these seven years.
Yet Shah shows the audacity to claim that no scams have taken place under Modi in the last seven years. He missed informing the audience that the agencies that are supposed to independently oversee the government's records, from the Comptroller and Auditor General's Office (CAG) to the Central Bureau of Investigation (CBI), the Enforcement Directorate (ED), or other such bodies have been turned into appendages of the BJP.
The tragedy of democracy
Shah made tall claims regarding India's democracy maturing under Modi. He hailed the Modi regime for bringing back people's trust in democracy, which, he claimed was lost in 70 years.
In reality, under Modi, India is descending into the realm of sheer despotism. Recently, Modi-ruled India is categorised as a country with an "electoral autocracy" by the University of Gothenburg's V-Dem Institute's report.
India's rank fell from 27th in 2014 to 53rd in The Economist Intelligence Unit's (EIU) 2020 Democracy index's global ranking. India's ranking was 51st in the EIU's 2019 ranking.
"With mounting pressure on India's democratic norms, India's score fell from a peak of 7.92 in 2014 to 6.61 in 2020 and its global ranking slipped from 27th (in 2014) to 53rd as a result of democratic backsliding", the EIU stated.
Amnesty International's India 2020 report shows that the human rights situation in India has worsened under Modi's rule in 2020. It criticised the Modi regime for repressing dissent and silencing critics.
The report said:
"Freedom of expression was guaranteed selectively, and dissent was repressed through unlawful restrictions on peaceful protests and by silencing critics. Human rights defenders, including students, academics, journalists and artists, were arbitrarily arrested, often without charge or trial. Despite a Supreme Court ruling to reduce prison overcrowding to curb the spread of COVID-19, the authorities continued to incarcerate many who were critical of the government. The authorities failed to adequately investigate or punish perpetrators of violence based on caste, sex and gender, and carried out reprisals against those who reported rape and caste-based crimes. There was widespread impunity and lack of accountability for murders and attacks carried out by vigilante mobs and police officers against religious minorities. Swift and extreme restrictions were placed on freedom of movement in response to the pandemic, leaving thousands of migrant workers stranded without adequate food and protection. Some restrictions to curb the pandemic also threatened the right to privacy."
Even though Modi is patronised by the US government, which uses India as a pawn against its geopolitical crusade against China, the US Department of State's 2020 Country Reports on Human Rights Practices criticised Modi's human rights record.
The report said:
"Significant human rights issues included: unlawful and arbitrary killings, including extrajudicial killings perpetrated by police; torture and cases of cruel, inhuman, or degrading treatment or punishment by some police and prison officials; arbitrary arrest and detention by government authorities; harsh and life-threatening prison conditions; political prisoners or detainees in certain states; restrictions on freedom of expression and the press, including violence, threats of violence, or unjustified arrests or prosecutions against journalists, use of criminal libel laws to prosecute social media speech, censorship, and site blocking; overly restrictive rules on nongovernmental organizations; restrictions on political participation; widespread corruption at all levels in the government; lack of investigation of and accountability for violence against women; tolerance of violations of religious freedom; crimes involving violence and discrimination targeting members of minority groups including women based on religious affiliation or social status ; and forced and compulsory child labor, as well as bonded labor (sic)."
Even when its allies are criticising the Modi regime for violating human rights and democratic values, BJP leaders like Shah and a wide array of pro-government servile media houses are applauding Modi by blowing the klaxon of fakery and misinformation.
The crippled press
In the world of journalism, India's press freedom rank has fallen to 142 due to growing censorship, persecution of journalists and the state's crackdown on media houses that refuse to toe its line.
Several journalists continue to languish behind bars or face stringent charges, including those under the draconian National Security Act (NSA) and the Unlawful Activities (Prevention) Act (UAPA).
Journalists have been suffering incessant attacks from the state machinery as well as the Hindutva fascist thugs let loose by Modi's BJP in several provinces.
Journalists work under constant threat in conflict zones and places where the Modi regime has intensified crackdown on civilian protests, especially in Jammu & Kashmir, a United Nations (UN)-designated disputed territory, which Modi formally annexed in August 2019 by abrogating the semi-autonomous status granted to it, albeit on papers, since October 1947.
Even though the major chunk of the mainstream print and electronic media went ahead to prostrate before the Modi regime and started acting as the megaphone of the government, undermining the importance of investigative journalism and critical analysis of government policies, the new-age, digital media remained a saviour.
In 2021, the Modi regime introduced controversial rules to manage the burgeoning digital media space, which is used by the BJP to peddle fake news in abundance. Digital media houses that publish content critical of the Modi regime are harassed by the ED and the Income Tax Department. False cases are lodged to harass journalists so that the BJP can coax them to mend their ways.
The conclusion: a grotesque reality
In the last seven years, Modi has delivered "good governance", incessantly, to the big corporate houses who donate liberally to the BJP's coffers. The Modi regime has also provided "good governance" to the Hindutva fascist rabble-rousers and mobsters who have been emboldened so much that they can lynch any Muslim or vandalise any church with sheer impunity.
The anti-worker labour codes of the Modi regime will render the working class into modern slaves of big corporates. The anti-farmer farm laws were repealed, but the Modi regime won't give up its pro-corporate farm reform agenda. The National Register of Indian Citizens (NRIC or NRC) will disenfranchise millions of poor Dalits, tribal people, lower-caste Hindus and marginalised minorities.
Through the Survey of Villages Abadi and Mapping with Improvised Technology in Village Areas (SVAMITVA) scheme, the Modi regime is planning to lure the rural population into a mortgage trap, which will eventually render them homeless.
The One Country One Ration Card project, which will deny the right to food to millions of poor people throughout India, is implemented by the Modi regime, with utmost disregard for human lives.
Shah and other BJP leaders will keep on blabbering about the purported achievements of the Modi regime since 2014. However, farmers, workers, the marginalised people, the civil rights activists, journalists, students, and all other genuine opponents of the Modi regime will continue to face persecution as India is pushed towards a theocratic dictatorship of the upper-caste Hindu elites, buttressed by a feudal-corporate nexus.
In such a situation, as democracy is in a critical stage, it's the people's collective struggle for their lives, livelihoods and rights that can bring the Modi regime's juggernaut to a screeching halt. The victorious farmers' movement has shown how vulnerable the regime is to people's resistance.
Hence, if similar resistance struggles are built by other oppressed and exploited sections, then the Modi regime will certainly suffer serious setbacks, which will be blissful for the democratic aspirations of India's common people.
An avid reader and a merciless political analyst. When not writing then either reading something, debating something or sipping espresso with a dash of cream. Street photographer. Tweets as @la_muckraker