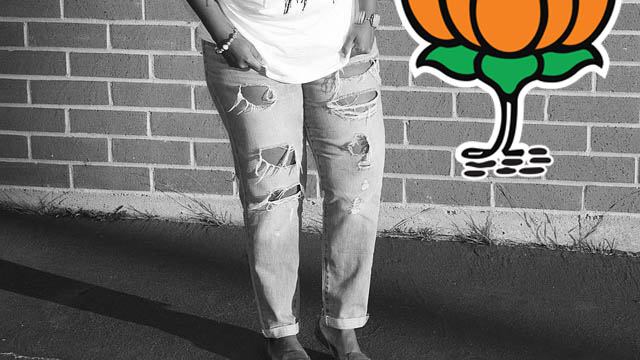 Ripped jeans saga: A rip through misogyny
Reading Time:
3
minutes
The last two days have seen scores of incensed Indian women take to social networking sites posting pictures of themselves in ripped jeans, protesting against the comment of newly sworn-in Chief Minister of Uttarakhand, Tirath Singh Rawat, that women wearing ripped jeans, send out the wrong message to society and children.
The chief minister, who belongs to the Bharatiya Janata Party (BJP), was attending a workshop on child abuse, recalled how offended he felt sitting next to a woman wearing ripped jeans in a flight and went on to question her values.
But what Rawat's comment went on to expose was not just his strong dislike to bare knees but the culture of inherent misogyny, casual sexism and patriarchy which the saffron party is well known for – the "Kaynchi Se Sanskaar" (culture by scissors) comment, be yet another testimony to the fact. And the BJP ministers, including Prime Minister Narendra Modi, haven't shied away from giving us several such reminders in the past, thanks to the foot-in-mouth disease which afflicts them when it comes to their views on women.
Rawat's misogynist remark is not a stray one that can be taken lightly. It is a symptom of the sexism that is dictating policies and attitudes towards women in the Modi government.
Why? Wasn't it less than two years ago, when the BJP's lawmaker Jayakaran Gupta, who was addressing a rally in Meerut, took a dig at Congress leader Priyanka Gandhi with his 'Skirt Waali Bai has started wearing sari' remark? Remember the recent controversy on Union minister Babul Supriyo's misogynistic meme criticising West Bengal Chief Minister Mamata Banerjee?
Supriyo, who took a dig at Banerjee's campaign slogan asserting her "Bengal's daughter" identity by tweeting a meme with Union Home Minister Amit Shah's photo saying "Beti Paraya Dhan Hoti Hai, Iss Bar Vida Kar Dengey (a daughter is someone else's wealth. We will bid her farewell)", was forced to withdraw the same after facing widespread criticism for his chauvinism.
The BJP's moral policing of women isn't even remotely surprising. It has done little else for women except dictating the terms on how to dress, how to live, and whom to love or not love (case in point 'love jihad').
It's ironic that, on one hand, they are fighting a poll battle in West Bengal and harping on women's rights and safety as one of the pillars of their campaign, on the other, these very politicians encourage a culture of sexism, which undermines women's safety and right to expression.
The current storm over ripped jeans is not just about sartorial prejudices or the vigilante instincts which they inspire. What it stands for is deeper– the failure of those who govern us to tolerate the idea of individual choice, a basic tenet of any self-respecting democratic society. A guarantee of freedom in personal matters, to be left alone to decide for themselves what's best for them. To treat women as equal, intelligent beings, capable of making their own choices whether it be how they dress, eat, date, marry and not just when they cast their vote.
Because the debate on ripped jeans is not just about a woman's choice of clothing but it has sinister implications, in the long run, if such line of thought is allowed unabated.
While Indian politics across parties is rife with examples of blatant misogyny, it cannot be ignored that the current ruling party's prejudices reflect the ideology of the Rashtriya Swayamsevak Sangh (RSS)—its parental body—to which Modi owes his political and ideological grooming. Emboldened by their man in power, the saffron fringe outfit, has intensified its campaign to impose dress and moral codes on women in the name of Indian culture.
As the prime minister maintains a stoic silence and allows women to be hounded, name-called and shamed, all for exercising their freedom of choice, the only hope that remains comes from popular dissent.
Among the many voices on Twitter, Delhi Commission for Women chairperson Swati Maliwal wrote:
Soch Badlo (change your thoughts), indeed. Ripped jeans isn't an issue; ripped conscience is.
Pseudonym of someone who is called a seasoned career journalist by her peer group. A passionate story-teller, a mom and a lover of poetry. I live news, I breathe honesty and befriend books. Coffee is good but powerful words work better as mood lifter. I am interested to narrate the stories of women and children.