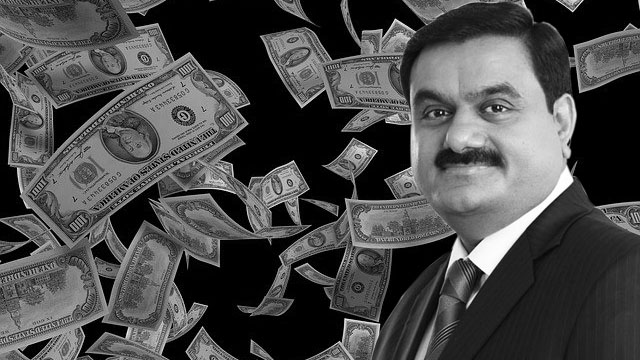 Does Adani's wealth increase amid an economic crisis justify farmers' allegation?
Reading Time:
3
minutes
According to the Bloomberg Billionaires Index, Indian capitalist Gautam Adani has added more billions to his wealth than anyone else in the world in the current financial year (FY 2020-21). A massive investor excitement around Adani's mining-to-ports-to-power conglomerate is credited for this massive increase in his wealth. Adani's wealth increase is remarkable at a time when India is reeling under a severe economic crisis and when unemployment is at an all-time high.
In the FY 2020-21, Adani's net worth became $49.6 billion as he added $15.8 billion to it. Adani's wealth increase in the FY 2020-21 is even more than India's richest man Mukesh Ambani, who added $6.37 billion to his net worth in the same period. Adani has even surpassed Elon Musk, the US-based imperialist tycoon, in the total wealth earned in the FY 2020-21.
Mr Adani's wealth increase is driven by the massive growth experienced by the stocks of his conglomerate. The stocks rallied by at least 50% for most of Adani group companies, barring one. The investors, especially foreign investors, rushed to invest in his stocks as Adani has been expanding his businesses rapidly in India and other parts of the world. Despite facing massive people's resentment in Australia due to the controversial Carmichael coal mine project, Adani's businesses have grown manifold with new airports, mines, data centres, ports, etc, added to the group's assets.
Adani's wealth increase amid India's unprecedented economic crisis—as its GDP growth contracted—bears resemblance to that of Mr Ambani's. The steep rise in stock prices of the conglomerate happened especially after May 2020, when Prime Minister Narendra Modi announced his "Atmanirbhar Bharat" (self-reliant India) scheme, which was supposed to revive the Indian economy reeling under a severe economic crisis since the FY 2017-18.
Now, when Finance Minister Nirmala Sitharaman announced the particulars of the Rs 20-trillion-worth Atmanirbhar Bharat scheme in five tranches—part I, part II, part III, part IV and part V—it was found that the entire scheme was based on liquidity infusion and there were not many elements of a stimulus.
However, utilising the tempo created by Modi using his rhetoric, which proposed nothing but an oxymoron of going "self-reliant" while staying in the globalised world order, Sitharaman's tranches exhibited that the Modi regime has launched an all-out economic assault on the people by going no-holds-barred on the privatisation of public assets and by opening the gateway to agriculture for big corporations. The farmers of Haryana, Punjab and Uttar Pradesh, who are vehemently opposing the contentious three farm laws of the Modi regime, accused the government of doing these reforms to help Adani and Ambani particularly.
Both Adani and Ambani share bonhomie with Modi and are accused by the Opposition of influencing the government's policy decisions. The Adani Group and Reliance Industry Limited conglomerates are the largest sponsors of Modi's Bharatiya Janata Party (BJP), which rules most states of India. Both Adani and Ambani have experienced a rapid increase in their wealth under Modi's rule, while the country's GDP growth rate has been falling rapidly. Under the aegis of the Modi regime, Adani's wealth increased by 340% since May 2014 to about $34 billion as of January 2021.
Former Economic & Political Weekly editor Paranjoy Guhathakurta, who faces defamation cases from the Adani Group for exposing its alleged misdeeds, gave an account of how the meteoric rise of Mr Adani, hardly known to anyone 20 years ago, is linked with cronyism and how the BJP and Modi have been catalysts in this journey. Adani's aggrandisement has earned him the title "Modi's Rockefeller" from Tim Buckley, an energy consultant in Australia, where he faces stiff resistance from locals who oppose his environmentally-catastrophic Carmichael coal mine project.
Due to his strong bonding with Modi, which dates to a few decades, Adani's wealth increase amid the economic crisis and pandemic-related chaos raised questions and the Opposition have trained their guns at the BJP. In a veiled attack targeting Adani's nexus with the BJP and the Modi regime, Congress party's leader Rahul Gandhi asked how come Adani's wealth increase at a time when the people are suffering the most?
The most remarkable thing in the timings of Bloomberg Billionaires Index findings is that it provided the required data support to the ongoing farmers' movement against Modi's farm reform laws. The farmers have laid siege of India's capital New Delhi since November 20th 2020 demanding repealing of the contentious farm laws and legal guarantee of minimum support price (MSP) for their crops. For the sake of Adani and Ambani, the Modi regime has so far ignored the farmers' demand and has unleashed brutal police atrocities targeting them.
Since the inception of the farmers' movement in Punjab in June 2020, it's alleged that Adani and Ambani will particularly benefit from the new farm reform laws. Adani's wealth increase, at a time when people have been losing their livelihoods and experiencing immense fall in income, shows how correctly the farmers have assessed the complex situation and taken an informed decision of resisting the laws that will eventually render them landless slaves of the ilk of Adani. It's for the sake of saving their own lives by securing their food supply lines and resisting the likes of Adani from controlling the agriculture product trading, that the common people should come forward to support the farmers' resistance against corporate aggression on agriculture.
Unsigned articles of People's Review are fruit of the collective wisdom of their writers and the editors; these articles provide ultimate insight into politics, economy, society and world affairs. The editorial freedom enjoyed by the unsigned articles are unmatchable. For any assistance, send an email to write2us@peoplesreview.in