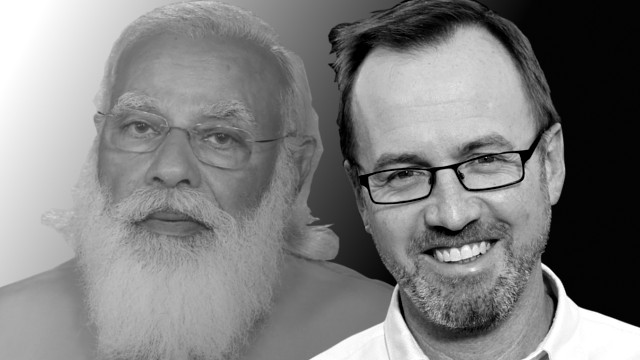 Aussie senator David Shoebridge calls out "right-wing, intolerant Modi government"
Reading Time:
3
minutes
"We're here today to not only show solidarity with those farmers in India and the communities in India that are standing up against an increasingly right-wing, intolerant Modi government, but we're also standing here today to show solidarity with the diaspora in Sydney," stated New South Wales (NSW) State Senator David Shoebridge on February 28th 2021.
Shoebridge was speaking outside the Indian Consulate in Sydney at a press conference called by the Australian Alliance Against Hate and Violence to raise awareness about the rising threat to the country's social cohesion posed by far-right Hindu extremism. "There have already been too many incidents of far-right extremist violence, particularly against the Sikh community in western Sydney," he warned.
The press conference came after tensions flared in the diaspora on February 14th 2021 when a large convoy of cars driven by supporters of Indian Prime Minister Narendra Modi attempted to intimidate local Sikhs by driving to a Sydney Gurdwara during Sunday services.
In one video of the convoy shared on social media, the participants were described as supporters of the Rashtriya Swayamsevak Sangh (RSS) paramilitary and its political wing, India's ruling Hindu nationalist Bharatiya Janata Party (BJP). Although the convoy was halted by police before reaching the Gurdwara, it was but one of several recent incidents in Australia marking the growing divide between supporters and critics of Modi. Sikhs have become a primary target as they have emerged as the face of ongoing protests in India against controversial new farm laws passed by Modi's regime.
Shoebridge — who has long been a bold critic of the Chinese Communist Party — has recently also emerged as a persistent voice warning that India may be "lurching towards becoming a fascist state." In July 2020, he declared, "It's time to be frank about the right-wing sectarian violence that is being directed by India's own government." In August 2020, as he moved a motion in the NSW Senate against India's controversial Citizenship Amendment Act, he warned that "protests and dissent have been met with an authoritarian government response and civil liberties have been dramatically curtailed." In December 2020, after Australia's High Commissioner in India paid a fawning visit to the RSS chief, he denounced it as "grossly unacceptable behavior. (sic)" On February 21st 2021, he spoke at a rally in support of the farmers' protest.
"Young members of the Sikh community are being bungled up on the street, and identified by right-wing extremists, and feeling under threat just walking down the street," he said at the February 28th 2021 press conference outside Sydney's Indian Consulate. "We're seeing the Sikh temple being attacked by right-wing Hindu extremists. Well, we are calling it out today and saying that must end. It has no place in a successful and vibrant multicultural society like Australia. And we're saying to those other politicians: it doesn't matter what party you're from, it doesn't matter if you're local, state, or federal — when you see that kind of right-wing, intolerant violence on the streets of Sydney, call it out, name it, and stand with the communities that are under attack."
Hours after Shoebridge spoke outside the consulate, a group of four young Sikh men were attacked after leaving a restaurant at night. Their car was surrounded by approximately a dozen assailants — whom the victims identified as Indians — and smashed with baseball bats, hammers, and even an axe. One victim identified at least one of the attackers as a participant in the allegedly RSS-BJP sponsored car rally from two weeks earlier.
Shoebridge raised the issue in a March 5th meeting with State Senator Geoff Lee, the Acting Minister for Sport, Multiculturalism, Seniors and Veterans, stating,
"The most recent attack that I've heard of, which was again at Harris Park and again as recently as Sunday night, [was] where four young men from the Sikh community were celebrating. In fact, they got a new car, and then it was smashed. They were stopped on the street, and it was smashed. In the course of the assault, I understand, that the assailants identified the reason they were smashing was because of the occupants being from the Sikh community. And it came from a far-right extremist political position."
As Shoebridge continued to press the minister about the issue and the government's proposed response, he noted, "I have not seen a single report of a violent act coming from any part of the political spectrum from the Indian community other than the extremist, right-wing Hindu nationalist part of the community." Reacting to the minister's responses, he added, "Sometimes, being the champion of harmony in the community involves naming and calling out extremist elements that are tearing down that harmony in the community, and general platitudes may not be the best response if the violence and the aggression is coming from a known source. (sic)"
Originally published in medium.com by the author.
Pieter Friedrich is a South Asian Affairs Analyst who resides in California. He is the co-author of Captivating the Simple-Hearted: A Struggle for Human Dignity in the Indian Subcontinent. Discover more by him at pieterfriedrich.net.