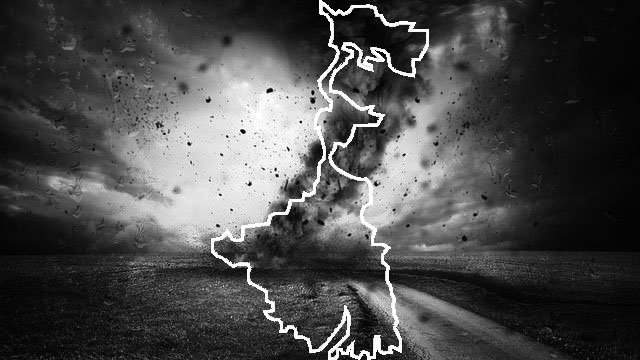 The Amphan super-cyclone and the ravaged West Bengal
Reading Time:
3
minutes
The Amphan super-cyclone has devastated Odisha and West Bengal; especially the latter. The Amphan super-cyclone furiously mangled West Bengal's North and South 24 Parganas, and East Midnapur districts on Wednesday, May 20th, killing at least 72 people, damaging properties, uprooting trees, waterlogging streets and destroying the standing crop.
While the landfall began at 2.35pm on Wednesday at Sagar Island of South 24 Parganas, the super-cyclone – with a diameter of 700km – continued to ravage West Bengal until midnight, as it slowly trod the course, damaging everything on its way. From the damages visible to naked eyes, it appears that a million monsters probably attacked the state, which has been reeling under the Coronavirus outbreak.
It's not just the rural southern parts of West Bengal that suffered the destruction, but even the capital city Kolkata suffered immensely due to this super-cyclone. Areas like Teghoria suffered the worst, while even posh localities, like Salt Lake, weren't left unscathed either. In Howrah district, more than 900 kutcha houses, or mad-thatched houses, were destroyed, while asbestos or tiled roofs of many houses were blown away. Trees were uprooted along with electricity poles, traffic signals and advertisement billboards.
Around 10 people in West Bengal as per the government's estimates on Wednesday after trees fell on them, while many have died when lightning struck them. The real scenario of the damage will be known in a few days when a real assessment can be done by the government. More than 500,000 people were earlier moved to shelters, which saved their lives.
The Amphan super-cyclone's impact has thrown hundreds of kilometres of area in severe distress. People are left without drinking water supply in most of the places and the government's initial relief measures, including food supply, isn't enough to cope up with the crisis. It's feared that many people in rural Bengal, cut-off from the world due to a total communication outage, are without food, shelter and water since Wednesday night.
Many migrant workers, who returned to their villages or have been living in the quarantine centres set up to prevent Coronavirus reaching the rural hinterland, may have suffered severely too, especially in South 24 Parganas. There is no way to assess their losses right now.
Though the Alipore Weather Office recorded the wind speed of 112kph at 6pm on Wednesday, at 7.20pm, it reached 133kph at Dumdum. No areas of southern Bengal remained safe, and the lockdown curfew and prior announcements, which forced people to take shelter in concrete-built spaces, saved many lives, if not all. Many shanties in the slum areas of Kolkata and its suburbs were destroyed. The heavy rainfall that started from Tuesday, May 19th evening, loosened the structures of many dilapidated or weakly-built houses, which resulted in their collapse on Wednesday.
There is an effort to build community measures to support the people affected by the Amphan super-cyclone, and it's going to take a lot more resources and initiatives vis-à-vis the lockdown relief work. As Prime Minister Narendra Modi will visit the state on Friday, May 22nd, to do an aerial survey jointly with Chief Minister Mamata Banerjee to assess the losses and damages, it's expected that by this Friday afternoon or by Sunday, May 24th, the Union government, which is now ruling West Bengal directly through the Disaster Management Act, 2005, will announce a package eyeing the 2021 assembly election.
Following such a package, there will be cheap politics over relief distribution and restoration of normalcy, but the injuries inflicted on West Bengal by the Amphan super-cyclone and its severe repercussions will have a long-term effect on the state's political future as well as its survival in the Coronavirus-driven broken economic condition. The poor and the labouring masses will suffer the most, as they will even lose opportunities to feed their families from the fields when the city factories don't remain a lucrative option for them anymore.
Unsigned articles of People's Review are fruit of the collective wisdom of their writers and the editors; these articles provide ultimate insight into politics, economy, society and world affairs. The editorial freedom enjoyed by the unsigned articles are unmatchable. For any assistance, send an email to write2us@peoplesreview.in