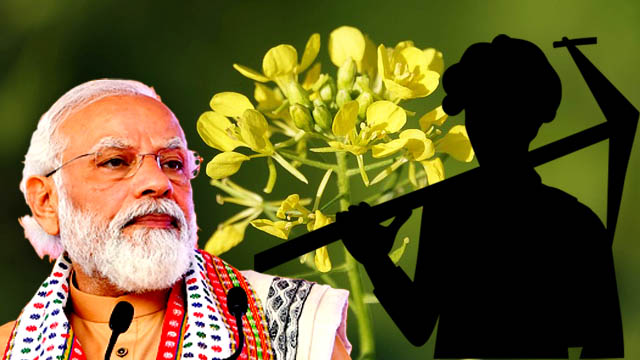 GM mustard approval stirs a hornet's nest and rings an eerie alarm
Reading Time:
6
minutes
The Genetic Engineering Appraisal Committee (GEAC), a body under India's Union Ministry of Environment, has approved the cultivation of genetically modified (GM) mustard crops in the country. GEAC has forwarded its recommendations to the Union Ministry of Environment for approval. The agency's recommendation to the central government to grow GM mustard has created a stir among farmers' organisations and environmental groups that have come out against the decision. It is feared that this decision may cause severe damage to the farmers, the fields, the environment and public health.
On October 18th 2022, GEAC approved the GM mustard proposal and granted environmental concessions to two GM mustard variants. These two types can be used to develop new parental lines and hybrids under the Indian Council of Agricultural Research's (ICAR) supervision. Dhara Mustard Hybrid (DMH-11) variety has been licensed on two conditions. Firstly, the licence is for four years only and must be renewed every two years; secondly, herbicides can be used in a controlled manner on the GM mustard crop.
Incidentally, this is not the first time that GEAC has given clearance to GM mustard crops. Earlier, in May 2017, GEAC had sent its recommendation to the Ministry of Environment, allowing commercial cultivation of this GM crop developed at Delhi University.
But due to protests by numerous farmers' organisations and environmental activists across the country—which started around 2015 and saw a demonstration by over 120 organisations at New Delhi's Jantar Mantar in 2016—the ministry kept the matter under wraps. At that time, all the organisations filed pleas against GM mustard cultivation in the Supreme Court.
It has been alleged that the GM mustard crop requires large amounts of herbicides. In this case, that herbicide would be glufosinate, which is highly neurotoxin. In 2017, just as there was a controversy over GEAC's recommendation for commercial cultivation of GM mustard crops to the Union Ministry of Environment, based on research by Punjab Agricultural University and the Indian Agricultural Research Organisation (IARI), questions have also been raised about the credibility of the new study in 2022.
The farmers' organisations and environmental activists have complained that there has been a lack of transparency in the research on the cultivation of the GM mustard crop and its adverse effects on the environment and agriculture, including the human body.
India is the fourth-largest producer of oilseeds in the world. Around 28.6% of all oilseeds produced in India are mustard and rapeseed. Mustard is the world's third most important edible oil after soybean and palm oil. While 8.43m metric tons of mustard and rapeseed were cultivated in the financial year 2017-18, the volume is estimated to be around 11.4m metric tons in 2022. Mustard is mainly produced in Rajasthan, Madhya Pradesh, Haryana, Punjab, Gujarat and Uttar Pradesh. Mustard is also grown in southern Andhra Pradesh, Karnataka and Tamil Nadu.
Indian mustard — yellow and orange— is mainly of the Raya and Toria varieties. Although yellow mustard belongs to the rabi crop in Assam, Bihar, Orissa and West Bengal, it is grown as a cash crop in Punjab, Haryana, Uttar Pradesh and Himachal Pradesh. Despite this, edible oil production in India is insufficient to meet domestic demand. Therefore, India spends a large amount of foreign exchange annually to import edible oil.
Earlier, Prime Minister Narendra Modi's government adopted a new palm oil policy in 2021 to increase the domestic production of edible oil and reduce imports. However, the policy was criticised for being harmful to the environment.
The government's palm oil policy has been accused of favouritism for Gautam Adani's Adani Wilmar and Baba Ramdev's Patanjali. The duo is identified as patrons of the ruling Bharatiya Janata Party (BJP). Presently, about 1,000 to 1,200 kg of Raya and Toria mustard can be produced per hectare, and DMH-11 has been claimed to give a 30% higher yield than that.
Although the government aims to reduce edible oil imports by initiating GM mustard crop cultivation in India, there are allegations that GM crops have harmful elements for the environment, agriculture and public health. Although studies by the World Health Organization (WHO) have shown that consumption of GM crops increases the risk of cancer in humans, studies funded by large corporates have found no such evidence. As a result, there is a disagreement among scientists and doctors on this issue.
In India's agricultural sector, farmers in Andhra Pradesh, Haryana and Punjab have faced a massive crisis by cultivating GM-based BT cotton. The BT cotton growers have previously had to deal with attacks by white moths and pink bollworms, while the corporates control the seeds price, which is often exorbitant.
As using GM seeds requires a lot of herbicides, it is tough to grow non-GM crops on such farms where such GM crops have been cultivated. As a result, farmers' dependence on large corporate firms has increased manifold, and the latter has established a monopoly in the seeds business.
Since cotton is not a food crop but a commercial one, even after many debt-ridden farmers committed suicide due to the crisis caused by BT cotton production, it had no direct impact on people's lives. However, since mustard and rapeseed are used across the country, especially to make edible oil, organisations, ranging from the left-wing Akhil Bharat Kisan Sabha (AIKS) to the ultra-right Bharatiya Kisan Sangh (BKS)—the farmers' body affiliated to the Rashtriya Swayamsevak Sangh (RSS), the BJP's parental body—have raised their concerns regarding the introduction of GM crops.
As a result of the protest movements, in 2010, then environment minister Jairam Ramesh of the erstwhile Congress-led United Progressive Alliance (UPA) government had to shelve the proposal to grow BT eggplants, and the government decided to allow the cultivation of GM crops only after extensive research and confirmation of their impact on public health and environment.
But since Modi's BJP government came to power, it went against the decision of the UPA government and started insisting on growing GM crops. As a result, it is alleged that production clearance was given to GM mustard crops twice in five years.
In a recent interview with The Hindu, Mohini Mohan Mishra, the all-India general secretary of RSS's farmers' organisation BKS, called the GM crop production a "scientific fraud" and said that the herbicide tolerant (HT) technology is primarily carcinogenic.
"It is a killer technology that kills soil, microbes, pollinators, almost all medicinal herbs and adversely affects crop diversity. It can also cause cancer in humans," Mr Mishra was quoted by The Hindu.
He also alleged a conspiracy by big corporates to introduce GM food into the Indian food chain. He alleged that the GEAC, the Delhi University and the Food Safety and Standards Authority of India (FSSAI) have formed an evil nexus to farther the GM crops in India.
Kavita Kuruganti, on behalf of GM-Mukt Bharat Alliance, opposed the decision. She also told The Hindu that although Union Environment Minister Bhupendra Yadav had once opposed GM crops, it was surprising that his ministry was seeking approval from GEAC to cultivate GM mustard crops.
Currently, other mass organisations have issued no press statements on GM mustard crops. Still, if we look at past events, it will be apparent that the leftwing farmer organisations, including the AIKS, will not accept the decision of GM mustard crop cultivation in any way.
Moreover, the millions of farmers from Haryana, Punjab, Rajasthan and Uttar Pradesh, who won the first stage of their struggle against Modi's three alleged anti-farmer laws after a year-long sit-in protest at Delhi's borders, are still expressing their discontent as the Union government has been dilly-dallying on its promise to form a committee and find out a way to enact a law to guarantee minimum support price (MSP) for all crops.
The united farmers' body — Samyukt Kisan Morcha (SKM) — has expressed its discontent regarding the delay in enacting the MSP law, which has been one of the foremost demands of the farmers' movement. In this scenario, if the Modi government tries to push the GM mustard crops, it can further infuriate the farmers of the mustard-producing states and open new frontlines.
How the Modi government and the BJP can dodge the dual attack from the farmers' organisations and the RSS-affiliated BKS is yet to be seen. However, the government's obstinate stance can stir a new series of farmers' movements.
Although GM mustard crops have the potential to increase mustard and rapeseed production in India, it won't be of any help if the crop and its cultivation are harmful to the human body and the environment. If GM mustard crops cause further problems for the crisis-ridden agriculture sector and farmers, it will not benefit India.
For this reason, the Modi government should scrap the scheme regarding GM mustard crops. Instead, it should, in consultation with farmers and environmental activists, and with the help of science, emphasise increasing domestic production of edible oilseeds in an environment-friendly and organic way so that the farmers, the fields, the environment and the people's health are safeguarded. Moreover, increasing the yield can also help protect the common people from spiralling inflation caused by food price rises, which has been crippling India's economic growth.
An avid reader and a merciless political analyst. When not writing then either reading something, debating something or sipping espresso with a dash of cream. Street photographer. Tweets as @la_muckraker