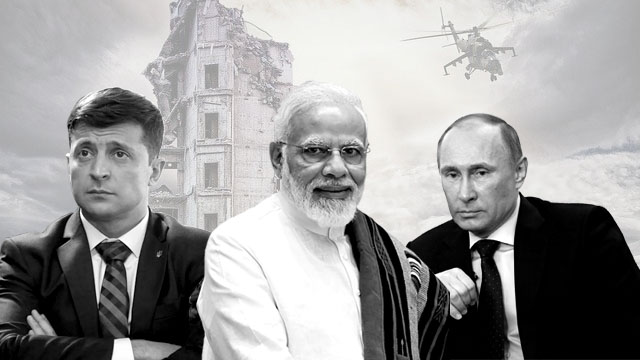 India's stand on the Russia-Ukraine conflict doesn't reflect an independent foreign policy
Reading Time:
8
minutes
While the western powers, under the aegis of the warmonger US, have joined hands to impose sanctions on Russia for its military actions in Ukraine, India's stand on the Russia-Ukraine conflict has been a balanced one.
At the United Nations (UN), India consistently abstained from crucial meets that criticised Russia's military operations in Ukraine and passed resolutions against Moscow.
India abstained from voting at Geneva's UN Human Rights Council (UNHRC). The UNHRC decided to set up an international inquiry committee into Russia's military operations in Ukraine. India was among the 13 countries out of 47 member states of the UNHRC that decided to abstain from the resolution.
At the UN General Assembly (UNGA) that criticised Russia's military actions in Ukraine, India abstained with 33 member states, including China. Though the US managed to polarise 141 member states to back the UNGA resolution, using intimidation, countries like Russia, Byelorussia, Eritrea, Democratic People's Republic of Korea (DPRK) and Syria opposed it.
India also abstained on a US-sponsored UN Security Council (UNSC) resolution against Russia. There are 15 member states in the UNSC and five permanent member states – China, France, Russia, the US and the UK. The UNSC resolution against Russia saw 11 votes in favour and three abstentions (China, India and the UAE). Russia later used its powers to veto the resolution.
While Prime Minister Narendra Modi's government has consistently exhibited servility towards the US-led western imperialist bloc, this sudden spree of defying Washington DC's diktats by his government may wonder many. This defiance may even put a gullible section into a euphoria that India has started pursuing an independent foreign policy after traversing a pro-US and pro-west trajectory for over three decades.
It will be quite infantile to consider Modi's abstention tactics and India's stand on the Russia-Ukraine conflict as an act of defiance and assertion of India's independent foreign policy. On the contrary, these steps taken by the Modi regime are more of a balancing act in a crucial trapeze game rather than the pursuance of an independent foreign policy.
What is India's stand on the Russia-Ukraine conflict?
While the Ukrainian Ambassador to India has been seeking New Delhi's support against Russia, India has maintained a balanced position as it must preserve its bilateral relationships with Russia and the US.
India has stressed that Russia and Ukraine use bilateral dialogues to resolve their differences and end the conflict. From Union Defence Minister Rajnath Singh to India's Permanent Representative to the UN TS Tirumurthi, all leading figures have advised both sides to talk and end the conflict.
Talking to The Hindu, Singh said, "our diplomatic approach has been of maintaining good relationships with all countries and that is the context in which India operates. We don't see the India-Russia relationship only in the context of this crisis between Russia and Ukraine. We have always maintained, very consistently, that talks and diplomacy should be deployed to establish peace (sic)."
Tirumurthi expressed India's anguish at the UN, saying, "India is deeply disturbed by the recent turn of developments in Ukraine. We urge that all efforts are made for the immediate cessation of violence and hostilities".
"Dialogue is the only answer to settling differences and disputes, however daunting that may appear at this moment. It is a matter of regret that the path of diplomacy was given up. We must return to it. For all these reasons, India has chosen to abstain on this resolution," Tirumurthi said when India abstained from the UNSC resolution.
What has shaped India's stand on the Russia-Ukraine conflict?
Unlike India's first prime minister Jawaharlal Nehru's Non-Alignment Movement (NAM) days, when most of New Delhi's diplomatic standpoints were ideology-driven and exhibited anti-colonialism, the neo-liberal economy's advent turned Indian diplomacy towards the extreme right, going 180-degree against its previous policies.
Alliance with those who can provide maximum benefits –is the key driving force of India's diplomacy devoid of any ideology. Since the collapse of the Soviet Union, most UN members, including China, have been following such a foreign policy. This policy is lucrative as it unlocks the scope of extreme manoeuvres.
India's stand on the Russia-Ukraine conflict reflects its diplomatic compulsions. So far, India's bilateral engagement with Russia, especially in defence trade, far outweighs India's bilateral relationship with Ukraine.
India-Russia trade volume
To underscore the importance of India's bilateral ties with Russia, the MEA had stated in 2012: "Bilateral ties with Russia are a key pillar of India's foreign policy. India sees Russia as a longstanding and time-tested friend that has played a significant role in its economic development and security."
Before the pandemic years (2020-21), which contracted foreign trade, India-Russia bilateral trade was worth $11.16bn in 2019, as per the Federal Customs Service of Russia. While imports from Russia in 2019 were worth $7.24bn, exports from India were worth $3.92bn.
According to the Indian Embassy in Moscow, the bilateral trade in services has remained stable during the last five years, with the trade balance in Russia's favour. The trade in services dropped from $1.09bn in 2017 to $973.65m in 2020.
In contrast, India's bilateral trade volume with Ukraine is far low. According to the Ministry of External Affairs (MEA), India's total bilateral trade with Ukraine in 2018-19 was $2.8bn only. While the import volume was $2.34bn, the export volume was only $390.80m in 2018-19.
Thus, in terms of bilateral trade, Russia far surpasses Ukraine as an important trading partner of India. No wonder India can't go against Russia and sacrifice its bilateral trading opportunities to appease a smaller trading partner.
India-Russia defence ties
India's defence ties with Russia dates to the 1960s. India signed a military pact with the Soviet Union in 1971 despite Nehru's NAM policy remaining in force. The Russian military hardware has been crucial for Indian defence.
Lately, India renewed its defence pact with Russia in December 2021, during Russian President Vladimir Putin's visit. There is a 10-year-long defence pact between New Delhi and Moscow.
According to the Stockholm International Peace Research Institute (SIPRI), around 23% of Russia's weapons exports were sent to India between 2016 and 2020. Between 2018 and 2021, India-Russia military trade touched $15bn.
Russia has already started exporting the $5.43bn-worth S-400 long-range air defence missile systems to India. For this deal, New Delhi has managed to circumvent the US sanctions on Russia.
According to new treaties between Russia and India, the latter will get the right to manufacture 600,000 AK 203 series Kalashnikov assault rifles in India. Apart from AK 203s, Hindustan Aeronautics Limited (HAL) is also manufacturing the Sukhoi SU-30MKI on a long-term licence for the Indian Air Force (IAF).
At the Heavy Vehicles Factory (HVF), India has been manufacturing Russian T-90 and T-72 tanks for the Indian Army. Nearly 900 T-90s and 1,500 T-72s have been manufactured in India on a long-term licence.
Ukraine has a limited presence in the Indian defence industry. Its role is mainly limited to upgrading the Soviet-era AN-32 transport fleet for IAF. Also, Ukraine is involved in the supply of R-27 air-to-air missiles used by the IAF in the SU-30MKI fleet.
However, Ukraine also sought military supplies from India. In February 2021, India and Ukraine signed four defence agreements worth $70m, under which Ukraine will purchase some defence supplies.
Due to such low engagements with Ukraine, India can afford to support Russia's position subtly. India can't sour its relationship with Moscow and jeopardise the ties relying on the US, which is notorious for dumping its allies.
India-Russia bilateral investments
During the fifth Eastern Economic Forum (EEF) in Vladivostok of Russia's far-east, Modi announced a $1bn-worth credit line to develop the resource-rich region.
Indian firms have invested around $7bn in Russian oil and gas. The Russians have also invested in India's energy sector. Apart from energy, Russia has investments in India's telecommunication, information & technology (IT) and automotive sectors.
According to the Indian Embassy in Moscow, in 2017, Russian investment in India reached $18bn while Indian investment in Russia reached $13bn. India's involvement in the EEF has opened various investment opportunities for capitalists of both countries.
Compared to the increasing India-Russia bilateral investments, the situation has not been quite promising in the India-Ukraine scenario. There have been minimal inbound investments from Ukraine, while India has small stakes in the Ukrainian economy.
The problem of independent foreign policy
Although the above points show that India's stand on the Russia-Ukraine conflict is solely dependent on protecting New Delhi's economic interests, it's nowhere close to an independent foreign policy
Modi's far-right Hindu nationalist Bharatiya Janata Party (BJP) markets its foreign policy as a "strong" and "pragmatic" one. However, it's a sheer opportunist policy that exhibits servility towards the western powers.
Under the garb of 'pragmatism', India supports Zionist terrorists in their war crimes against Palestinian people and abandons long-term allies like Iran to appease the US.
How can India pursue a progressive and genuinely independent foreign policy?
Rejuvenate the NAM and oppose military alliances
As one of the founding nations of NAM, India must rejuvenate the movement and oppose all military alliances, including the North Atlantic Treaty Organization (NATO).
Apart from maintaining equidistance from all military alliances, New Delhi must also oppose the military hegemonism of the US and its western allies who threaten world peace constantly.
One of the core tasks of India will be to quit the QUAD alliance, which has been formed by the US to counter China and encircle it militarily. By renouncing the QUAD, India will reaffirm its NAM commitments and ensure that it's not used as a pawn by western powers in their covert military pursuit against China.
Strengthen anti-hegemony alliances
Apart from quitting the imperialistic alliances like QUAD, India must strengthen the regional alliances that look towards building a multi-polar world opposing the US's quest to retain its unipolar hegemony.
By strengthening alliances like the Brazil-Russia-India-China-South Africa (BRICS), SAARC, the Shanghai Cooperation Organisation (SCO), etc, India can directly ensure that the world tilts towards a multi-polar order and hegemonism is defeated through collective efforts of countries seeking peace and development.
Opposing the Zionist terrorism
India had historically supported the Palestinian right to independence and opposed Zionist terrorism. However, after embracing the neo-liberal economic order, New Delhi also officially embraced the Zionist terrorists.
Since Modi's ascension to power, the Hindutva fascists of India have strengthened their strategic ties with the Zionist terrorists and have betrayed India's commitment to Palestine at international forums.
Under the "pragmatic" foreign policy approach, India has not alienated Palestine but also the progressive powers that support the freedom of Palestine from Zionist Israeli terrorist occupation.
To pursue an independent foreign policy, India must rejig its Palestine policy and win more friends in the progressive camp, allowing it to strengthen its bilateral ties with other countries.
Rebuilding a trust-based relationship with China
Though India-China relationships soured since the late 2000s, with the ascension of Xi Jinping to power in Beijing, it hit the nadir after the Galwan clashes in mid-2020. The two countries have been in a military face-off in the eastern Ladakh region.
Though India has so far refrained from immature military rhetoric against China, it must build bridges with China to improve the situation and deescalate tension in South Asia.
By being a part of China's Belt Road Initiative, India can substantially gain in infrastructure and reduce its defence budgets. A long-term peace with China is imperative for the peaceful development of India, as military adventurism, incited by the US, will be catastrophic for the Indian economy.
De-Pakistanise Indian foreign policy
India's foreign policy focuses on isolating Pakistan and accusing it of sponsoring "terrorism" to cover up gross human rights violations in the Indian part of Jammu & Kashmir. The tension between the two neighbours peaked in 2019, and now the bilateral relations are in tatters.
It's imperative for peace in South Asia that India and Pakistan engage in meaningful bilateral dialogue to break the impasse on Kashmir and other issues. A progressive foreign policy can't focus on negating another country but seeks common grounds to build cooperation and dialogue to resolve issues.
If serious dialogues between India and Pakistan resume, that may help significantly reduce the military budgets of these countries, allowing them to invest more in social welfare and development.
The road ahead
While the US and its allies will continue to impose sanctions and embargo on Russia, India will look forward to continuing its bilateral relationship and cooperation with Russia circumventing the restrictions. In this case, India will set an example of a perfect trapeze walk, balancing itself between two imperialistic camps.
India's stand on the Russia-Ukraine conflict, its "pragmatic" approach may appear "independent" to many; however, it's a foreign policy stunt by Modi to confuse his critics and supporters alike. Until the fascist forces, like the BJP, rule India, the country can't pursue an independent foreign policy.
An avid reader and a merciless political analyst. When not writing then either reading something, debating something or sipping espresso with a dash of cream. Street photographer. Tweets as @la_muckraker