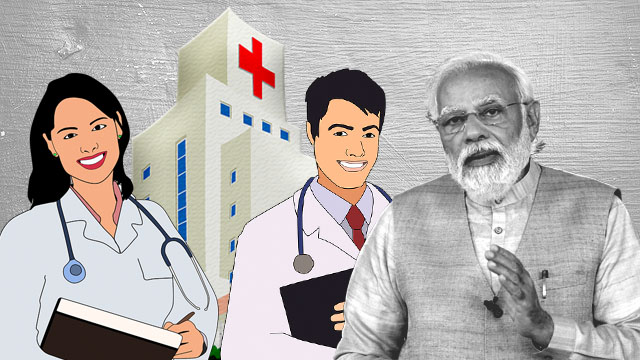 Why Modi's jibe on students pursuing medical education in Ukraine is unfounded?
Reading Time:
6
minutes
Amid desperate pleas from Indian students for evacuation from Ukraine, most of them studying medicine, has come Prime Minister Narendra Modi's jibe that students have been going to "smaller countries for study, especially for medical education, despite the language barrier".
Asking the private sector to enter the field of medical education in a big way, Modi, who was speaking at the inauguration of a webinar on February 26th 2022, asked state governments to formulate policies so that India can produce maximum doctors.
The statement came when videos of Indian students stuck in Ukraine went viral, and their worried parents in India have been expressing their anguish. Still, the prime minister altogether avoided referring to Ukraine or the Ministry of External Affairs' inability to evacuate the Indian students stuck there effectively.
Meanwhile even as Modi signalled to his fundraisers in the private sector to use the opportunity to jump into the cash-rich medical education sector, he inadvertently brought up an important discussion on why thousands of medical aspirants leave the country for foreign shores, even "smaller countries with language barriers", as he termed it, to study medicine.
Lack of opportunities and scarcity of medical seats are some of the top reasons why Indian students go to foreign locations, like Ukraine and former Soviet republics, to pursue medical education.
According to the National Medical Commission (NMC) website, there are 605 medical colleges in India with a nearly equal number of government and private medical colleges. Between them, they have a little more than 90,000 MBBS seats and another 55,000 seats for post-graduate courses available. In 2021, more than 1.6m students appeared for the tough National Eligibility cum Entrance Test (NEET) Undergraduate (UG) entrance exam and 174,000 students registered for the post-graduate (PG)entrance.
However, even qualifying for a medical seat by cracking the NEET isn't enough. About 40% of the total medical seats available are in government medical colleges where the taxes paid by Indian citizens heavily subsidise fees. Of the total medical seats, 85% are with state governments, while 15% are with the Union under the All-India Quota (AIQ).
The States follow their quota system, preferring admission to domiciled citizens. In Maharashtra, for example, where there are 13 government and 11 private medical colleges, constitutional quota reservations take up more than half of the 85% seats.
The seat matrix (intake capacity) for undergraduate medical and dental seats released in January 2022 added 220 new seats in government and 450 in private medical colleges, and yet students from the open (general) category were unhappy. That's because the notification for under-graduate health sciences courses released by Maharashtra state specified that 62% of seats would go to reserved categories, leaving only 38% open to general category students.
Until 2007, there were no quota under the AIQ—15% seats—available with the Union government. The Supreme Court, in 2007, introduced a 15% reservation quota for ostracised Dalits (Scheduled Castes or SC) and 7.5% reservation for tribal (Scheduled Tribes or ST) candidates under AIQ.
In July 2021, the Modi regime decided to introduce 27% reservation for other backward class (OBC) Hindus and another 10% reservation for upper-caste Hindus under the economically weaker section (EWS) quota, despite them enjoying over 50% reservation vis-à-vis the OBCs, SCs and STs.
In such a scenario, the private sector could have acted as a suitable alternate providing an opportunity to those who missed government seats. And if the demand far outstrips the supply, logically, market focus dictate that several hundred medical colleges should have sprung up by now to meet the demand. But that hasn't happened in decades.
Part of the reason for this situation is the suffocating regulations around the opening of medical colleges. One must invest billions, own 20 acres of land in rural areas, construct an attached medical hospital with a certain number of beds and apply for annual license approvals to open a medical college. These complicated requirements drive genuine private players away, leaving the field open to either politicians or those supported by them.
Until two years ago, the Medical Council of India (MCI), a job now taken over by the National Medical Commission (NMC). In the case of the MCI, which was run by doctors, increasing the supply of doctors wasn't its priority since it would have decreased the demand for doctors and ended the artificial scarcity created by the body.
Even in the few cases where private players decide to enter the industry and open medical colleges, they prefer to operate on small scales, keeping the intake capacity lower. Regulatory norms in India make it difficult for private players to scale up.
It is because the regulations, which demand different compliances and added infrastructure as the number of students increase like more beds in attached hospitals, bigger student auditoriums and halls, drive private players away from increasing their capacity, especially in urban areas.
Moreover, due to the prevalence of fees capping for 50% of seats at private medical colleges, even a few empty seats would mean a colossal loss for private players, which would further discourage them from expanding seats.
Interestingly, the number of undergraduate medical seats in neighbouring China is 280,000, three times more than that of India, even though they have fewer medical colleges than India.
Unfortunately, in India, while caste determines admission to government colleges, money is the deciding factor when it comes to private colleges. While fees in government medical colleges are considerably high, despite the people's money used in partial subsidies, 60% of the total medical seats available are in private colleges where annual fees range between Rs 1m to Rs 1.8m.
While a four-and-a-half year-long MBBS course in a private medical college in India might cost between Rs 5m to Rs 10m, private agents have been selling packages from Rs 2.5m to Rs 3m for the six-year-long courses in countries like Ukraine.
On February 5th 2022, the NMC released extensive guidelines regulating fees for 50% seats in private medical colleges that would now be offered at the same fees are charged by government colleges. However, what the order states are that the benefit of these reduced fees would go to the students who take admission in private medical colleges under the government quotas.
While the government thinks it is helping to subsidize seats for 50% of students from private medical colleges, what it doesn't realise is that the burden of recovering costs would fall on the other 50% of students, as the profit-driven private medical colleges will be forced to increase fees for those seats, which may drive away students from taking up these seats.
Why smaller foreign nations?
There is but a simple answer to Modi's question as to why Indian students prefer foreign locations – ease of business.
Firstly, countries like Ukraine, or even Russia, do not have any entrance test for medical education, an Indian student who can pay the fees easily gets admission.
The appeal of foreign education and living in a European nation, lower cost of education and affordable food and housing have made smaller foreign countries like Ukraine an appealing option for Indian students for years.
Though the foreign countries have not made any entrance test mandatory, the Indian government mandates students leaving for foreign shores for medical education to also take the NEET UG since last few years.
Not surprisingly, while the cut off for entrance to private medical colleges in India has also been around 60% in NEET-UG, students with even as little as 20% score manage to get admission easily abroad.
Unlike Modi's misinformed remark— "language is a problem there" —when reprimanding Indian students who chose foreign destinations to study medicine, language is not a barrier, especially in countries like Ukraine, where the medium of instruction is English. Students do not have to learn a foreign language to assimilate into the culture or classroom.
The lure of ease of getting admission and low fees is so enticing that students even ignore the fact that they may not be able to practice medicine in India even after graduating from these colleges abroad. All medicine graduates from foreign universities must compulsorily write the Foreign Medical Graduates Examination (FMGE). The National Board of Examination (NBE) conducts the FMGE, and their analysis showed that a little over 16% who appeared for the test in 2020 passed it.
The Report of the 15th Finance Commission, released in February 2021, said:
"The number of students aspiring to become doctors choose to take admission in medical colleges in foreign countries. The number of such students rose from 3,438 in 2015 to 12,321 in 2019. There is a need to utilise these foreign medical degree holders in the health system of the country to supplement the existing human resource for health. This may be done by designing a skills-based training programme to improve their knowledge and skills so that they meet the professional competencies required in the screening tests that they have to clear before commencing practice in the country."
Rather than dismissing a lot of students who study abroad and, in most cases, fail to crack the tough FMGE, the commission's report suggests assisting them instead and assimilating them into the medical system.
In a country where there is a severe paucity of doctors, 1:1511 against the World Health Organization (WHO) recommended 1:1000, the shortfall was felt acutely during the pandemic where it could and did cost lives.
Merely berating Indian students for choosing to go abroad isn't the solution. Neither is asking for more private players to jump into the fray of an already expensive and highly competitive medical education market.
What the government needs to do is to start more public-funded, equitable, government medical colleges and increase the intake capacity in the existing medical colleges in both government and private sector, by making regulations more student-friendly and lowering the cost of medical education.
Pseudonym of someone who is called a seasoned career journalist by her peer group. A passionate story-teller, a mom and a lover of poetry. I live news, I breathe honesty and befriend books. Coffee is good but powerful words work better as mood lifter. I am interested to narrate the stories of women and children.