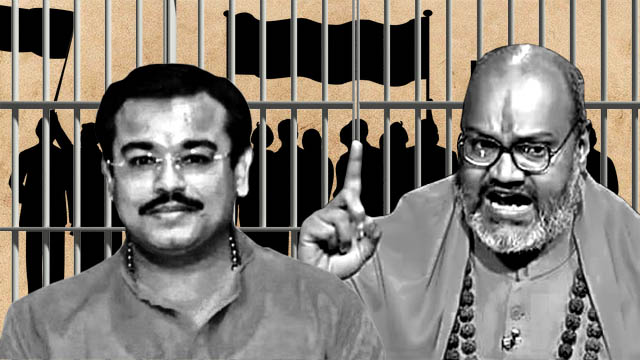 Bail for Ashish Mishra and Yati Narsinghanand while jail for activists is the established norm
Reading Time:
3
minutes
Recently, the Lakhimpur Kheri farmers' massacre accused Ashish Mishra was granted bail by the Allahabad High Court after reported "discrepancies" were found in the investigation. While this may look like an ideal judicial system, where the accused are granted bail with a condition that they won't impact the trial or the investigation, if seen in a bigger context, Ashish Mishra walking out of the jail is an ominous indication for the victims' families and the common people.
Mishra's bail isn't an isolated incident. Since Prime Minister Narendra Modi's Bharatiya Janata Party (BJP) formed the government with an absolute majority in the Parliament in 2014, the judiciary has suffered an immense jolt. Biases that were concealed and layered, are exposed in the open during judicial processes.
Before Mishra got his bail, Hindutva fascist hatemonger Deepak Tyagi, aka Yati Narsinghanand Saraswati, was granted bail by a Haridwar court in the case related to the anti-Muslim genocide call given by him and others during the so-called "Dharma Sansad" (religious grand assembly) held in December 2021. The self-styled seer remains behind the bar though due to another case related to his obscene remarks against women leaders of the BJP.
A young man named Rambhakt Gopal—who also calls himself "Godse 2.0" following MK Gandhi's assassin Nathuram Godse—and shot a Kashmiri student of Jamia Millia Islamia in front of the Delhi Police on January 30th 2020, the death anniversary of Gandhi, was also granted bail by a court. Before that, a man who opened fire on Muslim women protesting Modi's contentious citizenship matrix at Delhi's Shaheen Bagh was also granted bail.
But has everyone in India been granted bail in criminal cases against them? That's not the case. Former Jawaharlal Nehru University (JNU) student-turned-activist Umar Khalid, scholar-cum-activist Sharjeel Imam, Muslim rights activist Meeran Haider, Sharjeel Usmani, etc, have been languishing behind the bars due to their alleged complicity in the Delhi anti-Muslim pogrom of 2020.
According to the Delhi Police, which is controlled by Modi's Home Minister Amit Shah, these Muslim men had conspired to flare up communal violence in the capital city under the garb of citizenship rights protest to ensure more Muslims are killed. The stringent sections of the draconian Unlawful Activities (Prevention) Act (UAPA) have been invoked against them. Mishra and Tyagi weren't even booked under the UAPA or other stringent laws.
As a regular journalist of a Malayalam daily, Siddique Kappan went to cover the infamous Hathras gang-rape and murder case in Uttar Pradesh. The Uttar Pradesh Police, which delayed arresting Ashish Mishra until the Supreme Court intervened, arrested Kappan on his way to the victim's village, accusing him of promoting communal enmity to flare up a riot. He has been languishing behind the bars for a long time due to the false cases levelled against him by the Uttar Pradesh Police.
Since mid-2018, several activists, writers, journalists, poets and lawyers like Arun Ferreira, Rona Wilson, Surendra Gadling, Shoma Sen, Sudhir Dhawale, Gautam Navlakha, Varavara Rao have been imprisoned for conspiring to kill Modi and wage a war against India.
An alleged letter written by a Communist Party of India (Maoist) leader, found in Wilson's computer, has become "incriminating evidence" against these activists, though an independent investigation has revealed that Wilson's computer was hacked. Yet, for over three years, these people are still languishing behind the bars.
Though an activist and lawyer, Sudha Bharadwaj, has been granted bail, the rest are even denied that. An octogenarian and ailing Jesuit priest, Fr Stan Swamy, died in jail after he was imprisoned on the same charges for months. His bail plea was rejected as well, several times.
While these activists rot in the prison, people like Kapil Mishra, who openly called for a carnage targeting Muslim protesters in Delhi, remain scot-free. The names of Hindutva fascists like Milind Ekbote and Sambhaji Bhide, who were accused of fuelling upper-caste violence against Dalits during the Bhima Koregaon bicentenary celebration, for which the activists like Gadling, Sen, Navlakha, etc, are imprisoned, remain aloof from the law as well, even though the BJP has been booted out of power in Maharashtra.
In such a scenario, the bails granted to Mishra or Tyagi aka Narsinghanand, whose crimes are more pronounced and visible, exhibit that the Hindutva camp enjoys immunity to operate with sheer impunity against the oppressed and marginalised people. Hence, those who participated in the "Dharma Sansad" in Haridwar are emboldened to organise more such assemblies where anti-Muslim genocide calls are given and the Hindu society is asked to take up arms against the minorities.
Can such a biased justice system empower India's poor and enable them to fight for their rights? In a country where the prime minister lament that the people have fought too much for rights, it's normal to see that those who fight for the rights of the people remain caged, while those who promote enmity between communities, participate in violence, massacre and give genocidal calls, roam freely. Bail to Mishra or Tyagi is very much part of the system and not a deviation.
Unsigned articles of People's Review are fruit of the collective wisdom of their writers and the editors; these articles provide ultimate insight into politics, economy, society and world affairs. The editorial freedom enjoyed by the unsigned articles are unmatchable. For any assistance, send an email to write2us@peoplesreview.in